In the first week of each month, we will release the official Pinnacle CS:GO Power Rankings, with curator Adam Boothe offering a brief overview of the teams, and some honorable mentions that missed out.
How it works
Similar to other power ranking approaches, Pinnacle's will be centred upon the same selection of performance metrics month-to-month. However three key qualities separate our rankings and those already offered by other community entities. There will be no distinction made between the prestige of tournaments, nor their prize pools. The rankings will only include performances at tournaments and leagues, including qualifiers, with a minimum prize pool of $50,000. However, there will not be any measure of bonus points for placing higher at those tournaments, as it will be naturally embedded in the rankings for successive positive results.
Astralis, previously top, completely fell off. They went from an 84% win rate to winning just two of their nine maps in June.
The Pinnacle rankings will also contain weighting based on closing Money Lines. All teams, within the sample tournaments, will be placed on a scale to measure how they have performed in comparison to their pricing. While it will not account for covering particular spreads, either series or map, round discrepancy and map win rates are of course covered.
Another distinction from our power rankings and others will be the time frame. Due to the entries being once a month, and the frequent turnover within the scene during that length of time, teams that did not play during the month will not be included. While sites like HLTV will factor decay into their ranks, ours will intentionally not do so to avoid incorrect assumptions of a change in level based on distant results.
Finally there will be no 'eye-test' applied to the ranks. While it may not seem right to find teams of a lesser pedigree above the well-established 'Top 5', the goal is to assess performance over a one month period alone. These entries are solely meant for contextual betting analysis, however there will be a feature looking ahead to the upcoming tournaments.
Pinnacle Power Rankings: July
The July entry of the Pinnacle CS:GO Power Rankings has arrived! We had a healthy amount of turnover over the past 30 days.
The tournaments which comprised these rankings were; Dreamhack Masters Spring Playoffs (Europe & North America), Blast Premier Spring Showdown (Europe & Americas), Blast Premier Spring Finals (Europe & Americas), WePlay! Clutch Island, cs_summit 6 (Europe and Americas group stage) from May 30th – June 28th. In total, there were 38 teams assessed playing between 4 and 36 maps each.
Reminder that these are power rankings, not a rankings of the best team in the world at all times. It is based only on recent performance and not on whether these teams could lose to another team not on this list.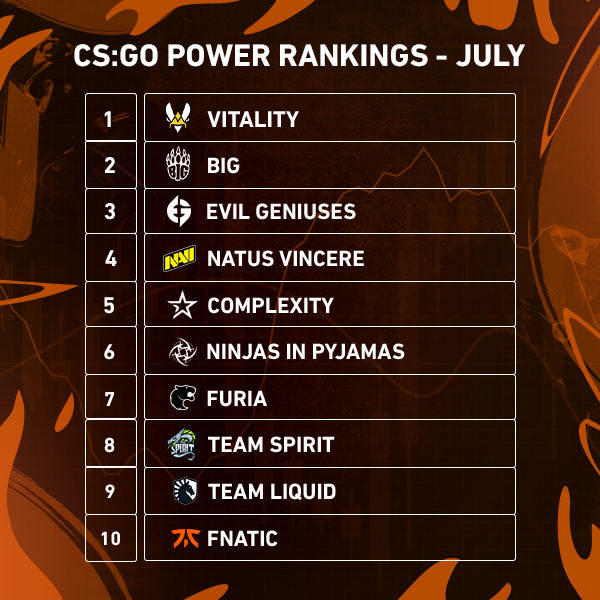 Explaining July's Rankings
Five teams from the previous month retained a top10 position by the end of June; Spirit, FURIA, Vitality, NiP, and BIG. Notably Astralis (1), Faze (2), and G2 (6) were knocked out due to a stretch of mediocre performances. The other two teams which did not continue their form into June were ENCE (5) and Gen.G (8).
For July's rankings, the events in our sample includes all matches played between May 30th – June 28th.
Astralis, the top dog in the prior month, completely fell off. They went from an 84% win rate and covering the Pinnacle spreads consistently to winning just two of their nine maps in June, one against NiP and the other against sAw. Given the quality we witnessed from their 'new' roster this month, they will need this time to work on their map pool extensively.
While G2 managed to achieve a #1 HLTV ranking this month, according to the sample it was largely based on their performance in May. They peaked with an opening map win against BIG Clan in the best-of-five finals of DreamHack Masters Spring, making it 2-0, before losing 12 of their next 17 maps in the month of June. Three of the four teams they beat this month also beat them in the re-match with the exception of ENCE. This is not becoming of a #1 team in the world, and it was unsurprising G2 was knocked out of this position within a week.
To top our rankings we instead appointed the other French super-team, Vitality. This squad played the most maps of all 38 teams, at 36, while having a map win/loss/draw record of 23-11-2. Their worst loss of the month was a best-of-one to Portuguese team, sAw (11-16). The only team they lost a best-of-three series against, which they did not later avenge, was Complexity (16-2, 16-19, 12-16). The only map they lost more games than they won was Mirage with a record of 2-3. Dust2 and Inferno they lost 50% of the time, and drew once on each. Vitality's CT-side on Nuke, Overpass and Vertigo held above 65% after 19 maps. Equally impressively, the French crew won over 53% of their T rounds on every map except, surprisingly, Dust2.
Other than G2, FaZe was the one team probably most penalized by our format and criteria. They were able to take victories over three teams on this top 10 (Navi, NiP, and Vitality). However the story for them was their head-to-head with BIG. If FaZe had been priced around 36% in all their matches against the Germans, and won a couple of maps, they may have squeaked onto this list. However what actually occurred was one-sided and ugly.
The two Clans met four times during the month, with BIG winning 2-0 in each and covering the spread in all eight. What hurts FaZe's ranking further is their closing price; 1.52, 1.66, 2.15, 2.20. This is roughly 65%, 60%, 45%, 45%. At these probabilities, the European mix should have taken at least one series perhaps 95% of the time. It is possible that their true likelihood in the way they match-up against the Germans is <30%, for instance.
Examining Nuke is a perfect case study for the contrast between the two months. Faze brought a 3-1 record with a CT win rate of 60% into June. However at the end of a full month with Aurimas "Bymas" Pipiras they had just three wins in nine contests with only a 50% CT round win percentage. In fact the only map they held a positive win rate on in June was Train at 2-0. This was a far cry from their excellent looking map pool in May where only Inferno was below 66%.
French squad Vitality played the most maps of all 38 teams, at 36, while having a map record of 23-11-2.
Last month, I mentioned that the only thing preventing the Germans of BIG from being higher that month was their limited number of contests. This increased in June by competing in both the Dreamhack Masters and Summit 6. Their dominant wins against two teams in the Pinnacle top five the previous helped them to leap frog from #10 to #2. They held the highest round win percentage of all 38 teams at 56%.
We had a new North American roster reassert themselves as a contender in the month of June with a crisp 16-7-1 map record. Evil Geniuses, a squad slumping for most of the time since their last title in the fall of 2019, had a plethora of close maps and series but edged out the significant majority of them this month. They held above 50% win rate on all five maps they played with 7 of their 8 victories coming on Inferno. Their first title in 2020 came through back-to-back victories over top Brazilian rosters MIBR and FURIA. They also ended this sample with a win over long time NA rival, Liquid, in phenomenal 2-0 fashion.
What a difference a month can make for the kings of the CIS region. Na`Vi stuck out like a sore thumb last month due to their expensive pricing and quantity of losses. While running pretty average through DreamHack and BLAST Premier, their five straight match wins to close out Clutch Island was every bit deserving of a top five finish. The only notable regional team they did not pick up a win against was forZe, whom did not qualify. Their worst loss of the month came against Complexity, however outside of that 2-1 defeat they only had one additional map where they lost by more than five rounds. In other words, they competed in 29 of their 32 contests, and were within a clutch or pistol of potentially winning half a dozen more maps. This is exceptional. Na`Vi held excellent numbers on every map except Dust2, and CT-side of Inferno.
The 'Juggernaut' of Jason Lake's creation finally made a true mark on the international CS scene. Complexity took down the Blast Premier Europe title beating OG, Navi, Faze and Vitality in doing so. While two of these teams finished above them in our power rankings, this is due to sample size more than anything.
The top squad of the North American region got back on track in June though they were far from dominant. Their series record was a mediocre 5-4, with all four of those losses coming at the hands of Furia and Evil Geniuses. Their map pool still needs work if they hope to reclaim the top spot in the region, however their Overpass and Nuke are much improved from May. Against the other four squads they played, GenG, Cloud9, 100 Thieves, and MIBR, they closed with 2-0 in all while being relatively short favorites allowing them a high enough rating to make a mark.