In the first week of each month, we will release the official Pinnacle CS:GO Power Rankings, with curator Adam Boothe offering a brief overview of the teams, and some honorable mentions that missed out.
How it works
Similar to other power ranking approaches, Pinnacle's will be centred upon the same selection of performance metrics month-to-month. However three key qualities separate our rankings and those already offered by other community entities. There will be no distinction made between the prestige of tournaments, nor their prize pools. The rankings will only include performances at tournaments and leagues, including qualifiers, with a minimum prize pool of $50,000. However, there will not be any measure of bonus points for placing higher at those tournaments, as it will be naturally embedded in the rankings for successive positive results.
There are only two teams that have maintained a spot through all of our 2020 entries: FURIA and BIG.
The Pinnacle rankings will also contain weighting based on closing Money Lines. All teams, within the sample tournaments, will be placed on a scale to measure how they have performed in comparison to their pricing. While it will not account for covering particular spreads, either series or map, round discrepancy and map win rates are of course covered.
Another distinction from our power rankings and others will be the time frame. Due to the entries being once a month, and the frequent turnover within the scene during that length of time, teams that did not play during the month will not be included. While sites like HLTV will factor decay into their ranks, ours will intentionally not do so to avoid incorrect assumptions of a change in level based on distant results.
Finally there will be no 'eye-test' applied to the ranks. While it may not seem right to find teams of a lesser pedigree above the well-established 'Top 5', the goal is to assess performance over a one month period alone. These entries are solely meant for contextual betting analysis, however there will be a feature looking ahead to the upcoming tournaments.
Pinnacle Power Rankings: October
The October entry of the Pinnacle CS:GO Power Rankings has arrived!
Remember that these are power rankings, and not a ranking of the best team in the world at all times. It is based only on recent performance and not on whether these teams could lose to others not on this list. You should not make any wagers based on the placements here, just as you would not do so using any other ranking site.
The tournament which comprised this month's rankings was the ESL Pro League Season 12 (Europe & North America), which ran from September 1 – October 4 2020. There were 24 teams assessed, playing between 14 and 32 maps each.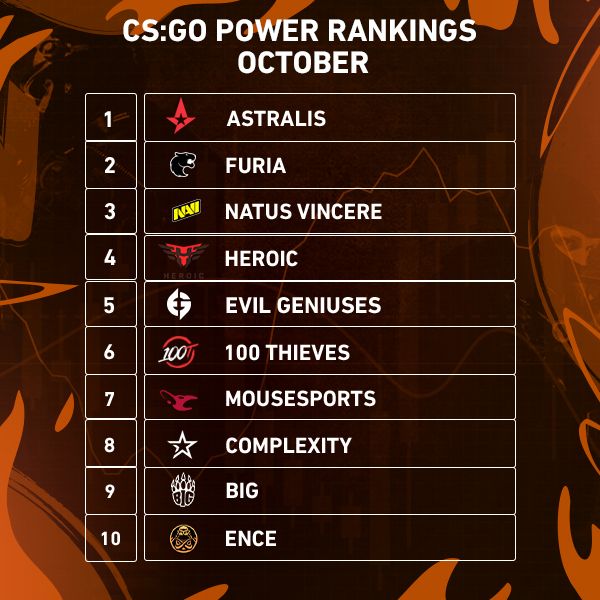 Explaining October's Rankings
Despite only covering one tournament, and fewer teams than other months, September was one of the best samples of the year. This month did not really have more turnover than any other, however it did see some more significant swings.
This seems like a good moment to remind you that teams do not carry over their ratings from one month to another – they have been assessed purely on their performance during the period of time mentioned above. So for a team to continuously appear on these rankings, they must be consistent month after month.
For the first time ever mousesports cracked Pinnacle's Top10, having been one of the title contenders who have quite noticeably been missing through 2020.
I mentioned heading into September that only four teams had maintained a spot through all of our 2020 entries. That list is now down to two: FURIA and BIG. Appearing at opposite ends of October's Top 10, both teams impressed once more.
The South American powerhouse FURIA won their third event in the online era and second since the summer player break. At EPL 12 they crushed the opposition on Nuke, Inferno, and Vertigo with an impressive 13-3 record. Interestingly their two series losses, against 100 Thieves and Chaos, were after they secured playoffs, but when they were relatively short-priced favourites.
However, they moved to a more equitable price in their revenge match against 100 Thieves in the grand finals, and ran over the Australians in two maps. Additionally, they were able to cover the map spread on two thirds of the maps played.
The German-majority roster of BIG had another strong month relative to the field. It was interesting reflecting on the Pinnacle Power Rankings from September, which held Heroic above BIG (despite my personal ratings having it flipped). BIG persists over a longer duration, however it may have been worth taking a look back on the prior entry, as the Danes didn't just get revenge on BIG, but crushed them in three of the next five maps. 
While the German's performance against Heroic in the second match was disappointing, and hurt their rank, the only real upset against them this month was mousesports eliminating them, at a 60% price, from the lower-bracket of the playoffs.
Teams with the greatest negative contrast between August and September were Liquid and Ninjas in Pyjamas.  While Liquid only lost a single series to the three North American teams on this ranking, they also only won a single map over those three series'. Additionally, they dropped maps to Triumph, Cloud9, and Chaos as incredibly short favourites of 80%, 75%, and 90%. Even harder to believe, is that Liquid only managed a single 2-0 win over their eight matches at Pro League. 
Liquid failed to hold even an average 50% win-rate on three of their six maps, and only held two above 50% - Nuke and Overpass. While they held a perfect 3-0 record on Overpass, against Triumph, Chaos, and Cloud9, it is disappointing when you discover it was at their shortest prices of the entire month for a map. It is possible that Liquid's burst of form in August was part of a honeymoon phase with new firepower pickup, Michael "Grim" Wince. On that assumption, I would put far more stock into their September results.
Only one tournament comprised this month's rankings, ESL Pro League Season 12.
After three respectable months, Ninjas in Pyjamas heavily dropped off heading into October. While they were forced to play their final four maps with Björn "THREAT" Pers as their coach, prior to this the results were worse, and certainly for the price. Their singular series victory was a 2-1 win against mousesports, a bit above 55%.  To make matters worse, they only covered their map spread 23% of the time, one of which was with their coach..
For the first time ever mousesports cracked Pinnacle's Top10 - I am sure Finn "karrigan" Andersen will frame this entry above his desk! Mouz have been one of the title contenders who have quite noticeably been missing through 2020. However, the recent swap of Özgür "woxic" Eker for Aurimas "Bymas" Pipiras has possibly rejuvenated their chemistry or communication. Whatever has caused the improvement, it is significant.
Over the last six months, with the talented AWP'er, mouz ran at 25-42 and only had a winning record on a single map. On four of the remaining six, they had a sub 25% win-rate. Despite limited turnaround with the young Bymas, Mouz held three maps above 50% conversion over September and all maps above 33%. Not dominant in the least, but when considering they were an underdog in 80% of their matches, they were one of the most efficient teams over the month!
Astralis is back on top for the first time since the June entry, even flexing a slightly different line-up.  In-game leader, Lukas "gla1ve" Rossander, mentioned they had the goal of finishing in the final four of the ESL Pro League, but they managed much more than that by winning the entire season! The Danes lost just two series during the whole tournament: the opener as a 60% favourite against Complexity; and then as a very short 70% against fellow countrymen, Heroic.
The mark of a good team is learning from mistakes and making the necessary adjustments. Astralis faced both Complexity and Heroic later in the tournament and beat them both 2-0, covering the spread on all four as well. They went on to beat a very in-form Natus Vincere 3-2 in the grand finals through a reverse sweep. The depth of the Danish map pool was once again visible as they held a 50% win rate or above on all six maps they played , Mirage being the lonely one out.
Astralis established their domination on two of their classic maps - Nuke and Overpass - going a combined 12-1 and covering their map spread on nine occasions. Here's something to note for their next matches: their quality is still not what it was pre-player swap, and far from their peak over the last two years.
The November entry promises to be exciting, as we have not one, not two, but THREE top level events courtesy of IEM, DreamHack, and BLAST Premier. There will be a pool of European and CIS teams that we have not seen at this level of tournament since May. See you in November!