The Pinnacle Cup is back for its sixth online edition! Some of the best CS:GO teams will be competing for a share of the tournament's $50,000 prize pool. Find out more about Pinnacle Cup VI in our official event guide.
What is Pinnacle Cup VI?
Pinnacle Cup VI is an online CS:GO event organised and hosted by Pinnacle, and the sixth instalment of the Pinnacle Cup online series. The tournament will see some of the best CS:GO teams compete between October 4 and October 25, and will be broadcast live on Twitch. You can find all of the available streams below.
The $50,000 prize pool will be split as follows:
First Place - $30,000
Second Place - $10,000
Third and Fourth Place - $5,000
Which teams will be at Pinnacle Cup VI?
In total, there will be 32 teams competing at Pinnacle Cup VI. Sixteen teams will start in the opening Play-In Stage, 12 invited teams will start in the Swiss Stage, and an additional four teams will join the events in the playoffs.
What is the route to the Pinnacle Cup VI Final?
The tournament kicks off with a Play-In Stage, where 16 teams will compete for four spots in the Swiss Stage. In the Swiss Stage, they will be joined by 12 additional invitees, where a Swiss-system format will decide which eight teams make it through to the playoffs.
Four more teams will enter the tournament during the quarter-finals. The playoffs will be a Single-Elimination bracket, with all games being best-of-three. This all leads to the final, where the Pinnacle Cup VI champions will be determined!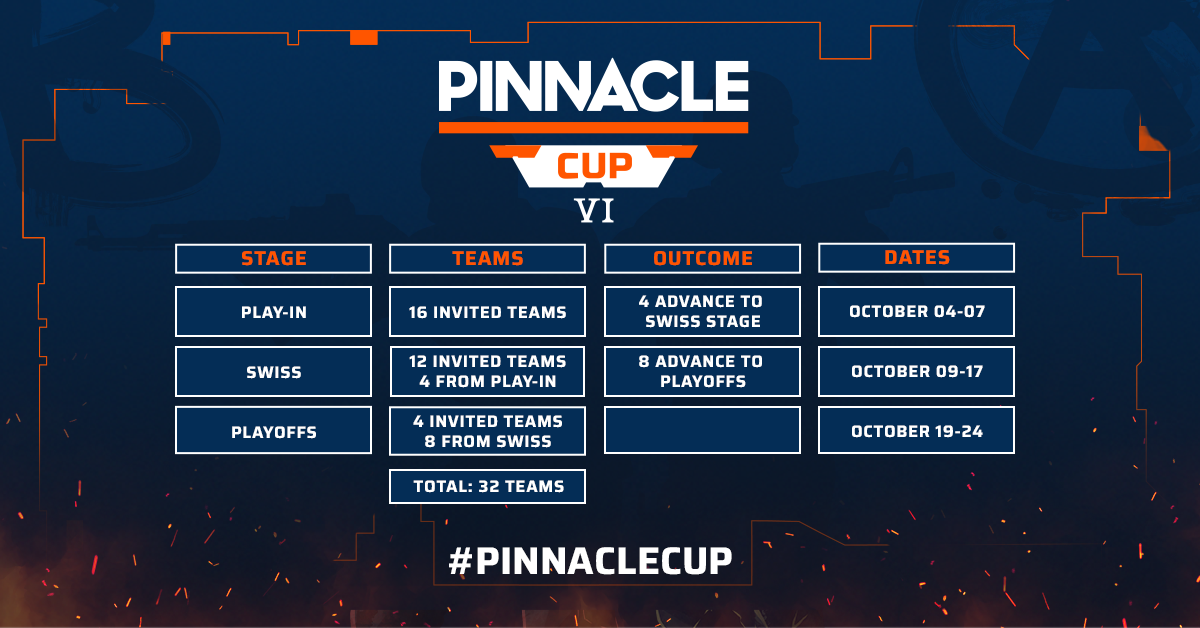 Which teams have won previous Pinnacle Cups?
The first Pinnacle Cup took place in March and April of 2021, and was won by Gambit Esports. The roster included Dmitriy "sh1ro" Sokolov and Vladislav "nafany" Gorshkov, who would both later compete under the Cloud9 banner.
Pinnacle Cup II took place in July and August of that same year. This time it was Team Spirit who won the event, with players such as Viktor "sdy" Orudzhev and Abdulkhalik "degster" Gasanov.
In March of 2022, it was time for the third Pinnacle Cup. SKADE, an entirely Bulgarian roster at the time with Aleks "Rainwaker" Petrov and Denislav "dennyslaw" Dimitro, made it all the way to the final from the Swiss Stage to win the tournament.
A month later, we held Pinnacle Cup IV. This time the unthinkable happened. Finest, with Simon "twist" Eliasson, started off in the Play-In Stage and battled their way through the Swiss Stage and the playoffs, and went on to defeat Eternal Fire in the finals and win. This earned them a well-deserved spot at the Pinnacle Cup Championship.
The Pinnacle Cup Championship was a LAN event held in June 2022 in Lund, Sweden. A highly competitive field of eight teams took each other on, only for Heroic - under the command of Casper "cadiaN" Møller - to defeat their fellow Danes, Astralis, and lift the trophy!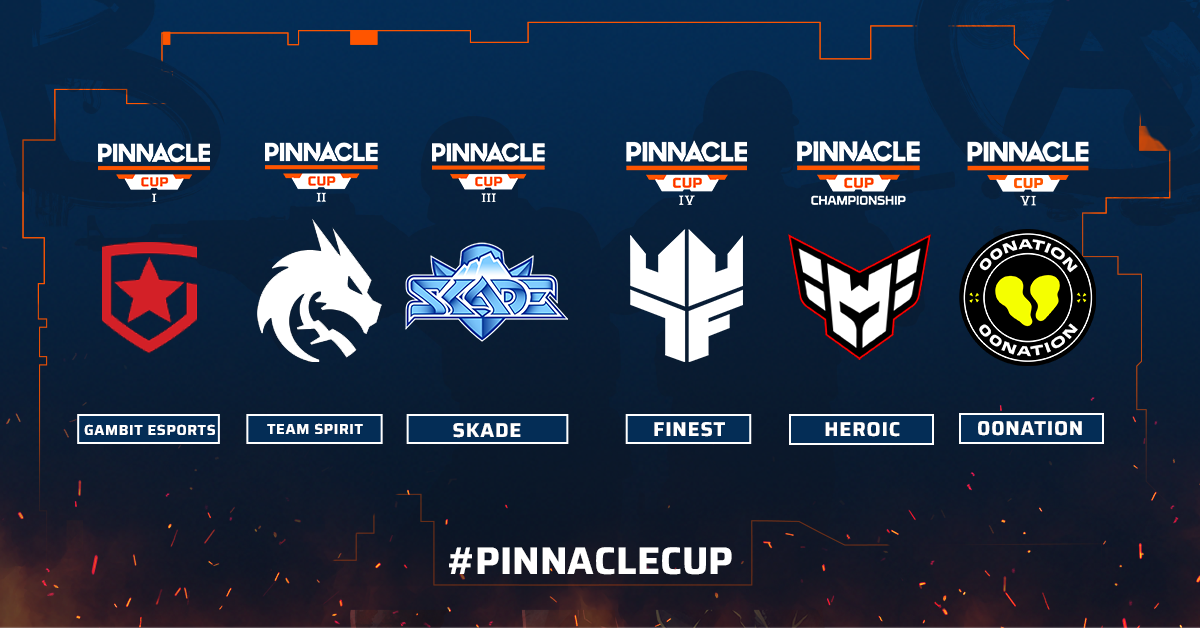 How do you bet on Pinnacle Cup VI?
If you are not too familiar with placing bets on CS:GO, you might need an hand to navigate the various methods available for making a bet. To help, we've prepared a handy guide for those looking to place a bet during Pinnacle Cup VI:
Pinnacle offers a number of markets for CS:GO enthusiasts to bet on during Pinnacle Cup VI. The most popular market for esports bettors is the Money Line market, which is a bet on the winner of a particular match. Futures markets are also on offer if bettors want to bet on the team that will win Pinnacle Cup VI.
If you're an eagle-eyed bettor, be sure to stay up to date with our Pinnacle Cup VI odds page. Pinnacle will offer the best CS:GO odds and a wide variety of different markets, both pre-match and in-play.