The BLAST.tv Paris Major is just over a month away. Before we get to the Challengers Stage, teams will first have to qualify through the gruelling Regional Major Rankings. These are a series of qualification tournaments that use the Swiss System. Each tournament is split by region, with Europe having two groups due to it having the most top teams out of each of the competing regions.
Europe's RMR A, on paper, is not as challenging as RMR B. That being said, the competition is still tough; NAVI, Virtus.pro, FaZe Clan, Fnatic, OG, and MOUZ are just some of the well-known contenders. There are a few names returning from the previous IEM Road to Rio RMR, and one of those is GamerLegion, the team that eliminated G2 Esports from the IEM Rio Major RMR A. The opening matches are as follows: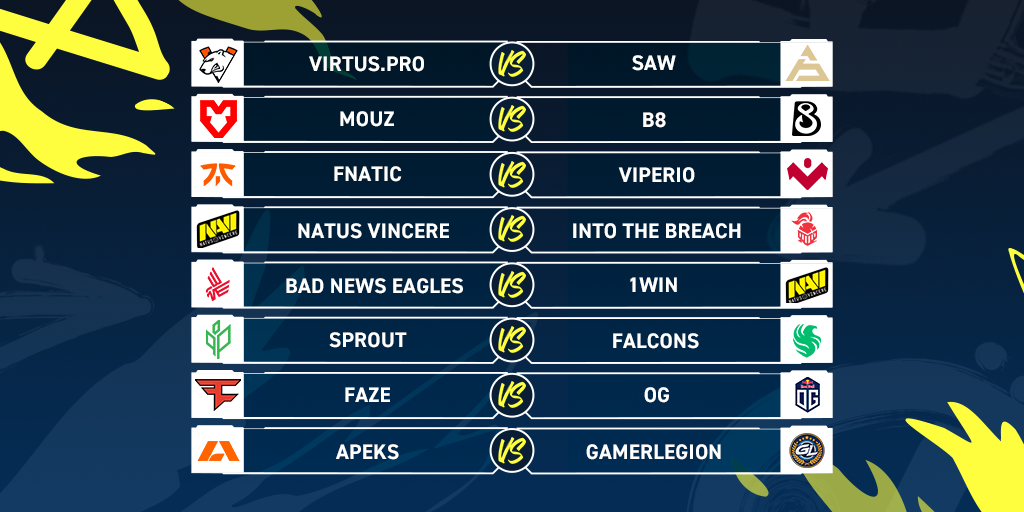 UK CS
Two teams that stand out on this list are Viperio and Into the Breach, and they are the only two teams from the UK to have qualified for the RMR. Unfortunately for Viperio, they meet fellow countryman William "mezii" Merriman in the opening round. Fnatic have been playing well as of late, showing just how strong their individuals are. Nico "nicoodoz" Tamjidi has been a standout for the team, posting a 1.16 HLTV Rating at the ESL Pro League Season 17. This match will be heavily favoured towards Fnatic, but Viperio are no pushovers. On their journey to qualify for the RMR, they took down veterans Patrik "f0rest" Lindberg, Olof "olofmeister" Kajbjer Gustafsson, Christopher "GeT_RiGhT" Alesund, and Adam "friberg" Friberg. Although this may not be as impressive as it might have been in the early days of CS:GO, this is still quite a feat.
Into the Breach might be slightly more well-known due to Owen "smooya" Butterfield having a short trial period with them. When "smooya" played with Benched Heroes to earn a spot in the IEM Road to Rio RMR B, his first game (had the team not pulled out due to visa issues) would have been against NAVI. Now, Into the Breach can avenge their comrade who never got the chance, as they will also be facing NAVI in their opening match. The only positive for Into the Breach is the poor form of Andrij "npl" Kukharsjkyj, who had a 0.87 HLTV Rating in the ESL Pro League Season 17 Group Stage. This could be something the UK team will look to capitalise on - but you can never count out Oleksandr "s1mple" Kostyljev.
International Challengers
This RMR has a lot of international rosters: FaZe, Fnatic, OG, MOUZ, GamerLegion, Sprout, and Apeks.
OG have had a rough time since Nemanja "nexa" Isaković went on leave, failing to make playoffs in a group they should have flown through at the ESL Pro League Season 17. Their rough times may be set to continue, as they face FaZe in their opening match. FaZe are never an easy opponent, featuring some of the most experienced players in the scene, as well as some of the sharpest. I would assume this match will go to FaZe, but due to the first round being best-of-one, an individual such as Abdulkhalik "degster" Gasanov could change the entire game.
GamerLegion and Apeks also face off in the first round. This should be a very entertaining match, as these teams regularly face off in CCT, with their records in this tournament being a win each. A lot of viewers who remember GamerLegion putting on a good display at last year's IEM Rio Major might immediately favour the team led by Kamil "siuhy" Szkaradek. However, I think this match will be close, especially if it's played out on Overpass.
The final few international teams are MOUZ, Sprout, and the aforementioned Fnatic. MOUZ will play B8 Esports, a Ukrainian team currently competing in ESEA Advanced. This match favours MOUZ, given the current form of David "frozen" Čerňanský, Jon "JDC" de Castro, and Dorian "xertioN" Berman. Sprout will face off against French lineup Team Falcons. This is a team composed of legends like Kenny "kennyS" Schrub and Nathan "NBK-" Schmit, but they are still yet to achieve a title with their current roster. This should also be another good game, as Sprout have recently undergone an in-game leader change, in the form of Aaron "AZR" Ward. This is a great pick-up for the team, although they may be looking at success after the Major, given the limited amount of time they've had since "AZR" has joined.
BET ON CS:GO
Get great odds on BLAST.TV PARIS MAJOR: EU RMR A with Pinnacle.
EU RMR A
A familiar name returns
One thing that long term fans may have immediately noticed is the return of Virtus.pro. The organisation has been allowed to drop the Outsiders persona and play under Virtus.pro once again – a name that's famous throughout CS:GO. They are currently the Major title holders, but will have to qualify before they can even think about retaining the title. They play SAW in their first game, a team that were only able to pick up a single win at the ESL Pro League Season 17. The playstyle that Dzhami "Jame" Ali inspires on this team will lead to a different kind of fight than SAW are used to.
The final matchup also features another CIS team, as we see 1win take on Bad News Eagles (BNE). It's no secret that BNE have become a fan favourite over the past year, and they've started 2023 by signing a new coach - and Major winner - Jonatan "Devilwalk" Lundberg. This team looked a lot better at the CCT Central Europe Malta Finals, where they lost out in the final to Eternal Fire. 1win have some talented members, such as Igor "Forester" Bezotecheskiy, Denis "deko" Zhukov, and ex-NAVI player Kirill "Boombl4" Mikhaylov. Like many others, my heart sits with BNE, but this RMR as a whole will be a test to show what "Devilwalk" has been able to implement since joining the team.