The Pinnacle Esports Hub gets an upgrade with a brand new user interface, integrated on-page livestreams, and much more! Read our official guide to the Pinnacle Esports Hub.
What is Pinnacle's new Esports Hub?
The Esports Hub is the central location on the Pinnacle website that is solely dedicated to the world of esports. It serves as a launch pad for customers to find the latest matches, odds, and expert betting insight into the wide array of esports titles the sportsbook offers.
The new and improved Esports Hub has a suite of new features like on-page live streams, an enhanced pre-game and in-play user interface, and greater access to Pinnacle's expert analysis on esports.
How to navigate the Esports Hub
Designed to provide customers with the tools they need to place a bet on their favourite esports titles, the Esports Hub homepage provides an overview of featured esports matches, tournaments, and odds.
Through the navigation bar on the left-hand side, customers can filter all of the matches by their respective esports titles, while the tabs on the page can be used to refine the search further to look at live matches or individual tournaments. For a more comprehensive search, customers can also utilise the integrated search bar to find specific matches.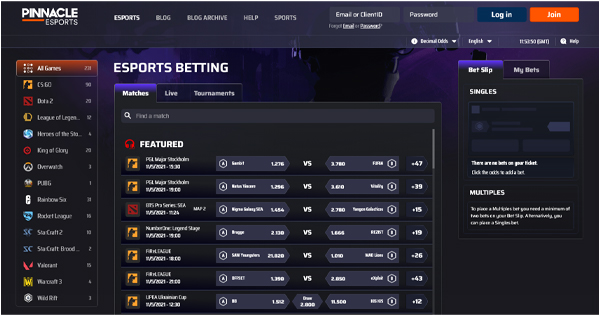 Stream matches live from the Esports Hub
A major upgrade from the previous version of the Esports Hub is the integration of on-page live streams for eligible events. Customers can now watch the matches they are betting on directly from the Pinnacle website ensuring they are up to date on every kill, score, and match win.
To be eligible to view the live streams, customers need to log in to their Pinnacle account.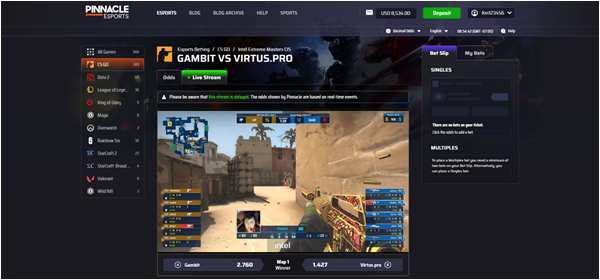 An enhanced betting experience
Match pages now have a fresh new look to accompany Pinnacle's low margins and high limits. Match pages will feature all of the available markets with the most relevant markets of a match featured prominently at the top of the page. Selected markets are highlighted in blue and are automatically added to the Bet Slip on the right-hand side where customers can assign the amount they wish to bet and the potential returns. If the odds change while the selection is in the Bet Slip, it will be highlighted in yellow to indicate the change in the odds.
Easier access to expert insights
Pinnacle prides itself on providing bettors with industry-leading insight. The esports blog now features prominently on the top navigation bar. Customers can find our dedicated betting previews for the latest tournaments or learn more about esports and betting concepts within our archive.