We're at the end of Week 8, with only two matches left to go for each team in the LCK. The disparity in performance around the playoff cut-off period means that we essentially know which teams have qualified for the playoff bracket already. Given that only the top six teams from the regular season qualify, and the difference in wins between the sixth and seventh team sits at four games, it's safe to say that nothing will change in two games.
In dead last, we find Nongshim RedForce, to no one's surprise. They fell this week to Dplus KIA, and the best of the worst in Kwangdong Freecs (KDF). Though it seemed fairly obvious that this team would not be making the playoffs, the fact that Kim "Taeyoon" Tae-yoon put up such dominant performances on both Xayah and Aphelios - especially when KDF have struggled all season - drives home how far behind Nongshim really are.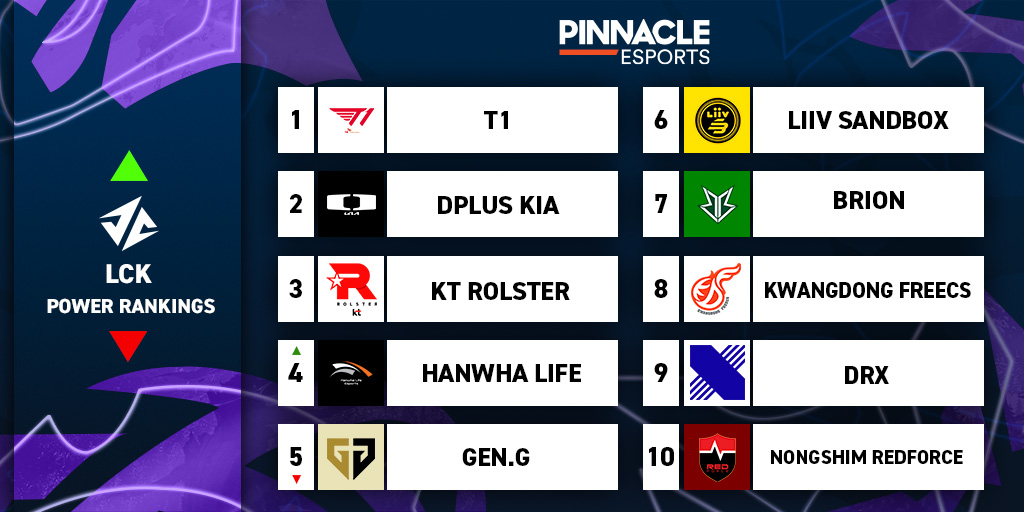 The real shame is that, in these final weeks when the games are beginning to lose meaning, KDF not only secured their easy win over Nongshim, but managed to take down Gen.G as well. Many a KDF fan might be thanking Han "Peanut" Wang-ho for his poor Lee Sin performance in game three. Despite the fact Gen.G possessed a winning position, "Peanut" decided to exit the Dragon pit early. This allowed it to be stolen by Ashe's Volley from Jeong "Moham" Jae-hun, which led to Gen.G losing the entire game, and series, in spectacular fashion. While it was good for KDF that they could capitalise on this mistake, it felt like the entire game and series was in "Peanut"'s hands, but he simply threw it away. Though Gen.G showed that this was hopefully just a blip on their record, as they proceeded to take down Liiv Sandbox (LSB) in their other series of the week.
A team that came close to matching Nongshim in their debacles this split is DRX. DRX fell to both LSB and T1 this week, and the strength of schedule coming into the back end of the split shows how poorly they were performing. T1 was simply inevitable, however DRX did manage to split the series vs. LSB. Their stand-in ADC, Son "Pleata" Min-woo, played an entirely perfect game of Xayah, going 10/0/2 and utterly wiping the floor with a shell-shocked LSB.
The 'Brolievers' let out a final whimper this week, as Dplus sent them packing, and the KT Rolster roster that looks stronger and stronger every week destroyed them. However, Dplus should be worried, especially for a team just two series away from playoffs. Eom "UmTi" Seong-hyeon's presence on the map was still so impactful. With a 100% kill participation on Lee Sin, he made sure that the series was sent to at least a third game before it was conceded.
It was a rough week for Hanwha Life Esports, as they fell to both T1 and KT Rolster without mustering a victory in either series. They did take both teams to a third game, taking the first game off of T1 in a back-and-forth manner that seemed to be a combined effort from each member of their roster. However, their one game in the series against KT seemed to be carried by manoeuvres from Kim "Zeka" Geon-woos' Annie and Park "Viper" Do-hyeon's Samira, who worked together for a very impressive game.
BET ON LEAGUE OF LEGENDS
Get great odds on LCK with Pinnacle.
LCK Odds
Overall, coming into the end of the LCK Spring regular season, it's hard to rely on teams to take these final games seriously. It's unlikely that they're going to be willing to show new picks prior to the playoffs, even if more games on stage can be an important experience for them. If any upsets were to happen, this would be the time for it, as some of the top teams may relax a little as they begin to prepare for the playoffs.