With two games left to go for each team, it's all to play for going into Week 10 of the LPL. As the top 10 teams look to make the playoffs, there's tough competition for the final spots. As mentioned last week, Anyone's Legend were the first team to be eliminated from playoffs contention. But this week, the 10th place team now hold a record of seven wins, thus eliminating all other teams who cannot reach this mark in the week to come.
With losses to Rare Atom and Royal Never Give Up (RNG), Ultra Prime find themselves drawing level with Anyone's Legend after their massive upset win versus FunPlus Phoenix (FPX). A single lost series this week would've been enough, but two spells disaster for Ultra Prime. FPX were in basically the same position, with Edward Gaming (EDG) to play it was considered a done deal that they would not make the playoffs either. However, they proved up to the task of taking down EDG, as Hu "Leave" Hong-chao and Tian "Meiko" Ye completely collapsed in the final game of the series. While this is a worrying sign for EDG coming into the playoffs, it didn't do much to improve FPX's standings, as they conceded a game to Hu "SwordArt" Shuo-Chieh's Anyone's Legend.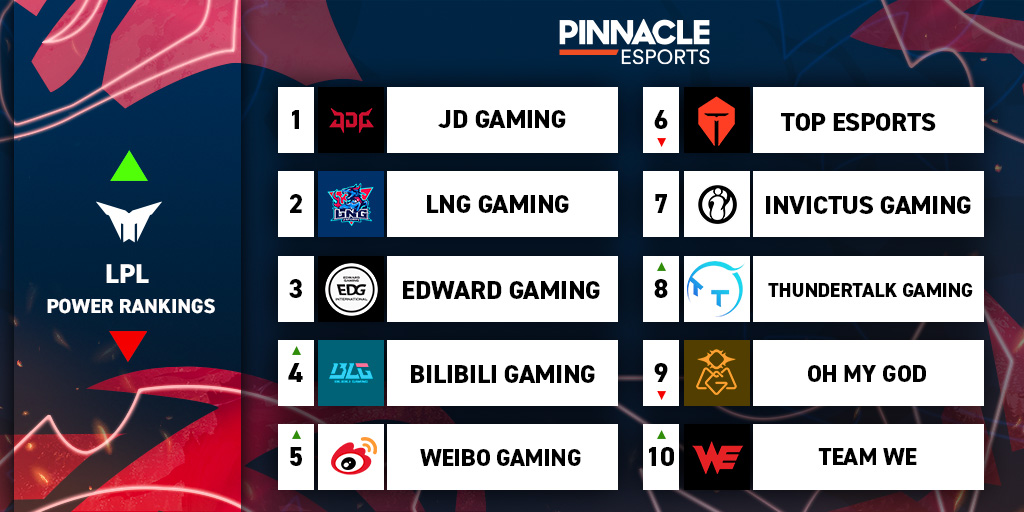 The other team with no remaining chances are Ninjas in Pyjamas. Finally, signs of life from the Ninjas' camp saw them take down the impressive Invictus Gaming (IG). Zhao "Shad0w" Zhi-Qiang had a massive game two on Viego, and Ying "Photic" Qi-Shen returned the favour with his Aphelios in game three. "Shad0w" looks to have decent potential, with strong highs among the nine games he's played since being subbed in mid-season. However, we will have to wait until Summer to see if he can have a greater impact in the long run, as their second must-win game of the week saw them fall to Weibo Gaming - who already secured their own playoffs spot prior to the final week.
LGD Gaming and Rare Atom remain the last teams with less than seven wins who can still challenge in this final week for the last of the playoff spots. At five wins apiece, both teams need to win their remaining two series, and hope that two of the teams sat at seven wins secure no new ones to force tiebreakers. RNG, IG and Team WE are all one series shy of securing guaranteed tiebreaker status, and there is the very unlikely chance of a six-way tie at eight wins for spots six through 11. This would mean that one of these teams still has the potential to be eliminated, proving that one win is not enough to be safe.
One of the teams that find themselves more and more likely to be in the firing line for this potential cluster at the edge of playoffs is, surprisingly, Top Esports. After their games this week, Top find themselves on a four series loss streak, losing to LNG Esports, LGD, ThunderTalk Gaming, and Bilibili Gaming all in a row. It's a worrying trend for a team that had a lot of potential coming into this split. It's expected that World Champion Gao "Tian" Tian Lang will choke in playoffs, but there is a chance that Top Esports concedes their spot in this final week, as everything rests on them finding their first win in three weeks in the two games left to come. Fortunately, they face OMG and FPX, so while OMG might put up a fight, it's likely that Top will secure their place in the playoffs against FPX.
BET ON LEAGUE OF LEGENDS
Get great odds on LPL with Pinnacle.
LPL Odds
How much further can this team go? With talent like Song "Rookie" Eui-jin and Yu "JackeyLove" Wen-Bo, it's hard to bet against them, but is it realistic to expect them to get it together with such little time left? Hopefully our last week of the regular season brings us answers.