This week, the LCK has seen a few returning champions, and even more fresh faces in the champion select. However, it is true that these first-time support picks helped T1 earn revenge on Kim "Deft" Hyuk-kyu's DPlus KIA in this week's grudge match.
This series saw Ryu "Keria" Min-seok pick the first Kalista support the LCK has ever seen in the game's decider. While this choice may have been costly in the Laning phase, Kalista's rend helped secure the Ocean Soul and her ultimate was incredibly impactful in team fights, although I am hopeful, we don't see this become a consistent pick anytime soon.
"Keria's" other strange pick came in the form of Caitlyn, who was paired with Varus. Their counterparts picked Zeri and Yuumi, who were able to leverage range to push for the second tower in the lane prior to the 10-minute mark in T1s stomp of Kwangdong Freecs. This means that in their two matches thus far, T1 have only dropped 2 games - one to Dplus KIA (the other strong contender for the top) and the other in the "Telekom Wars" with KT Rolster.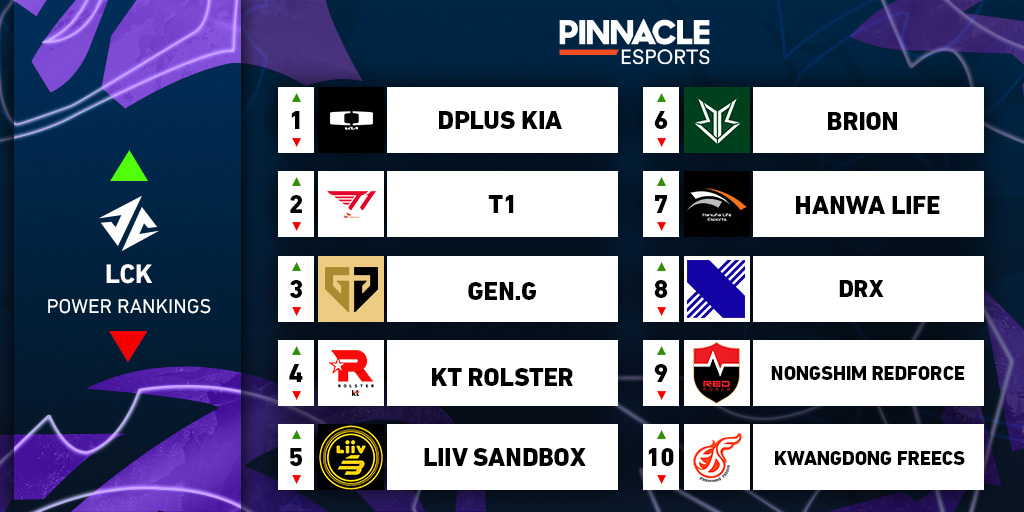 DRX started their series strong this week against NongShim REDFORCE, however after NongShim REDFORCE cleaned up their champion select and kept their hands on K'Sante, DRX became lost and fell foul to the very reverse sweep they were known for giving out at Worlds 2022. It's a worrying trend for DRX if their victory hinges on Kim "Rascal" Kwang-hee playing K'Sante. However, this was no issue for their second series, as Kwangdong gave "Rascal" the new top laner in both games of the 2-0 blowout, earning DRX their first series victory of the season.
Beating DRX was important for Nongshim REDFORCE as it was their first of the season as well. Their other opponent this week was none other than the top two contender Dplus KIA. Big performances from "Deft" in one game and a combined effort from their Mid Laner and Jungler, Heo "Showmaker" Su and Kim "Canyon" Geon-bu, put them down swiftly in 2-0 fashion.
Hanwha Life looked exciting coming into this season with their new roster, however their story so far has seemed to be reliant on Kim "Zeka" Geon-woo putting up performances reminiscent of his Worlds run. Since returning to Korea, Park "Viper" Do-hyeon has lost nearly every Laning phase, which is not what we expect from the former world champion ADC, who was in the conversation to be one of the best in the last two years. As such, their struggles this week saw them lose to KT Rolster and GenG. Whilst it is still early in the season, it's clear Hanwha Life stocks are on the decline as the players continue to appear like they're not on the same page.
Gen.G, with this victory, were also able to take down the lossless BRION - much to the disappointment of the "Bro-lievers". Kim "Peyz" Su-hwan finally meeting expectations led the charge with a convincing performance from the rookie, in both series this week.
BET ON LEAGUE OF LEGENDS
Get great odds on LEC with Pinnacle.
LEC Odds
Liiv Sandbox showed that they don't need Lee "Prince" Chae-hwan to pull off a 2-0 week, with wins against the other mid table team, KT Rolster, and the declining BRION. They are exceeding my expectations as the loss of their ADC from summer hasn't impacted their performances as much as I expected, however despite their victory over KT Rolster, it's still expected KT Rolster will exceed them in overall placement.