Pinnacle is always working on improving your experience when using our Esports Hub. The way you place your bet, how you find your favourite betting markets, and whether you have a smooth user experience are always at the forefront when we update our website.
Esports Hub Multi View
With this update, we have added a major live betting feature to our Esports Hub that we hope you will love: Multi View. Multi View is a new page on the Esports Hub that allows you to view all live betting markets for multiple matches at the same time.
How does Multi View work?
You can access Multi View by using the top navigation bar. Alternatively, there are several access points via the main Esports Hub page when a game, tournament, or match is live
You can only bet on matches via Multi View when they are live
You can filter by specific games on the left-side navigation bar by clicking on the logos
To view a match with Multi View, simply drag and drop the match from the left navigation bar onto the main page to a window with a plus symbol
You can select up to four matches for you to follow in Multi View
You can select betting markets as normal, and submit your bets via the bet slip on the right side of the page
Odds displayed on Multi View are the same as they are on the rest of the Pinnacle platform
This feature is only available on Desktop and is not available on Mobile yet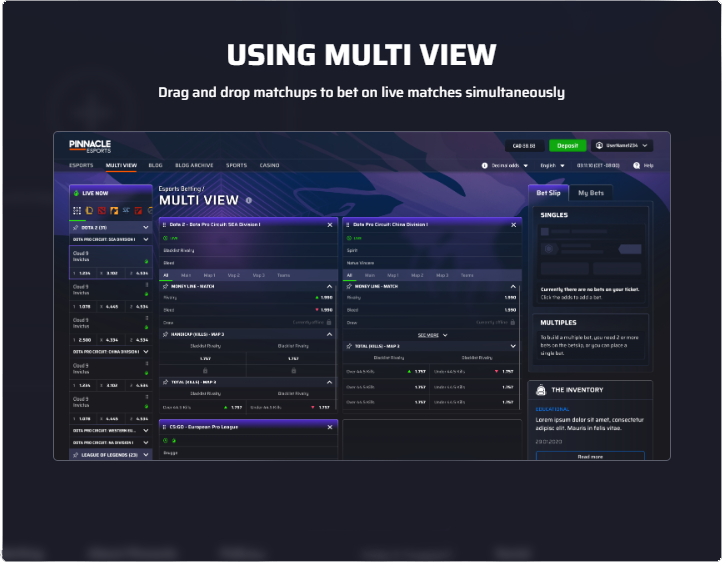 We would love to hear your feedback on this feature. If you have any comments, feel free to share them with our Customer Services team, or tag us on social media - @PinnacleEsports!