The hype just keeps getting bigger and bigger for the ESL One Berlin Major 2023! Which team will you be cheering on?
What is the ESL One Berlin Major?
The ESL One Berlin Major 2023 will take place in Berlin, Germany, and is the second Major of the 2023 Dota Pro Circuit season. Starting on April 26 and continuing until May 7, 2023, there's a prize pool of 500,000 USD for the participants to fight over. There are 18 teams: four from Western Europe and China, three from Southeast Asia and Eastern Europe, and two from North America and South America.
The 18 teams are split into two groups of nine. All matches are best of two (Bo2), and the top four teams will advance into the upper bracket. The fifth and sixth-placed teams will proceed into the lower bracket, whilst the remaining teams will be eliminated.
The playoffs will have a double-elimination bracket, where all matches are best of three (Bo3) except the Grand Final, which is a best of five (Bo5).
Who are the teams?
Western Europe: Team Liquid, Tundra Esports, Gaimin Gladiators, and OG
Eastern Europe: 9 Pandas, Team Spirit, and BetBoom Team
China: Xtreme Gaming, PSG.LGD, Invictus Gaming, and Team Aster
Southeast Asia: Talon Esports, Execration, and Team SMG
North America: TSM and Shopify Rebellion
South America: Beastcoast and Evil Geniuses
See the groups below: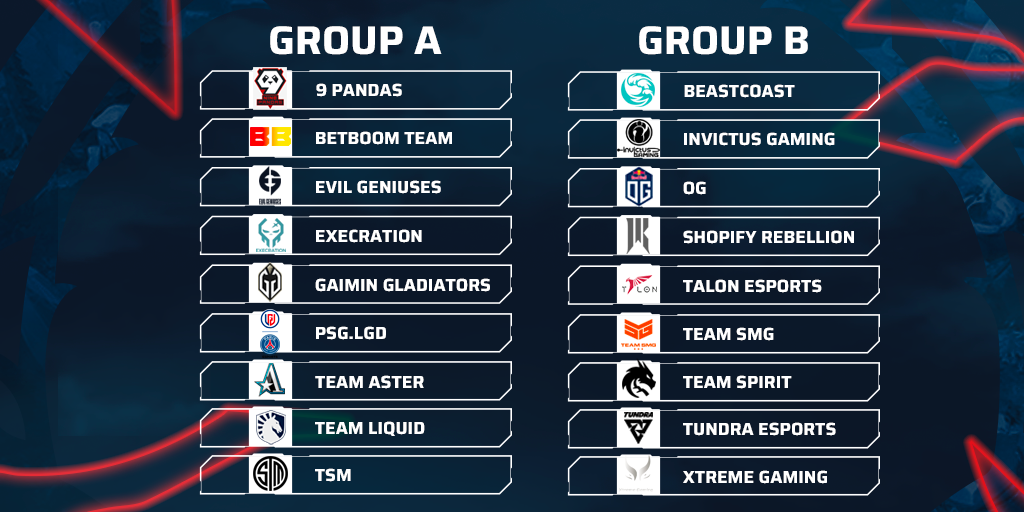 What teams should I keep an eye out for?
Based on the global rankings, Team Liquid are currently sitting at number one, whilst Gaimin Gladiators come in at a close second, and Tundra Esports are third. The Western European teams are looking like strong favourites in the tournament based on the global rankings, however, there is plenty of upset potential here.
Who are Team Liquid?
Team Liquid are a professional team founded in the Netherlands in 2000. The squad consists of Michael "miCKE" Vu in position one, Michał "Nisha" Jankowski in position two, Ludwig "zai" Wåhlberg in position three, Samuel "Boxi" Svahn in position four, and Aydin "iNsania" Sarkohi - the team captain - in position five. Liquid have done very well in a variety of other events, so it shouldn't come as a surprise that they're at the top of the rankings.
How do I bet on Dota 2?
Betting on esports might seem daunting at first, but I can promise you it's very easy. Understandably, beginners might need guidance on placing their first bets. To help, we've created a handy guide for those looking to bet with Pinnacle during the ESL One Berlin Major 2023:
Pinnacle offers a variety of markets for Dota 2 fans. Our most popular market for esports bettors is the Money Line market where you bet on which team you think will win a particular match. Want to learn how to place a bet specifically for Dota 2? Read our Betting Guide below!
Keep your eyes peeled for more updates from Pinnacle via our socials regarding the ESL One Berlin Major 2023, along with many other events. Pinnacle offers great Dota 2 odds and a huge variety of different markets, both pre-match and post-match.