The Pinnacle Cup returns to CS:GO, and this time with a focus on South America! Some of the best CS:GO teams from Brazil will be competing for a share of the tournament's $25,000 prize pool. Find out more about Pinnacle Cup: Brasil in our official event guide.
What is Pinnacle Cup: Brasil?
Pinnacle Cup: Brasil is an online CS:GO event organised and hosted by Pinnacle, with a focus on Brazilian and South American teams. The tournament will see some of the best CS:GO teams from the region compete for a $25,000 prize pool, along with a chance to earn the coveted title of the first Pinnacle Cup: Brasil champions.
Pinnacle Cup: Brasil will take place between May 23 and June 6, and the tournament will be broadcast live on Twitch and YouTube. You can find all of the available streams below.
The $25,000 prize pool will be split as follows:
First Place - $15,000
Second Place - $5,000
Third and Fourth Place - $2,500
Which teams will be at Pinnacle Cup: Brasil?
In total, there will be 20 teams competing at Pinnacle Cup: Brasil. 16 teams will start in the opening Group Stage, and four additional teams will be invited to join the event in the playoffs.
All teams competing in the event will be from South America.
Swiss stage teams are:
ARCTIC, Boca Juniors, CASE Esports, ex-Corithians Academy, FURIA Academy, HYPE, INTZ, MIBR Academy, O PLANO, ODDIK, paiN Academy, RED Canids, The Union, TropiCaos, w7m Academy, WINDINGO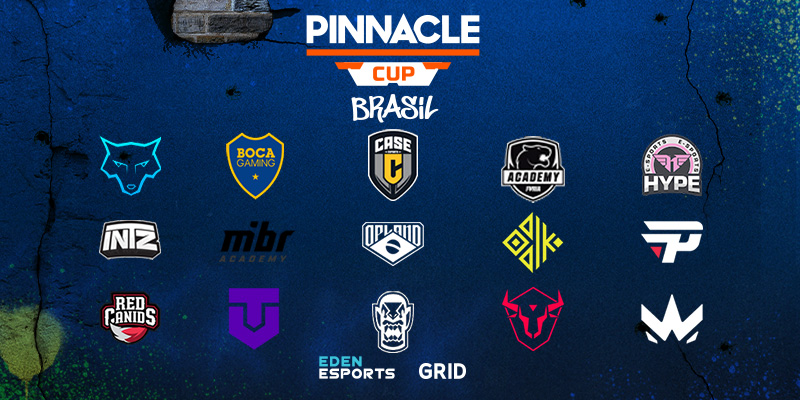 What is the route to the Pinnacle Cup: Brasil Final?
The tournament kicks off with a Group Stage, in a Swiss-system format. 16 teams will face each other in this stage, with all matches being best of three (Bo3). From this stage, the top eight teams will proceed through to the playoffs, while the bottom eight will be eliminated from the tournament.
In the playoffs, four additional invited teams will enter the fray, bringing the total amount of teams at this point to 12. From here on out, it's a single-elimination bracket, with all games being Bo3. This all leads to the final, where the first Pinnacle Cup: Brasil champions will be determined!
BET ON PINNACLE CUP: BRASIL
Get great odds on CS:GO with Pinnacle.
CS:GO Odds
How do you bet on Pinnacle Cup: Brasil?
Betting on esports is easy; however, beginners might need a guide to navigate the various methods available for making a bet. To help, we've prepared a handy guide for those looking to place a bet during Pinnacle Cup: Brasil:
Pinnacle offers a number of markets for CS:GO enthusiasts to bet on during Pinnacle Cup: Brasil. The most popular market for esports bettors is the Money Line market, which is a bet on the winner of a particular match. Futures markets are also on offer if bettors want to bet on the team that will win Pinnacle Cup: Brasil.
If you're an eagle-eyed bettor, be sure to stay up to date with our Pinnacle Cup: Brasil odds page. Pinnacle will offer the best CS:GO odds and a wide variety of different markets, both pre-match and in-play.