The BLAST.tv Paris Major is just over a month away. Before we get to the Challengers Stage, teams will first have to qualify through the gruelling Regional Major Rankings. These are a series of qualification tournaments that use the Swiss System. Each tournament is split by region, with Europe having two groups due to it having the most top teams out of each of the competing regions.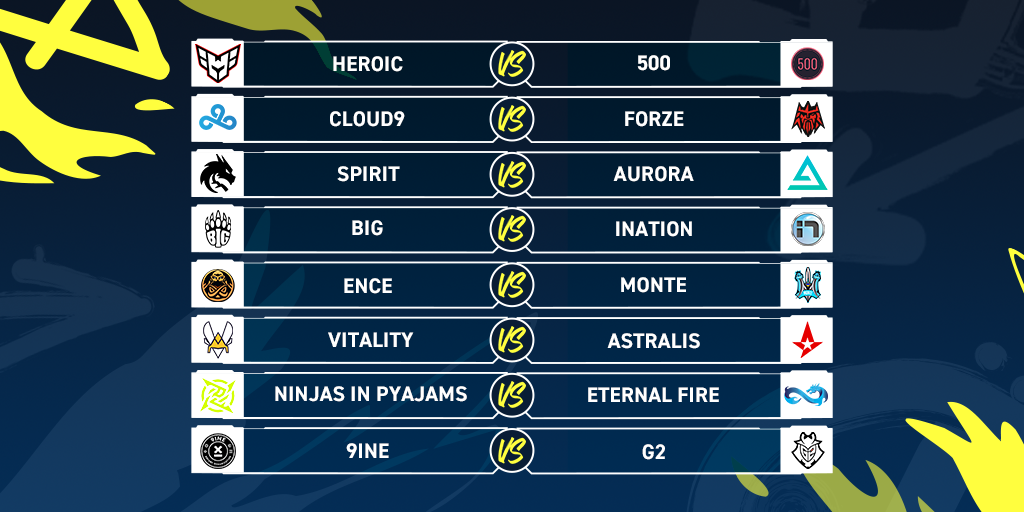 The Europe RMR B is arguably the tougher of the two European RMRs. It features the current top two teams in the world, G2 Esports and Heroic.
IEM Rio Major Blowouts
This group features G2, Astralis, and Ninjas in Pyjamas – three teams that either didn't make it to the IEM Rio Major, or bombed out in their respective stages. Astralis had a tough time in the Open Qualifiers, making it through to the Road to Rio RMR on their fourth attempt. Their run of form hasn't been great, and given that their first opponent is Team Vitality, it doesn't look like it will get any better for them. It's only fitting that the four-time Major winning organisation faces their ex-players, Peter "dupreeh" Rasmussen and Emil "Magisk" Reif, in the first round. It's been interesting to see Nicolai "dev1ce" Reedtz on his return to the game - and still putting up good ratings - but when matched against Mathieu "ZywOo" Herbaut, it's hard to favour the Danish AWPer.
G2 were another team that didn't make it out of the RMR at the previous Major. This was a surprise, as the team were starting to show a lot of promise under the leadership of Rasmus "HooXi" Nielsen. Since then, this team has been wiping the floor with the rest of the competition. They had a flawless run at IEM Katowice until the Grand Final, where they lost one map in their 3-1 win over Heroic. It's safe to say they are the current favourites for most tournaments right now, and an opening game against Polish side 9INE will swing heavily in their favour. That being said, 9INE aren't a bad side by any means. They feature ex-ENCE AWPer Aleksander "hades" Miskiewicz, and have seen some impressive results at the qualifiers. These results still aren't as impressive as the calibre of opponents G2 has been beating, so I'll hedge my bets in that direction.
A team that haven't been having good results are Ninjas in Pyjamas. The Swedish - now turned international - team have not had the greatest luck. They have developed a reputation for never quite holding on to players long enough to get started. Hampus "hampus" Poser went on personal leave at the beginning on the year, and Kristian "k0nfig" Wienecke came in to take his place. This is a great opportunity for "k0nfig" to show he can compete at the top level after being benched by Astralis, but the results so far haven't been great. They will play against Eternal Fire in the first round, a team that finished in the same position as them at the ESL Pro League Season 17. It will be interesting to see how this matchup goes, as it's tough to write off the mechanical ability of İsmailсan "XANTARES" Dörtkardeş. With the entirety of the Turkish CS:GO scene backing Eternal Fire, the Ninjas will be in for a tough fight.
CIS competition in full force!
There is a lot of CIS competition at this event - Cloud9, Team Spirit, forZe, Aurora, and Monte make up the list. Cloud9 will be the obvious favourites of the CIS teams, especially since they had three of the top five highest rated players during the ESL Pro League Season 17 Group Stage. Dmitriy "sh1ro" Sokolov, Sergey "Ax1Le" Rykhtorov, and Abai "HObbit" Hasenov have continued to excel after a fantastic 2022. Their first match is against fellow CIS team forZe. The team, led by Andrey "Jerry" Mekhryakov, were the biggest surprise to qualify for the playoffs at the ESL Pro League Season 17. They took down NAVI in the opening round, and they'll be looking to take down another giant at this RMR.
Spirit are a team that famously do well at Majors. They constantly surprise with their consistency, especially after losing Abdulkhalik "degster" Gasanov to OG. They will play Aurora in the first round, one of the teams that knocked Astralis out of a Road to Rio RMR Open Qualifier. One of the most notable names from this roster is their coach, Serhij "starix" Ishchuk. Many may recognise this name from previous NAVI rosters, or from the list of coaches who received bans from the coaching bug scandal. "starix" received a two Major ban for his offense, and he will look to show what he's been working on now that this has expired. This match could be close as a Bo1, but Spirit will be favoured due to the individual form of Ighor "w0nderful" Zhdanov and Robert "Patsi" Isyanov.
Monte are the final CIS team, featuring a Ukrainian core, as well as familiar names like Viktor "sdy" Orudzhev. Monte are playing in various CCT tournaments, and are 1-1 against Spirit Academy in the semi-final of CCT West Europe Series 2 at the time of writing. They drew against ENCE in the first round, a team who have recently undergone some changes. Earlier last month, Valdemar "valde" Vangså was benched from the line-up to make way for the addition of Guy "NertZ" Iluz. "Nertz" has already shown a great performance at the ESL Pro League Season 17, boasting a 1.25 HLTV Rating at the time of writing. Not only are they having a good event in Malta, they also knocked out G2 in a convincing 2-0 win. This will certainly be a difficult game for Monte.
Balkan representation
The final two matches feature 500 and iNation. 500 are a team that contain players from Windigo Gaming and SKADE, such as Georgi "SHiPZ" Grigorov and Aleks "Rainwaker" Petrov. They will face Heroic in round one, a team comprised of five of the most stable players we've seen in some time. As a unit, Heroic are phenomenal. They have the ability for any one of their players to become a star in any of the matches they play, no matter the opponent. It's unlikely that 500 will take this game off them, but being an unfamiliar opponent to Heroic, we may see a few rounds go 500's way.
iNation are best known for previously housing the likes of Nemanja "huNter-" Kovač and Nemanja "nexa" Isaković, as many of you may know from our recent Player History Quiz. I'm unfamiliar with this team beyond their appearances in CCT events, but they have Nikola "Dragon" Bošković. If a player with the nickname "Dragon" doesn't interest you, I'm not sure what will. They face BIG in their first match at the Europe RMR B. BIG are an interesting team that continually flip-flop on being a competitor to the top teams. They recently benched Florian "syrsoN" Rische, a player who was often their highest rated player – especially for online events. It's still too soon to judge this team, but they have a good chance of making it through this RMR.