The BLAST.tv Paris Major 2023 Americas RMR will take place in Monterrey, Mexico, and offers five spots to the BLAST.tv Paris Major 2023. This is 11 less than the sum of Europe's spots. Not only do they get less places overall, the Americas only get one Legends spot as well. The Road to Rio Americas RMR had some incredible scenes, with an intense Overtime game between Complexity Gaming and Imperial Esports closing the qualifier in spectacular fashion.
The Americas RMR is made of teams from both the North and South American continents. Players from Argentina, Mexico, Brazil, Canada, and the USA will be attending, as well as some players from South Africa! Here are the opening matches: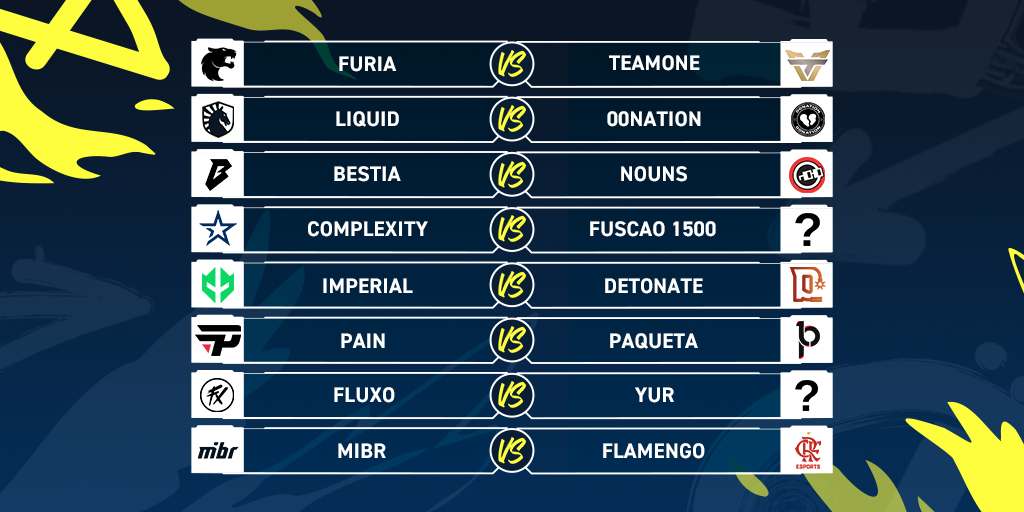 The big dogs
Team Liquid, FURIA Esports, and Complexity are the only three teams at this qualifier who currently reside in the top 15 of HLTV's official rankings. These teams have shown great progress to compete with European opponents, with Liquid even having time at the number one spot in the past. Liquid will face off against 00NATION in the first round, a team that features Marcelo "coldzera" David. Liquid, despite qualifying for the playoffs, had a poor ESL Pro League Season 17. They performed well below expectations, with Mareks "YEKINDAR" Gaļinskis even saying: "I personally think we completely wasted our time preparing for this tournament". On the other hand, 00NATION performed well above expectations, besting Ninjas in Pyjamas to qualify to playoffs. If Liquid start slow at this RMR, it could be a deadly upset in this best-of-one.
FURIA had a better time at the ESL Pro League Season 17 than Liquid, making it to the second round of playoffs, where they lost to FaZe Clan. Once again, Kaike "KSCERATO" Cerato and Yuri "yuurih" Boian are looking phenomenal! The Brazilian pair made it onto 2022's HLTV Top 20 Players of the Year list and haven't slowed down. They will play Team oNe eSports in the first round, and it's highly expected FURIA will win this match.
Complexity, just like Liquid, had an underwhelming ESL Pro League Season 17. After a great showing from their individuals at IEM Katowice 2023, it was expected that Complexity would make the playoffs. Fortunately, their first match is against Fuscão 1500, a team ranked at 88th. It would be a shock if Complexity came into this event with the same performance they showed at the ESL Pro League. This game is a must win, and if Michael "Grim" Wince, Ricky "floppy" Kemery, and Håkon "hallzerk" Fjærli can handle the pressure of the event, they should win this series easily.
Brazilian domination
The Americas RMR is heavily dominated by Brazilian teams. Without including the aforementioned FURIA, we have MIBR, paiN Gaming, 00NATION, Imperial, Team oNe, Fluxo, Paquetá Gaming, Fuscão 1500, and Flamengo Esports. MIBR are one of the standouts here, simply down to Felipe "insani" Yuji. He has quickly developed a name for himself with some incredible performances against top competition. All that's needed now is for MIBR to get some wins. A first match against the lowest ranked team at the event, Flamengo, might be just the start they need. If you watch this game, "insani" will be the player to pay attention to.
Another team every Brazilian will be keeping their eyes on is Imperial. Gabriel "FalleN" Toledo is a hero to all Brazilian CS:GO players, and Imperial will be one of the most watched teams at the Americas RMR. They will face Detonate in the first round. Detonate are an American/Canadian mix who do relatively well nationally, but some teams in this qualifier are far above the ones they usually face. This match could be close, but with Brazil backing Imperial, it's a tough ask for Detonate.
One of the teams that's been on the rise is paiN. They've impressed ever since their victory at ESL Challenger Melbourne 2022, and the addition of Romeu "zevy" Rocco has certainly been one of the reasons for their success. They'll be a strong contender for even the top teams, especially after beating Liquid at the ESL Pro League. They will face Paquetá in the first round, and will be the favourites in this match.
Fluxo are the final Brazilian team whose matchup we haven't spoken about. Although some of you may not have heard of this team, you will recognise names like João "felps" Vasconcellos, Vinicius "v$m" Moreira, Adriano "WOOD7" Cerato, and their coach, Wilton "zews" Prado. They face yur, another American/Canadian mix that mainly play in qualifier events. Fluxo are favoured here based on experience.
A single home player
Nouns Esports are the only team to have a player from Mexico. Edgar "MarKE" Maldonado is best known for his time in eUnited and Chaos Esports Club. This is an interesting team, as they qualified for the previous Road to Rio RMR as Squirtle Squad before getting picked up by Nouns. They also have Kory "SEMPHIS" Friesen as their coach, a player most should be familiar with from his time in Cloud9. They will play BESTIA in the first round – the only Argentina representative. Many will know players like Ignacio "meyern" Meyer and Luca "Luken" Nadotti from their time in 9z Team. This may be one of the closest matches, as these teams haven't played each other. This really could go either way.