In his latest column for Pinnacle, Thorin reflects on an era of dominance from Astralis and the achievements of a quintet that can be considered the greatest the game will see.
Astralis were the team that could but not be beaten. The line-up which won the last three majors back-to-back are the game's greatest ever quintet but they did not just break records, they overcame history and everything we knew about competitive CS:GO itself. This is the tale of a team that fell from the top spot three times but bounced back again and again and again.
The rise
While the Astralis "core" of Nicolai "dev1ce" Reedtz, Peter "dupreeh" Rasmussen, and Andreas "Xyp9x" Hojsleth had been in one of history's best line-ups already back in Team SoloMid (where they challenged for the top spot and won a number of respectable titles), they were also known as the team who did not perform at their best in the biggest tournaments and in the most pivotal moments. Hence their famed inability to win tournaments with a $250,000 prize pool or more - including the major, over opponents they could (and did) beat elsewhere on the circuit.
Out went Finn "karrigan" Andersen and in came an enormous 'hail Mary' in Lukas "gla1ve" Rossander - a formerly great leader whose time at the top had been brief (before he degenerated into an outcast from his own scene). Immediately, the Astralis squad was revitalised and became contenders at every event they attended. It would only take them a few weeks before they had arrived at the ELEAGUE Atlanta major in early 2017 and earned a seemingly fated win over Virtus.pro to take their first-ever Major title and immediately right the wrongs of history, as perhaps they might have seen them.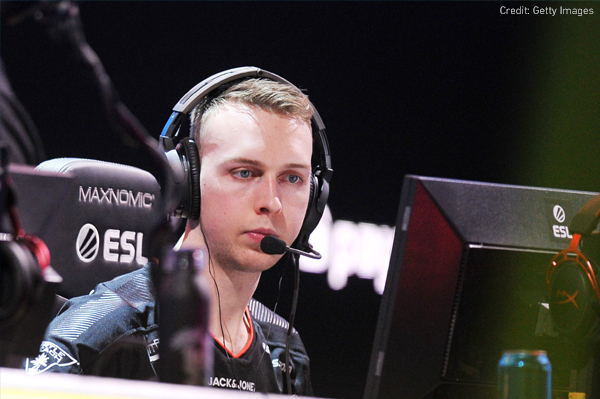 Despite winning IEM Katowice later that year - always one of the most prestigious and stacked events of the calendar - they would ultimately be replaced at the top by SK Gaming and found FaZe Clan also ahead of them prior to PGL Krakow. Unable to defend their title at the aforementioned event, robbed by ballsy play from Gambit (in particular Danylo Ihorovych "Zeus" Teslenko), the rest of the year saw the team constantly hovering around elite status but not winning titles.
Analysts and fans speculated, not without merit, that teams like SK Gaming and the retooled FaZe Clan countered the Astralis style due to having both experience and a lot of raw skill to short-circuit the beautiful Danish machinery of "gla1ve" and the gang.
Second life
Were they any normal team, this would have been the beginning of the end. A gradual decline should have followed or harsh roster cuts would have gambled their fate on new blood. The latter choice was forced on them with Markus "Kjaerbye" Kjaerbye deciding at the last minute not to re-sign his contract and going to play for North instead. With Emil "Magisk" Reif, a formerly elite young talent who had lost his way in North and OpTic, Astralis were again immediately a contender and after two events began dominating even the best teams in the world and stacking trophies into their cabinet.
A bad result for this Astralis team would result in a semi-final finish and a close three-map series loss, typically. Anything less and they were the almost boringly inevitable winners of the events they attended. Their win at FACEIT Major: London 2018 may look obvious now, but they battled history itself to achieve it. No core had ever won another major more than a year and a half after their first.
Astralis were a one-of-a-kind team though. The winning only continued, including the first-ever million-dollar Intel Grand Slam, and soon enough the team was hoisting a second major championship at IEM Katowice, this one defending their status from the last. They became only the second line-up in history, joining Fnatic in 2015 and LG/SK in 2016, to go back-to-back at the majors. All opposition to their status as the game's greatest team was seemingly brushed aside as even their staunchest critics fell silent.
'Blastralis'
When no team could truly topple Astralis via gameplay, the kings of Counter-Strike scene yielded the throne by declining to attend a number of tier-one events in 2019, from IEMs to Dreamhack Masters, and instead focus on recovery (with "dev1ce" ever a health concern) and aid their parent company by only playing at BLAST Pro Series events (BLAST was owned by the same RFRSH Group that Astralis belonged to at the time). These primarily best-of-one invitational events were far inferior in format and field size to the tier-one events and Astralis began to show signs of ring rust.
Worse still, their departure from the hunt for the world number one ranking allowed former second-best team, Team Liquid - now with Jacky "Stewie2K" Yip infused into their line-up - to not just take their spot but take it in emphatic and exciting fashion. Team Liquid were racking up titles and series wins at a rate even Astralis had not during their prime.
Credit: Thorin via Thooorin
When Astralis began attending events again the rot had seemingly gone too deep. They did not make the play-offs at the Esports Championship Series Season 7 Finals, were eliminated by Team Liquid in the quarter-finals of ESL Pro League Season 9 and fell to Team Vitality at ESL One Cologne. Meanwhile, Team Liquid won the second Intel Grand Slam and looked to be one of history's greatest ever favourites for the StarLadder Berlin Major.
Had you written off "dev1ce" and his teammates at this point, no one would have suggested you were wrong. The team were not winning events and only made one final towards the end of the summer. They'd even skipped further events in 2019, including IEM Chicago, in the run-up to the StarLadder Berlin Major. Astralis were the G.O.A.T. but it seemed like they were put out to pasture now and were there simply to be a high-status scalp for other would-be champions.
Third kingdom mindset
Astralis fought media narratives and even the reality of their situation the whole time during their "Blastralis" period. As they punched desks and monitors it was clear they refused to accept they were second best or much worse. The player break saw them arrive in Berlin in arguably even worse form. Being pushed way too close in a Swiss-style series against nobodies CR4ZY, featuring current G2 star Nemanja "huNter-" Kovac, their fate seemed set in stone as they drew Team Liquid in the quarter-finals of the major.
Fnatic and SK Gaming might have looked on thinking Team Liquid would defend their status and prevent Astralis from winning a third straight major and a record fourth overall for four of the Astralis players. Team Liquid were on a 22-game series winning streak, close to the record of Ninjas in Pyjamas from the early days, and had beaten Astralis in their last match-up and two of the three previous times they had played a Bo3 series.
A genius gamble on Vertigo and some clutch play under pressure saw Team Liquid evaporated, unable to stay composed under the rising heat of staring down greatness. For once, the hackneyed sports cliche that "they wanted it more" seemed to apply to an Astralis who simply would not and could not be denied. Astralis had won their fourth major more than two and a half years after their first, a span of time which might be the most impressive feat in CS:GO history.
Surviving an even trickier series against NRG in the semi-final put them into what would be an easy final and a coronation as again having climbed the mountain to Counter-Strike's greatest accomplishment once more.
The rest of the year saw Astralis seemingly channelling their 2018 energy as they would either win tournaments outright or reach the semi-finals and lose narrowly at a minimum. Once more, it took another team's absolute best to deny the Astralis onslaught on the top spot at each tournament. Three titles more into their haul, while Team Liquid floundered and failed to win anything, once more quieted dissenters, myself included. Heading into 2020, the question even became if they could be looking at an unprecedented second era - for those who understand how the era model works at least.
Musical starting spots
2020 began with an underperformance that shocked the system of onlookers like a bucket of cold water to the face of a blissfully sleeping boy. Astralis were swept by a Complexity line-up that had previously been a meme and were then put down by NAVI at the BLAST Premier Spring group stage (amusingly a new format from BLAST, which is no longer owned by the same people as Astralis and features all Bo3 play). NAVI would absolutely crush Astralis in their next meeting at IEM Katowice in the semi-finals. That would be the last offline event in Counter-Strike to this day.
Going online, Astralis initially remained elite - narrowly finishing third at ESL Pro League Season 11 and winning ESL One: Road to Rio. Then came the bombshell that "gla1ve" and "Xyp9x" would be benching themselves due to burn-out, one tournament apart. "gla1ve" did not play again until October's ESL Pro League Season 12 and "Xyp9x" did not play until November's BLAST Premier: Fall 2020 Regular Season. In the meantime, the team hurriedly sought out replacements.
Journeyman Patrick "es3tag" Hansen was signed from Heroic but had to wait out his contract for a few months. Washed-up AWPer Jakob "JUGi" Hansen and former Heroic teammate of "gla1ve" and IGL Marco "Snappi" Pfeiffer came in as a full-time signing and stand-in, respectively. "JUGi" was gone in a matter of months as the team's fortunes with him were pitiful. Break-out star Lucas "Bubzkji" Andersen was signed from Flashpoint 1 champions MAD Lions, but this was an Astralis looking far from dangerous. Once more the world wondered if the great Danes had been put down for good.
Final countdown
When "gla1ve" returned the team was able to win ESL Pro League Season 12, albeit with "Magisk" calling instead of him. After that, the team had some struggles and were stuck at the semi-finals stage of events, even seeing fellow Danes Heroic outperforming them at an elite level. The return of "Xyp9x" in October 2020 would begin to restore order, though, as the original five who were three-time defending champions was again complete.
After a couple of initial speed bumps, Astralis broke the matrix yet again and hit the highest level of CS:GO in the world. In the three events closing out 2020 and the first of 2021, the team won three and finished runners-up in the other two. Teams like NAVI and Team Vitality were supposed to be better and indeed had the world's best star players in Oleksandr "s1mple" Kostyliev and Mathieu "ZywOo" but Astralis were again the team who turned up the pressure on their opponents and watched them squirm and lose sight of victory.
More than half a million dollars' worth of prize money went to Astralis over those four tournaments and they could not be denied as the game's best team. At least until February arrived. For most teams, to win four titles in a year and have some other top-four finishes would be considered an excellent year of results. For Astralis, it was their worst year in a long time.
Astralis have never since placed top-four in a tournament. After four failures in a row, "dev1ce" was sold to NiP, where he currently sits on the cusp of contender status. The rest of the game's best-ever core remain workmanlike but unable to touch greatness in their results.
Missing the star who won the most MVPs in history playing in their colours, Astralis have seemingly gone as champions at last. That they eventually fell off was no shock. What was shocking was how exceptional a team of players they were and the mentality they showed the world to rise up and reach the top spot four times, accruing four majors and a whole lot more silverware along the way. Much was said about Astralis and many jokes made, but they had the last laugh most of the time.