With a rich history at the LoL World Championship, Fnatic have been a perennial contender at the tournament. In his latest feature, Jack Stewart outlines the team's journey and the challenges they have faced.
Doubters were silenced and dreams were realised as Fnatic fought tooth and nail through the playoffs to qualify for the League of Legends World Championships.
Usually, Worlds qualification is the minimum expected of the prestigious organisation. In Fnatic's 10-year LoL history, they have only missed out on the major tournament twice, the last failure coming way back in 2016. However, 2021 has seen the team plagued by uncertainty and inconsistency. After everything that has transpired this season, reaching the Worlds stage once more is a tremendous achievement.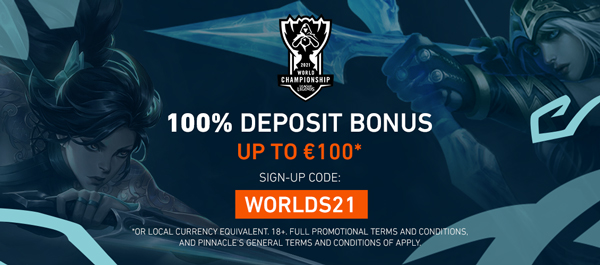 Read Pinnacle's Worlds 2021 betting preview.
To label 2021 as precarious would be putting it lightly. There was major apprehension about the team before the season even began and even bigger scares were had throughout it, making Fnatic's long journey back towards the top of the League of Legends European Championship (LEC) truly extraordinary to witness.
It all began during the offseason last year. After seeing his contract run out, one of Fnatic's most iconic players Martin "Rekkles" Larsson walked away after eight years of service in favour of competing for silverware with bitter rivals G2 Esports - all without Fnatic seeing a penny.
Restructuring the team in the off-season
Rumours had Fnatic fans hopeful that the deal would see Luka "Perkz" Perkovic - the only other European who could match "Rekkles" - come the other way but Fnatic couldn't afford his buyout fee of almost $5 million (£3.6m). Instead, "Perkz" would join Cloud9 and the North American outfit's former Mid-laner Yasin "Nisqy" Dincer would become Fnatic's new Mid-laner instead.
By Fnatic's standards, that could not be allowed to happen again. The potential was there for all to see but something drastically had to change.
"Nisqy" was a solid addition but entitled fans were left underwhelmed by a player who had failed to establish himself as the best Mid-laner in North America where there's arguably a weaker level of competition. The Belgian hadn't performed poorly, far from it, but after losing "Rekkles" and missing out on "Perkz", Fnatic fans couldn't help but worry about a lack of star power in the team.
There were fears that Fnatic were losing their status as an elite team. Had they become an organisation that would simply feed talent to G2 while coasting on past legacies? Those sparks of doubt then ignited into an inferno after the new roster's horrendous capitulation during the Spring playoffs, exiting in the second round after a disgraceful 3-0 loss to Schalke.
Fnatic needed to take a risk and with everything on the line, the organisation decided to take two.
Into the Jungle
"Rekkles" leaving Fnatic had seemed unthinkable at a time, yet Gabriel "Bwipo" Rau role-swapping into the jungle midway through the season came as an even bigger surprise. Immensely talented and highly-rated Jungler Oskar "Selfmade" Boderek abruptly moved on to Team Vitality and "Bwipo" would have just a couple of months to try to fill his shoes while learning on the job.
Just to add a little more uncertainty, the hole left by "Bwipo" in the Top-lane was being filled by a rookie who had only been competing for two years: 19-year-old Adam "Adam" Maanane.
Credit: Official Fnatic Youtube channel.
The young Frenchman was one of the brightest prospects in the region after his superb performances throughout Karmine Corp's EU Masters title win but there were questions over how quickly he could adapt to life in the LEC and whether he could reach a high enough standard to push Fnatic up a level.
The early signs suggested that yes, he could. Fnatic made a magnificent start to the summer, building up a five-game win streak early on which culminated in a thrilling victory over G2. Combined with MAD Lions' weak showings after returning from the Mid-Season Invitational (MSI), Fnatic were suddenly title favourites.
Setting a new standard
"Adam" settled into the league impressively fast. The Frenchman's tally of 15 solo kills was double that of every other LEC player, except teammate "Nisqy" (who earned eight). Meanwhile, "Bwipo" looked like he was born to play the Jungler role. His communication was excellent and he could now make the most of his fantastic synergy with Zdravets "Hylissang" Galabov.
However, Fnatic's form divebombed towards the end of the regular season and the team would have to climb through the loser's bracket of the regional playoff after only narrowly qualifying, to secure a place at Worlds and have a chance at the LEC title.
It took three series for Fnatic to ensure they returned to the Worlds stage, all of which went to the maximum of five games. Team Vitality and "Selfmade" pushed Fnatic's fighting to the limit, Misfits Gaming came extremely close with an unexpectedly strong performance, and then there was another familiar face to get past in none other than "Rekkles" and G2 Esports.
In the match against G2 Esports, when it was do or die, every member of Fnatic had their heroic moment.
"Hylissang" terrorised G2's Bot-lane with one of the greatest Pyke games the proffessional scene has ever witnessed, while Elias "Upset" Lipp got the better of "Rekkles", the man he replaced, and even recorded the most kills (13) in a single LEC playoff match this summer to earn his first-ever Worlds appearance.
"Nisqy" relentlessly opened up the map for Fnatic with his champion Twisted Fate and was heralded as one of the major contributors to the victory - there's a reason "Nisqy" won seven of his eight playoff games using that champion. And in a spectacular clutch moment, "Bwipo" cancelled a Ryze ultimate with his Trundle Pillar to secure four kills and swing the fifth and final game in Fnatic's favour.
However, "Adam" was the biggest hero of all as the youngster bravely asked his team to trust him and locked in his signature Darius pick - a champion that hadn't been used in the LEC all summer. His teammates' faith paid off as "Adam" found multiple solo kills in the top lane and lead his team to victory and international qualification.
Fnatic recently revealed their new jersey for Worlds which pays tribute to the organisation's 10 years competing in LoL while also looking forward to the next decade. It's fitting, considering Fnatic's roster has turned a page into a new era.
Credit: Official Fnatic Youtube channel.
The departure of "Rekkles" means that every player from the pre-G2 days, where Fnatic dominated, have left. In their place, new stars are being born.
"Nisqy" and "Upset" have silenced their doubters. "Bwipo" and "Hylissang" have continued to build legacies of their own. And "Adam" has set himself up to be one of the faces of the LEC moving forward, should he continue his current trajectory.
With a difficult set of matches in the group stage − against the impressive PSG Talon, reigning MSI champions Royal Never Give Up and, if the play-in goes as expected, the scary Hanwha Life Esports (with Jeong "Chovy" Ji-hoon and Kim "Deft" Hyuk-kyu) − all five members of Fnatic will have to dig even deeper if they are to be recognised as a world-class team once more.
With the rise of MAD Lions and Rogue, it's time for Fnatic - even with fresh faces - to show the new kids how it's done.
Find the latest League of Legends Worlds odds.