Week 2 of the LEC Spring Season was wild, and left fans with more questions than answers. Despite that, we've done our best to try and figure out just how these teams currently rank.
Let's start with something clear cut, and that's the fact that G2 Esports are still (probably) the best team in the league. They always step up against tougher opposition, as shown by their fantastic win over Team Vitality - who looked a little disjointed, which could cost them come Groups. However, it wasn't the perfect week for G2 either, as they were taken down by KOI.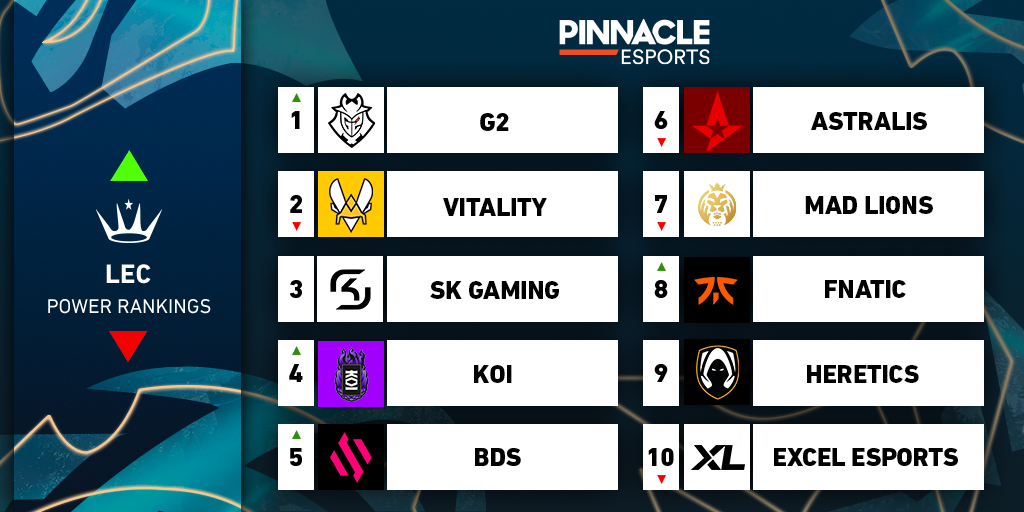 After a terrible start, KOI needed to respond, and they did just that in emphatic fashion. We've often mentioned Mathias "Szygenda" Jensen being the key to this roster's success, and he's finally looking to be settled, as he played brilliantly in Week 2.
The Top Laner barely made any mistakes versus G2, and played a Baron fight beautifully to ensure there was no Smite steal. Then, KOI as a whole were remarkably clean in their win versus a very strong SK Gaming side.
It looked like we were finally seeing KOI's true potential, but then they unexpectedly lost to struggling Fnatic. In KOI's case, we're giving them the benefit of the doubt. It may have been an outlier thanks to a sensational game from Iván "Razork" Martín Díaz where he went 10/0/6.
Including Winter, Fnatic had lost their last eight games, but finally brought that streak to an end with a crucial win over Team Heretics before the massive win over KOI. The team certainly look better with both "Razork" and Henk "Advienne" Reijenga on engage champions, but as a whole, Fnatic are still far from polished.
Heretics are also still pretty messy, but Marcin "Jankos" Jankowski is playing extremely well. He leads LEC Junglers in average kills, damage per minute, damage share, gold difference at 15 minutes, first blood participation, and solo kills. He was a huge reason his team beat both Excel Esports and MAD Lions last week, but that Fnatic loss still must have stung.
And the loss to Heretics definitely hurt Excel, although they also took down MAD, who look miles away from the team that competed in the finals a few weeks ago. MAD could genuinely miss out on Groups and ruin their MSI hopes.
The Lions did at least beat Astralis, who are still showing signs of promise, but are wildly inconsistent. Last week Astralis added G2 to the impressive list of teams they've beaten this split, which also includes Vitality and KOI. However, their macro was appalling versus Team BDS, which led to some horrific Baron calls and a wasted lead.
Meanwhile, BDS showed fantastic shotcalling, with the genius callout from Adam "Adam" Maanane to delay taking Elder so that they had the buff ready for the Baron fight. BDS genuinely look like an impressive team that continue to improve week on week.
And the same can be said for SK Gaming, despite the fact that they suffered two losses last week at the hands of Vitality and KOI. They still played well in both of those games, and were absolutely lethal versus Excel, choking them out of the map very effectively without giving up a single kill.
BET ON LEC
Get great odds on League of Legends with Pinnacle.
LEC Odds
What to expect from LEC Week 3
The final week of the regular season will be all about the last teams to make the final eight. There are currently four teams tied for last place with 2-4 records - Fnatic, Excel, Heretics, and MAD.
With MAD and Fnatic both having to face G2, the Saturday match where they face each other will be critical to their qualification hopes.
Excel have arguably the "easier" schedule with KOI, Astralis, and BDS, but they are taking a big gamble by subbing out Mid Laner Vincent "Vetheo" Berrié for Felix "Abbedagge" Braun.