What a crazy end to the LEC Spring regular season.
In a result that nobody saw coming, Team BDS and Astralis are the top two seeds heading into the Group Stage.
BDS crushed Excel Esports, showed their flexibility as they dominated KOI early, and then completed a comeback against Team Vitality in massive victories.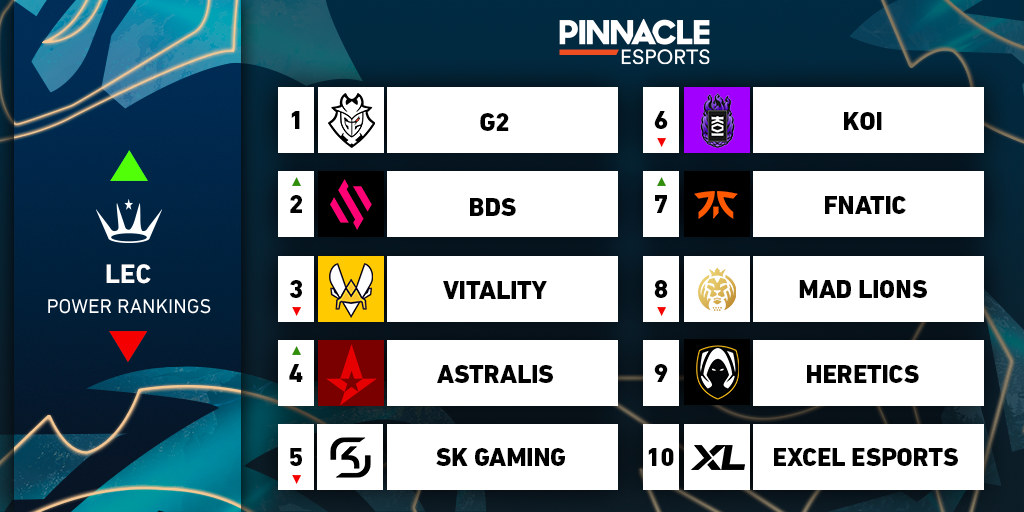 Meanwhile, Astralis showed excellent shotcalling versus Team Heretics, and their Bot Lane continued to shine against Excel Esports and Fnatic. Jungler Doğukan "113" Balcı deserves a lot of credit for how much he stepped up, as does Adam "LIDER" Ilyasov for how quickly he's managed to fit in with the group.
Completing the top four are the expected names, G2 Esports and Vitality. Vitality won the remainder of their games, and should certainly be competing for a spot at the Mid-Season Invitational (MSI), though they struggled against Team Heretics. G2 are still likely the top team in the league, but have less to compete for with their MSI spot already locked in.
The relaxed G2 were caught off-guard by Fnatic, who have improved tremendously. In just three weeks, Óscar "Oscarinin" Muñoz Jiménez has had a remarkable transformation. He didn't register a single kill in Week One, but last week he was Fnatic's star man, and every bit the Carry player they had hoped for. It's probably too much to ask for to expect this squad to break into the top four, but they're finally moving in the right direction.
On the other hand, it was a terrible week for Excel. The introduction of Felix "Abbedagge" Braun wasn't enough to stop them from going 0-3, and they will miss out on Groups once again.
Team Heretics put up a much better effort with a crucial win over SK Gaming, but great performances from Marcin "Jankos" Jankowski and Jakob "Jackspektra" Gullvag Kepple weren't enough for them to beat MAD Lions in the tiebreaker.
It has been a poor split from MAD, but there's still a good team in there. Due to seeding, they could still easily go to MSI. If they have learned a lot from these last few weeks of struggle, and can manage to click everything back into place, they could become a much stronger unit than the team that came second in Winter. But for now, they look miles behind G2.
And lastly, we need to mention SK Gaming, who had a horrendous 0-3 week in a disappointing fall from their encouraging start. The loss to G2 was understandable, but they really should have beaten Heretics and MAD. It felt like they couldn't grasp any kind of control. All eyes will be on Mark "Markoon" van Woensel when Groups come around.
BET ON LEC
Get great odds on League of Legends with Pinnacle.
LEC Odds
What to expect from the LEC Spring Group Stage
The two groups are extremely difficult to call.
Group A contains Astralis, Vitality, Fnatic, and MAD. Vitality and Astralis will definitely be favoured, but Fnatic are in good form, and MAD have shown this year that they can beat anyone, even if they haven't performed recently.
Meanwhile, Group B is made up of BDS, G2, SK, and KOI. If G2 take this seriously, they should come top, but we all know it won't be that simple. Any of these teams could advance. At their best, SK are very clean and fearsome, as are KOI, who in Week 2 showed glimpses of what they can do. But with their superb fighting and shotcalling, you have to expect top seeds BDS to rise to the challenge.