The Highest Limits
No bookmaker accepts bigger bets
Pinnacle stands out from the competition by consistently offering the highest maximum bet limits online, earning us the reputation as the bookmaker of choice for serious bettors.
Massive limits for the big soccer leagues
Soccer is the most popular sport with our customers so it is only right that the 'Big Four' leagues (EPL, La Liga, Serie A and Bundesliga) have limits to match. As standard you can get the following limits, though they will often rise much higher on game days: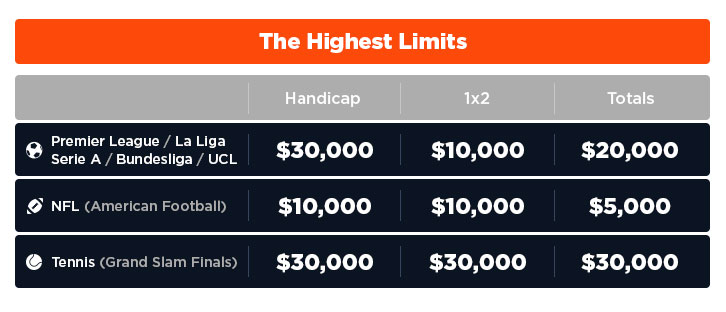 Big Limits, big winners – no problem
Our Winners Welcome policy means that even if you consistently bet at the maximum limit and win, we won't restrict you in any way. The combination of our unbeatable odds, the highest limits and a Winners Welcome policy, provide a tailor-made service for serious bettors.
Maximum limits – where can I see them?
Limits are clearly displayed at all times on the member's side of Pinnacle and are exactly the same for all players. How many other bookmakers are that transparent? Log in now to see the limits and if you are not a member open an account now to see them.

Low minimum deposits – small bettors welcome
Though our maximum betting limits are the highest online, recreational bettors are more than welcome. We offer minimum stake amounts of just $1 (or the equivalent in your local currency). And no matter how small your stake, you should still bet with the best odds available to get the biggest potential payout.
Fed up of restrictive bet limits?
Bet without limits for the new EPL season
A few more reasons why you'll love Pinnacle