18 Jun 2021
Pinnacle continues its global esports success with Pinnacle Cup II CS:GO event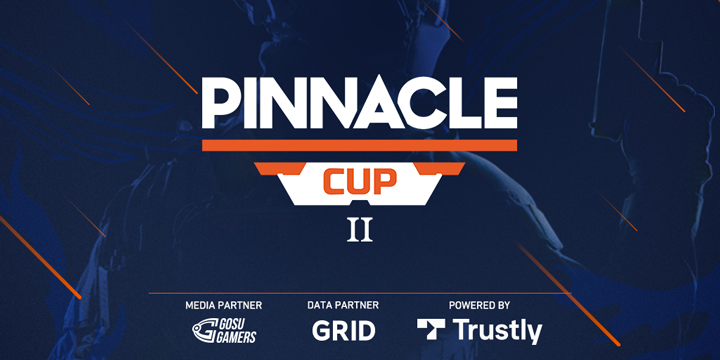 The new agreement commits Pinnacle to host another Pinnacle Cup CS:GO event.
June 18, 2021
Pinnacle are delighted to announce that a second Pinnacle Cup CS:GO event will take place from June 28, 2021 to July 16, 2021. Following the success of the first Pinnacle Cup in March, top-tier CS:GO teams from all around the world will battle it out once again to stake their claim as one of the world's best teams and compete for a share of the $100,000 prize pool.
In addition, Pinnacle will continue working with data partner GRID and production partner Relog Media to offer a world-class viewing experience. The action will be held online on the TEBtv Twitch channel and will start with the group stage, which will see teams such as Sharks, Tricked, VP. Prodigy, and more battle it out before the likes of ENCE, Entropiq, MIBR, and Pinnacle Cup finalists HAVU join the tournament at the Swiss stage. The successful teams will then progress through to the knockout-style playoff stage where a further four invited teams will be added.
Pinnacle will boast guaranteed best-priced odds across all pre-match and in-play betting markets at the lowest margins, to offer customers unrivalled value in the market. 
Pinnacle CEO Paris Smith:
''We're excited to announce a second Pinnacle Cup CS:GO event, following the success of our inaugural tournament in the spring. This success is testament to the tireless efforts of the team, and our partners, in creating an unrivalled fan experience that strengthens Pinnacle's relationship with the esports community.
Our commitment to the Pinnacle Cup II further showcases our ambition to scale our value proposition through our products and the streaming of the tournament in collaboration with GRID and Relog Media.
We look forward to welcoming back some of the teams that took part in the first edition of the Pinnacle Cup and opening the door for more of the world's best teams to battle it out for the chance to be champion.''
Ben Cove, Pinnacle CMO:
''The first half of 2021 has been significant in the life of Pinnacle and our esports offering. We knew Pinnacle would deliver the very best esports odds, but could we branch out to create our own esports tournament and genuinely resonate with the audience?
The first Pinnacle Cup CS:GO tournament proved this concept and exceeded any expectations we had going into it. Now, we build for scale and longevity, with Pinnacle Cup II in June and July, and we have already begun planning a rollout strategy for further events encompassing more content, competitions, fan experiences, and player engagement on additional digital and LAN platforms.
We are delighted to be teaming up with Trustly once again as our core event sponsor. Trustly's passion for esports, particularly CS:GO, has been evident throughout the process, and we're looking forward to joining forces with them once more to deliver a truly world class event.''
About Pinnacle - Pinnacle is the original pioneer of esports betting, having blazed a trail for over a decade. Being one of the first bookmakers to take an esports bet back in 2010, Pinnacle has unrivalled experience in the esports space. Pinnacle has esports in its DNA and is built on a genuine and far-reaching connection with the community. In addition to offering the best esports betting value online, Pinnacle is committed to helping fans navigate the world of esports betting and enhancing the esports experience on a truly global scale.
For more information about Pinnacle please contact [email protected]