02 Nov 2018
Pinnacle wins EGR eSports Operator of the Year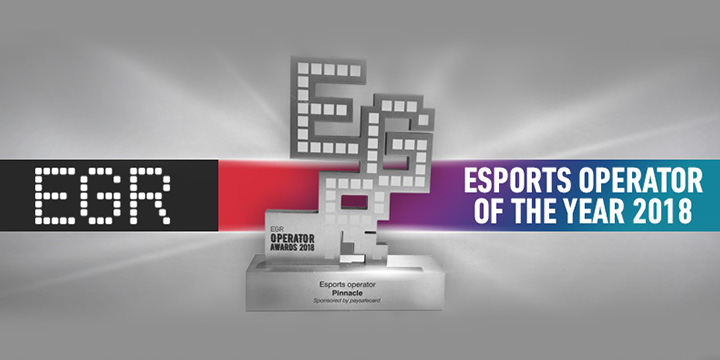 Pinnacle emerges victorious in competitive eSports category at this year's EGR Operator Awards

London, November 2, 2018


Online bookmaker Pinnacle has added yet another eSports award to its growing collection after taking home the eSports Operator of the Year award at the annual EGR Operator - the most prestigious event in the egaming calendar.
Over 800 industry professionals were in attendance as Grosvenor House in London played host to this year's ceremony. EGR's focus was on rewarding excellence in egaming as all of the biggest names in the industry celebrated the achievements of the various winners with Pinnacle coming out on top in the highly competitive eSports category.
Paris Smith, Pinnacle CEO commented:

"It's always great to win an award and get recognition from those from within the industry for the quality of your product, especially when it's for something so close to your heart. Everyone at Pinnacle is thrilled to be named EGR's eSports Operator of the year for 2018 and we're all very excited for what is to come in 2019."
Marco Blume, Trading Director at Pinnacle:

"Our eSports offering has gone from strength to strength since we took our first eSports bet back in 2010. Given that its now in our top five most popular sports by betting volume, we know our customers love the product and that's obviously what matters most to us. However, an award that says you're the best at what you do is always nice."
About Pinnacle - Pinnacle is a respected industry leader with over 20 years experience in online betting. With an established reputation for always offering the best value and an unrivalled betting experience, Pinnacle has been committed to the development of the eSports for almost a decade.

For more information about Pinnacle please contact

[email protected]