08 Apr 2021
Pinnacle partners with DeckPrism Sports to further enhance in-play betting product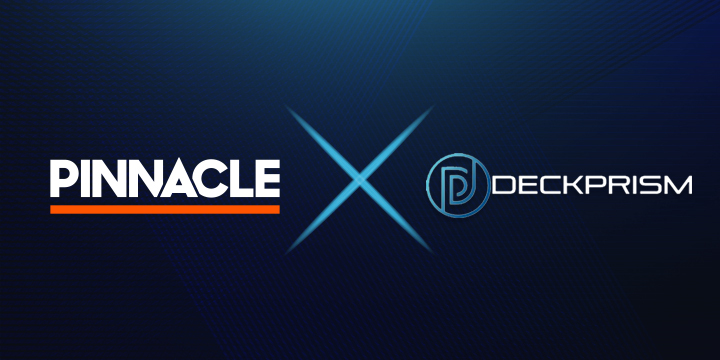 Online betting and gaming operator Pinnacle has announced a partnership with premier in-play odds originator DeckPrism Sports.

April 8, 2021


Pinnacle has today announced a partnership with DeckPrism Sports. The deal will enable the online bookmaker to further enhance its in-play betting experience and take its industry-leading product to the next level through the use of DeckPrism Sports' proprietary models.
Pinnacle will access DeckPrism Sports' advanced technology and highly impressive modelling capability. When combined with Pinnacle's wealth of experience and advanced risk management platform, this will provide customers with an unrivalled in-play betting product. Both parties are working towards the ultimate goal of giving Pinnacle customers more opportunities to bet during sports events – and at better prices.
Marco Blume, Trading Director at Pinnacle said:
"Everyone knows that in-play betting is where the action is nowadays. It's great for the customer, but it presents a unique challenge to a bookmaker. Pinnacle thrives on this, and we have proven time and again that we will take on these challenges in order to give bettors what they want. There are so many moving parts to in-play coverage and so much more experience and technology required to get things right compared to pre-game.
"We've partnered with DeckPrism Sports because they are head and shoulders above others in this field. Through this collaboration, we're setting the gold standard for the industry to follow. We had a great product before, but now our pricing will be even faster, as we continue to improve the in-play experience for our customers."
Ed Miller, Co-Founder and Chief Architect of DeckPrism Sports commented:
"Pinnacle is one of the top names in sports betting across the globe and we are thrilled to be able to work with them to ensure their customers enjoy a more seamless in-play betting experience. This is an exciting partnership for both parties and it is a testament to the quality of our product that we can help improve the great work Pinnacle is already doing.
"DeckPrism's advanced technology and models have proven itself to benefit companies like Pinnacle by capturing more in-game action, but it's also about creating a fairer and more reliable product. We're looking forward to improving the experience for Pinnacle customers, while also helping the company secure more revenue and achieve greater brand allegiance."
While in-play betting has been available for many years, customer adoption has progressed much quicker than most bookmakers' ability to develop more sophisticated in-play offerings. Delays and bet rejection are tools that bookmakers have previously used to fall back on, much to the displeasure of their customers. However, DeckPrism has created technology to change that, while Pinnacle continues to make good on its promise to eliminate these pain points and put the customer first.
Pinnacle's unparalleled level of risk management is powered under their B2B arm Pinnacle Solution. Bringing DeckPrism Sports' advanced modelling expertise into this equation will deliver the fastest, most accurate and most reliable in-play betting product on the market. Collaborating with DeckPrism Sports will also enable Pinnacle to further strengthen its reputation within the betting community. Already a well-established brand having been founded in 1998 with its famous "winners welcome" policy, working with the likes of DeckPrism – and harnessing their innovative approach – will only enhance Pinnacle's status as a pioneer in the world of online betting.
About Pinnacle - Pinnacle is a respected industry leader with over 20 years' experience in online betting. In addition to an established reputation for always offering the best value and an unrivalled betting experience, the online bookmaker is also renowned for producing educational content to help empower bettors. An emphasis on continuously developing its risk management expertise has enabled Pinnacle to remain a central pillar of the online betting industry with a commitment to offering customers low margins, high limits, and a unique winners welcome policy.
About DeckPrism Sports - Based in Las Vegas, DeckPrism Sports is the premier in-play odds originator for North American sports. DeckPrism technology uses advanced quantitative models and proprietary algorithms refined over years to deliver the fastest, most accurate pricing, and most reliable in-play odds on the market to sportsbook operators around the world. For more information, visit deckprismsports.com.