22 Apr 2021
Pinnacle launches second Pinnacle Cup - This time It's DOTA 2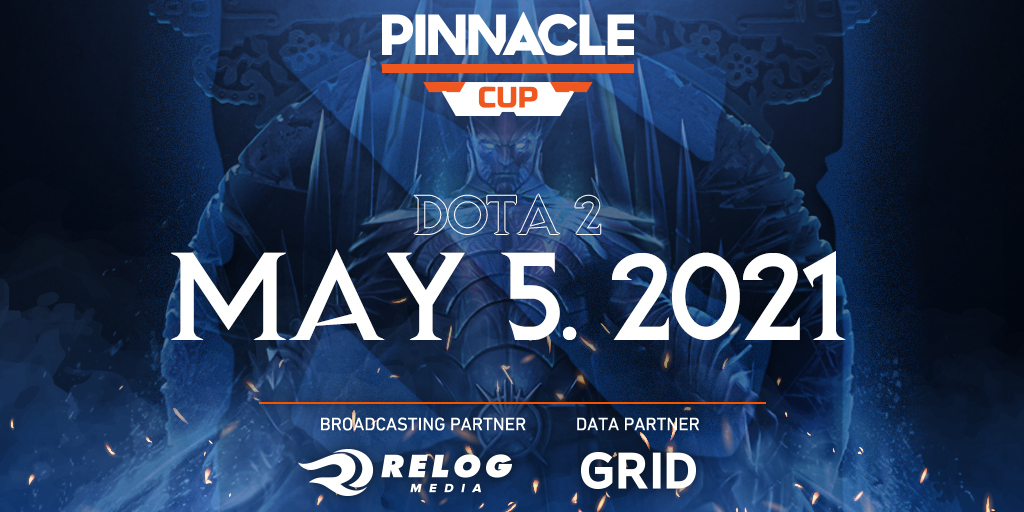 PINNACLE AND RELOG MEDIA REVEAL THE SECOND PINNACLE CUP TOURNAMENT. THIS TIME IT'S DOTA 2.

April 23, 2021


Pinnacle has continued its growth within the esports sector with the announcement of its second proprietary tournament, this time moving into Dota 2.
The Pinnacle Cup - Dota event boasts an impressive $100,000 total prize pool and will feature some of the very best Dota 2 teams from across Europe.
The competition kicks off on May 5, comprising an initial 10-team round-robin stage, followed by a best-of-three double-elimination bracket. Two teams will be invited to the playoffs to join those qualifying via the round-robin stage. Then there will be the semi-finals and a best-of-five grand final, which is scheduled to take place on May 30. 
The partnership between Pinnacle and GRID strides into another fantastic event, with Pinnacle continuing to offer the very best in esports betting and content, alongside GRID's unrivalled data input and top-quality streaming that was proven in the initial event. Fans can expect the very best again from this second iteration of the Pinnacle Cup.
Pinnacle CEO Paris Smith:
"After a fantastic start to the Pinnacle Cup, we are delighted to carry on this series with RELOG Media, expanding further into the esports ecosystem. The heart of what we do at Pinnacle is engaging with the esports community, and with the introduction of the Pinnacle Cup – Dota, we plan to further reinforce that connection with the wider esports audience.
"There is no better way for us to continue this journey, than branching out into Dota 2, where we can continue offering fans the best connection to their favourite esports teams and players. We are ambitious and excited for what this tournament will bring and look forward to continuously setting the standard for these types of event."
Milutin Pecic, Relog Media CEO:
"As passionate Dota 2 players at Relog Media, it's an absolute pleasure to dive into the Dota 2 community with Pinnacle alongside us. We hope this is just the start of our offerings to the competitive teams across the globe. Pinnacle's track record and success in Esports so far made it an easy decision for us to go forwards. We also had a ton of fun in the CSGO edition of The Pinnacle Cup. A proud day for us all here at Relog Media"
Just like in the initial Pinnacle Cup - CS:GO in March, there is a star-studded lineup of teams being brought in to make sure fans enjoy the most exciting action possible - teams such as Viking.gg, Spirit, Hellbear Smashers, and Extremum will start in the round-robin stage on May 5. With a bumper match schedule packed into the month of May, there are plenty of fixtures to look forward to. This event brings together the best teams alongside a world-class content, broadcast, and data offering which, alongside a top prize of $50,000, means there will be a lot to watch and play for. 
Supported by data partner GRID, Pinnacle will be offering a comprehensive selection of both pre-game and live betting markets, with its low margin odds giving customers unrivalled value as always. The two will also work together in utilising newly available technology within the Twitch broadcast platform, using key graphics to showcase data through the feed and driving the fan-facing content and viewing experience to new levels. 
About Pinnacle - Pinnacle is the original pioneer of esports betting, having blazed a trail for over a decade. One of the first operators to take an esports bet back in 2010, the online bookmaker has unrivalled experience in the esports space. Pinnacle has esports in its DNA and is built on a genuine and far-reaching connection with the community. In addition to offering the best esports betting value online, Pinnacle is committed to helping fans navigate the world of esports betting and enhancing the esports experience on a truly global scale.
For more information about Pinnacle please contact [email protected]