18 Sep 2019
Pinnacle announces GRID as Official Esports Data Partner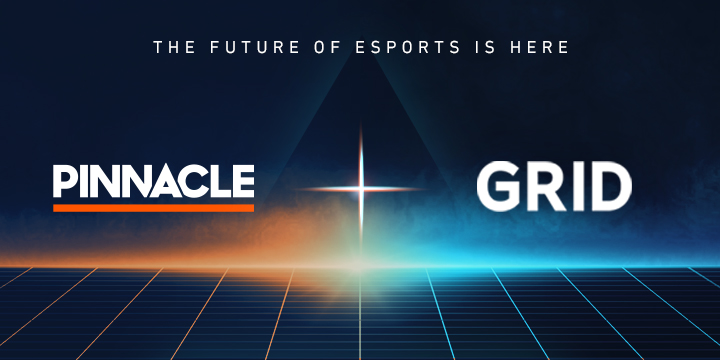 Pinnacle announces partnership with technology-as-a-service data platform GRID

London, September 18, 2019


Pinnacle.com has today announced that GRID will become the online bookmaker's official esports data partner. The exclusive deal grants Pinnacle rights to GRID's esports data to enhance its esports betting product on both the consumer facing sportsbook platform, and through its B2B offering Pinnacle Solution.
The deal was officially announced today at ESI London 2019 by Pinnacle Trading Director, Marco Blume, and GRID CEO, Moritz Maurer. In addition to providing data, GRID will also act as a B2B partner through the promotion of Pinnacle Solution to its betting product clientele.
Pinnacle has previously cited the importance of data to expand its award-winning esports product, with this deal proving just how integral high-quality data has become to succeed in the world of esports betting. The wealth of data that GRID can provide has been the key to this deal going through, but the German-based technology platform will also provide its GRID Streaming and GRID Scorecentre services to further enhance Pinnacle's offering.
Marco Blume, Pinnacle Trading Director, said:

"We've gone from being one of the only bookmakers offering esports to having all the big names posting markets across different titles in the last few years. There's no question that the quality of our product is head and shoulders above anything else out there but we know we can't stand still and we have to work hard to stay at the top. This deal with GRID is an important part of the esports evolution at Pinnacle. We have a reputation to maintain and thanks to the quality of data that GRID can provide, we're only going to keep improving."
With this deal, Pinnacle have now announced three major esports partnerships within the last six months. After becoming the Official Betting Partner for ECS 2019 in March, the online bookmaker was then announced as an Official Partner for esports organisation North in July. The continued investment across the esports ecosystem shows how committed Pinnacle is to growing the sector and creating a market-leading offering within it.
Moritz Maurer, GRID CEO, added:

"There is no secret as to Pinnacle's expertise across traditional sports and track record as a pioneer in esports betting. To align ourselves with such a powerful and well respected brand pays tribute to the work we have carried out to date in executing on GRID's vision of building a scalable data infrastructure across the most relevant esports titles whilst hitting the mark in regards to the quality of the data solutions we provide. Combining an unrivalled market share in official data assets with Pinnacle´s trading powerhouse is an exciting proposition to bring to the market."
The data supply and B2B partnership will be crucial to the continued growth of both Pinnacle and GRID, but this deal will have a major impact on the industry as a whole with similar deals expected set to become the standard. Pinnacle is expected to utilise this data access through its marketing efforts, with a focus on providing esports fans with statistical insight into team and player performance through easy-to-digest content.
About Pinnacle - Pinnacle is a respected industry leader with over 20 years experience in online betting. With an established reputation for always offering the best value and an unrivalled betting experience, Pinnacle took its first esports bet back in 2010 and has been committed to the development of the sport ever since.
About GRID - GRID is a technology-as-a-service platform designed to unlock the potential of data for rights holders in esports. GRID operates a large network of partnerships in the biggest esports titles and uses its unparalleled expertise and network to boost revenue, sponsorship sales, broadcast quality, fan engagement and competition integrity for partnered tournaments.

For more information about Pinnacle please contact

[email protected]