01 Mar 2022
Announcing the Pinnacle Cup III – the third iteration of Pinnacle's successful CS:GO tournament series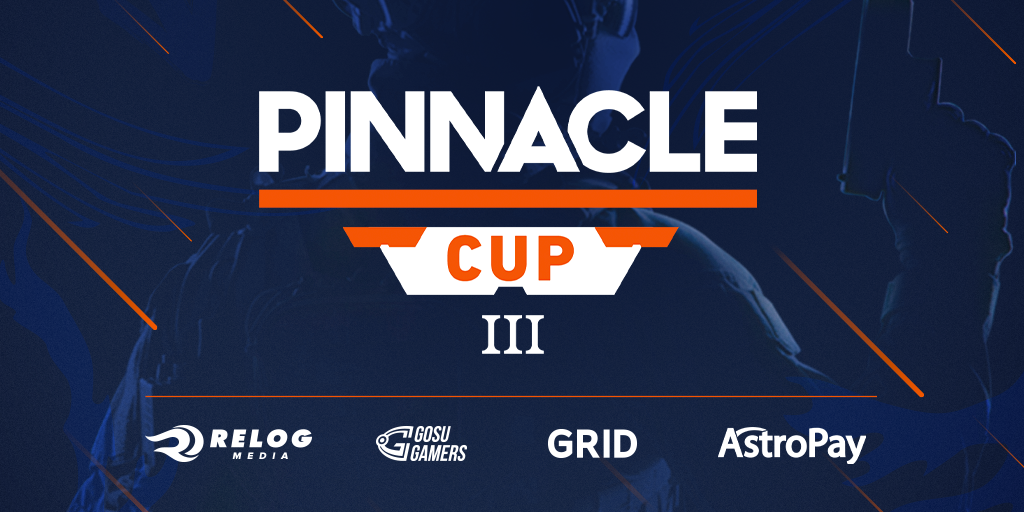 Pinnacle is delighted to announce the continuation of this season's Pinnacle Cup CS:GO series of events, in partnership with GRID, Relog Media, Astropay, and GosuGamers.

March 1, 2022

 

Building upon the success of the previous two Pinnacle Cup events that were won by Gambit Esports and Team Spirit, Pinnacle is pleased to announce the continuation of its flagship tournament series with the Pinnacle Cup III. This tournament will feature some of the best CS:GO teams in the world, who will be competing from March 14-30 for a share of the $100,000 prize pool.

There's already exciting teams confirmed to take part, such as Savage, KOVA, Tricked, Endpoint, and K23, with more teams due to be announced over the coming days. They'll all be competing for their opportunity to be crowned the Pinnacle Cup champion.

The tournament will be broadcast live on the TEBTV Twitch channel and for the first time, the official Pinnacle YouTube channel. GRID and RELOG Media continue to push the boundaries when it comes to providing a world-class viewing experience, tailor-made for the Pinnacle esports audience.

Pinnacle's official content partner GosuGamers will also be highlighting all of the exciting moments and stories from the event, in conjunction with Pinnacle's own social media channels.
Stuart Bridges, Pinnacle Global Esports Partnerships Manager;
"The Pinnacle Cup has become a firmly established tournament in the esports calendar. The Pinnacle Cup attracts grassroots esports teams and allows those teams to climb the ladder and play against many of the world's foremost teams. CS:GO has always been a focus for Pinnacle, and it's proven to produce mass viewership on a global scale. With the third edition of the Pinnacle Cup CS:GO you can expect the same level of success that our previous tournaments have brought. Building on the success of previous tournaments, we are working alongside our partners in the background to develop a bigger event for 2022. Watch this space!"
About Pinnacle - Pinnacle is the original pioneer of esports betting, having blazed a trail for over a decade. Being one of the first bookmakers to take an esports bet back in 2010, Pinnacle has unrivalled experience in the esports space. Pinnacle has esports in its DNA and is built on a genuine and far-reaching connection with the community. In addition to offering the best esports betting value online, Pinnacle is committed to helping fans navigate the world of esports betting and enhancing the esports experience on a truly global scale.
For more information about Pinnacle please contact [email protected]