28 Sep 2018
Pinnacle becomes Official Betting Partner for BLAST Pro Series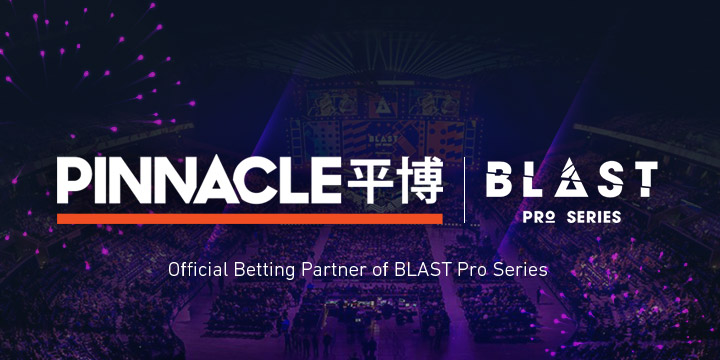 Pinnacle has announced a new partnership with BLAST Pro Series, the world's most explosive eSports event.

London, September 28, 2018


Pinnacle will become the Official Betting Partner for BLAST Pro Series for the rest of the 2018 series, including the upcoming tournament in Istanbul this weekend.
The partnership will be visible throughout BLAST Pro Series in Istanbul, the Copenhagen tournament on the first weekend of November and in connection with the big season finale of which the date, city and venue will be revealed soon. Through the riveting format of BLAST Pro Series, world class esports and Counter-Strike are taken to a whole new level; the partnership with Pinnacle will bring even more value to the tournament series and the fans.
Marco Blume, Trading Director at Pinnacle:

"We are thrilled to become the Official Betting Partner for BLAST Pro Series. As we celebrate our 20th anniversary, we have been looking to build on our presence within the eSports scene and this relationship with BLAST is the perfect opportunity to do so.
The rapid growth within the industry means there are ample partnership opportunities but we insisted on waiting for someone who matches our intent to have a real positive impact on the eSports community. Not only is this a big step for the business, but it's also one that has generated a great deal of excitement amongst our employees. With so many genuine eSports fans working for Pinnacle, we're now even more excited for the upcoming BLAST events."
Jakob Lund Kristensen, EVP Sales, RFRSH Entertainment, owner of BLAST Pro Series:

"We are extremely excited to have entered into this relationship with Pinnacle. Pinnacle have been an ever present part of the esports community for many years and we are excited they have chosen BLAST Pro Series as the world class tournament to meet their objectives in their 20th anniversary year. We believe that Pinnacle's prestige, values and commitment to their customers is the ideal solution for BLAST and our global audience, and we look forward to activating this partnership."
About Pinnacle - Pinnacle is a respected industry leader with over 20 years experience in online betting. With an established reputation for always offering the best value and an unrivalled betting experience, Pinnacle took its first eSports bet back in 2010 and has been committed to the development of the sport ever since.
About BLAST Pro Series - BLAST Pro Series has fast established itself as a premium, esports tournament with world class entertainment and the world's best CS:GO teams competing in an explosive 2 day format in major arenas in cities around the world.

For more information about Pinnacle please contact

[email protected]



Contact RFRSH Entertainment - VP Comms & Brand, Steen Laursen

[email protected]