06 May 2019
Pinnacle announces charity partnership with SpecialEffect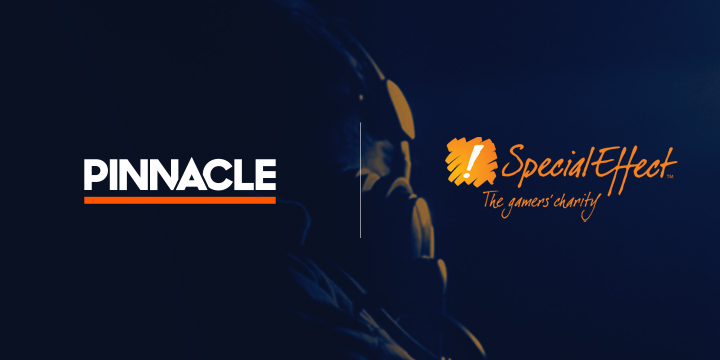 Pinnacle will support the esports charity SpecialEffect throughout the remainder of 2019

London, June 5, 2019


Pinnacle.com has confirmed an agreement with SpecialEffect that will see the online bookmaker become a partner for "the gamers' charity" for the second half of this year.
This partnership includes Pinnacle's donation of headline sponsorship advertising at the ECS Season 7 Finals for SpecialEffect to help raise awareness of the work the charity does for gamers with physical disabilities. Pinnacle have also supplied SpecialEffect with tickets to the event to give the esports fans the charity works with a chance to attend and meet some of the players taking part.
The ECS Season 7 Finals take place between June 6-9 at the SSE Arena in Wembley. Eight of the best CS:GO teams in the world will compete against each other during the three day event for a piece of the $500,000 prize pool.
Pinnacle also has plans to work with SpecialEffect outside of ECS events in the form of fundraising and working on external projects to help promote the charity's message within the esports industry.
Paris Smith, Pinnacle CEO commented:

"We're incredibly proud to announce our partnership with SpecialEffect. We have such a strong connection with the esports community and when discussions about this opportunity began, it was one we couldn't wait to get off the ground. SpecialEffect really are one of the unsung heroes in the world of esports and video games. They deserve a bigger platform to spread their message and we're so happy to be able to help with that."
Mark Saville, Communications Coordinator at SpecialEffect said:

"We're very grateful to Pinnacle for the opportunity to align awareness of our life-changing work even closer to the esports platform. There's a natural fit between esports and our mission to help gamers with physical disabilities, and I'm looking forward to our partnership leading to many more people being able to enjoy the magic and inclusion of video games."
Pinnacle hopes to use its position as the Official Betting Partner of ECS to help support SpecialEffect in making a bigger impact by reaching a wider audience. While the main focus for this partnership is on the showpiece event for ECS Season 7, both the bookmaker and charity are looking forward to bigger things to come for the rest of 2019.
About Pinnacle - Pinnacle is a respected industry leader with over 20 years experience in online betting. With an established reputation for always offering the best value and an unrivalled betting experience, Pinnacle took its first esports bet back in 2010 and has been committed to the development of the sport ever since.
About SpecialEffect - SpecialEffect are an award-winning charity that enable people with physical disabilities to benefit from the fun and inclusion of video games and leisure technology. They support people of all ages through personalised assessments, equipment loans and equipment modifications.

For more information about Pinnacle please contact

[email protected]