DEPOSITING FUNDS
Before you place your first eSports bet, you'll need to deposit money into your Pinnacle account. We've outlined how to get through the fast and easy process below.

If you haven't already signed up for a Pinnacle account, it's important to note that the currency you select during sign up will define what payment options you'll be able to use. Head to our payment options page to see what deposit and withdrawal options are available for each currency. The benefits of each deposit option can be found on our dedicated eSports payment options guide.

Making a deposit
Once you have signed up, log-in to your Pinnacle account and head to the "Deposit/Withdraw" link on the menu bar.

When the page above loads, you'll notice two lists – one with Deposit methods, the other with Withdrawal methods. These are the payment options available for your currency.

There are four different types of payment option: transfers, cards, eWallets and vouchers. Each type has a unique page layout for depositing funds (remember, not all payment types will be available for your currency). We've discussed how each type of payment option works below:
Transfer
The bank transfer pages may seem intimidating, but they're really quite easy to use. Simply grab Pinnacle' payment information from the first part of the page (in the grey box), then contact your bank and instruct them to send funds to that account. This can also be done via internet or telephone banking.
When making the bank transfer, it's important that you include a reference. Include your Unique Reference Number (provided in the grey box) as well as your complete name, your bank account number, and your complete address.
Once you have made the payment, use the form at the bottom of the page to submit information about the transaction to our systems. This way we can look up your deposit on our systems and match it to your account.
Remember: a disadvantage to bank transfers is that they take several days to process.
eWallets
eWallets are one of the simplest methods for funding your Pinnacle accounts. Simply enter your amount to deposit, as well as your eWallet information, and your account will be instantly funded.
Remember, you'll need funds in your eWallet to be able to transfer money to Pinnacle.
Cards
When making a first deposit with a credit or debit card, we need some information for security, to protect customers and prevent fraud. We require three pieces of information (per card) in order to allow you to deposit from it:
a scan of your credit card
a scan of valid photo ID (Passport, Driver's License or National Identity Card)
a completed Card Authorisation form
We only need you to submit this information via our secure upload service once – after that you'll be able to refund with the same card instantly. You'll be instantly taken to the secure form page when you try to make a credit or debit card deposit for the first time.
This may seem arduous, but we feel it improves security of our players and helps prevent identity fraud, which are both priorities at Pinnacle.
After your card is verified, simply follow the steps online to deposit.
Vouchers
Vouchers like UKash work in a similar way as any shopping voucher or mobile phone top up. For those currencies where UKash is available you purchase the voucher from a shop, or petrol station for a certain value, which comes with a unique Voucher ID.
When you make the deposit at Pinnacle account you will simply need to provide a Voucher ID.
eSports Operator of the Year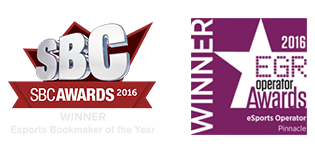 Betting Help
Interview with an eSports Trader
'DarKFoRcE', Pinnacle lead eSports trader, talks to JoinDota.com