WELCOME TO THE ESPORTS HUB
All things eSports betting in one place. The Pinnacle eSports Hub combines live odds, up-coming tournament listings and in-depth articles to create the ultimate eSports betting destination.
New to eSports betting? Click here for an introduction, including how to bet, what bet types are available and how to fund your account.
ESPORTS
BETTING ARTICLES
In the complex world of elite eSports competition, a little extra knowledge can go a long way. Read our articles for a greater insight into eSports betting and general eSports tactics and strategies.
Click here to see our full list of eSports betting articles.
The Pinnacle Pro-Am 2014
On January 4th 2014, the Pinnacle Pro-Am brought together 16 of DotA 2's top players to compete in the first ever eSports competition hosted by a major bookmaker.

The tournament boasted exclusive odds, popular casters and pro analysis, as well as a unique twist: a chance for fans to join a team of amateurs and battle it out with the Pros. Read more and watch the action here.
eSports Operator of the Year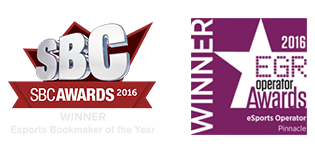 Betting Help
Interview with an eSports Trader
'DarKFoRcE', Pinnacle lead eSports trader, talks to JoinDota.com