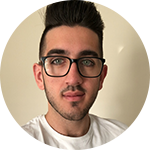 Gianluca Leo
Soccer & Specials
Gianluca studied Journalism (BA Hons) at The University of Sussex before joining the team. He has a keen interest in European soccer as well as Formula 1, Basketball and other sports that catch his attention. His journalistic background helps in writing articles that cut straight to the point whilst offering as much valuable information as possible.
Betting Resources - Empowering your betting
Pinnacle's Betting Resources is one of the most comprehensive collections of expert betting advice anywhere online. Catering to all experience levels our aim is simply to empower bettors to become more knowledgeable.