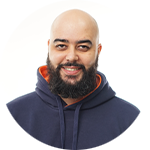 Danilo Pereira
Soccer
Having spent 10 years examining data in IT, Danilo decided to apply his expertise to sports betting and cut his teeth probing trends in Europe. 
Plus, he's amassed 173k subscribers on his YouTube channel with over 8.5 million totals views breaking down some of the world's biggest soccer markets with tips and advice.
Danilo's since become a pioneer in Brazilian sports betting which was capped by winning best tipster of the year in 2016/17 from the revered Secret Betting Club.
This has led to collaborating with some of the biggest names in the industry while developing his own Mindset Vencedor training course to share his wealth of experience.
Danilo's authority and invaluable knowledge of the world of Latin American sports means he'll provide incredible market acumen and expertise in the field.
Articles by Danilo Pereira
No more articles by Danilo Pereira
Betting Resources - Empowering your betting
Pinnacle's Betting Resources is one of the most comprehensive collections of expert betting advice anywhere online. Catering to all experience levels our aim is simply to empower bettors to become more knowledgeable.