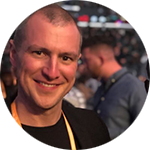 Adam Catterall
MMA & UFC
Adam Catterall is a multi-award winning broadcaster who co-created the Fight Disciples podcast which collected Best Sports Show at the 2017 British podcast awards, a feat he repeated in 2018.
His broadcasting skills have since transferred seamlessly to television with Adam being the face of BT Sports UFC coverage, being an ever-present figure at all the big fights.
Outside of the octagon, his recent coverage of Wilder vs. Fury 2 in Las Vegas was nominated for a sports journalism award whilst Adam also picked up a further two nominations for Best Sports Presenter and Best Sports Show for his podcast.
Articles by Adam Catterall
No more articles by Adam Catterall
Betting Resources - Empowering your betting
Pinnacle's Betting Resources is one of the most comprehensive collections of expert betting advice anywhere online. Catering to all experience levels our aim is simply to empower bettors to become more knowledgeable.