In soccer there is a number of commonly held beliefs, so plausible that almost everyone accepts them as true. Some are right, some not. When it comes to betting, though, received wisdom is a dangerous territory. We thought it was only right to start busting a few common myths for you, starting with an age-old European soccer misconception.
Ever wondered how bookmakers set the odds? The odds you are being offered reflect not only what the bookmaker considers as a likely outcome but also how much money the customers are betting on the markets.
So what happens when bettors ignore statistics and bet based on widely-held misconceptions? Well, that's when profit opportunities arise. In a series of articles, Pinnacle will be exposing some of the biggest fallacies in the cliche-driven world of sports, and with the Champions League now back in full swing, where better to start than this common soccer-based myth?
They will be tired after playing in Europe
"They had a Champions League match before. It must have taken a lot out of them. You should oppose them" is a commonly held wisdom, but scratching the surface of this idea provides plenty of cause to question it.
Half of European matches are played at home and even away matches are mostly within a maximum of a three hour flight, which means players will be back in the their own beds after a European fixture. Add to the mix the top training facilities and fitness personnel the teams have at their disposal and it becomes even less plausible that Premier League players should in anything but prime condition despite continental commitments. 
League win rate after UCL games for Arsenal, Chelsea & Man City



With three top Premier League teams currently playing in the Champions League knock-out phase, here is a look at how they have performed after European games in the past six-year period according to a study conducted by BBC.
Since 2010-2011 Arsenal has improved their performance in the League following a European fixture in three seasons and deteriorated in the rest three, however with a relatively small difference.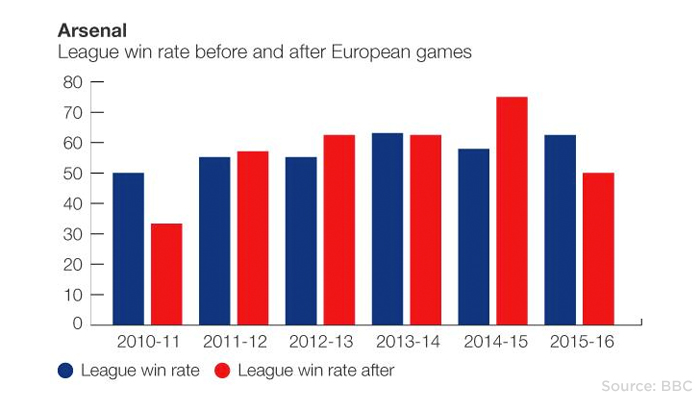 Unlike their excellent past record, Chelsea has been consistently underperforming after European matches in the final two seasons under Mourinho.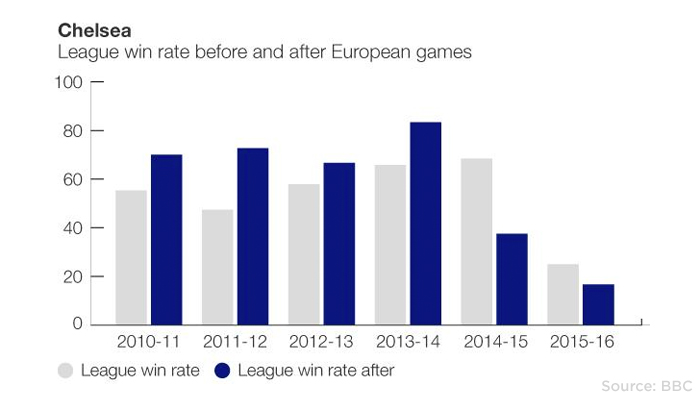 Man City has failed to make significant progress in the Champions League since returning to Europe's elite competition in 2011-2012.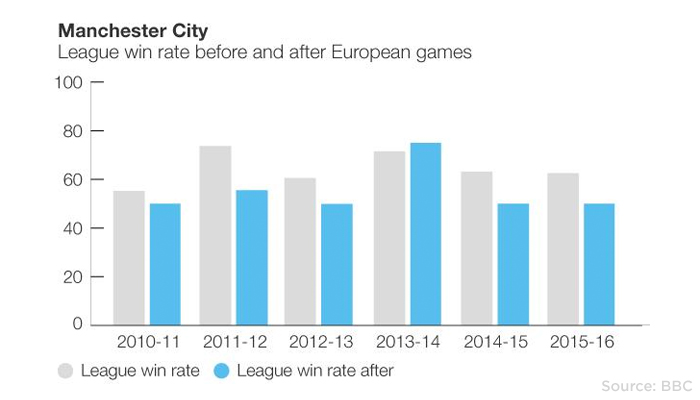 Bear in mind though that, all in all, 60% of the Premier League teams included in the study did better or exactly the same after European games.
With this in mind, perhaps bettors will now approach betting on post-European soccer matches differently, as opposed to simply accepting age-old clichés that very rarely have any statistical substance.