The World Chess Championship 2016 gets underway in New York City on November 11th. In a matchup that is expected to attract a global online and TV audience of more than one billion fans, defending champion Magnus Carlsen is an overwhelming favourite in Pinnacle's chess betting odds to beat Sergey Karjakin. Read more to find out why.
Norwegian Carlsen is currently priced at 1.200* at Pinnacle – unrivalled for chess betting value - with Russian Karjakin the outsider at 4.880* to win the 12-game series taking place between 11-30th November. This means, after discounting Pinnacle's minimal 3.86% margin, Carlsen has a 78.79% chance of winning, compared to Karjakin's 21.21% chance in terms of fair probability.
Rankings
As well as using the Elo rating system to compare skill levels, FIDE ratings (the official World Chess Federation rating system) also provide bettors with an insight into the ability of chess players and the potential outcome of a match. Carlsen is currently number one in the FIDE ratings on 2,857, with his challenger, Karjakin, number nine in the list on 2,769.
What's even more interesting is that Carlsen can add substance to the claim that he is the greatest ever chess player after achieving a record high FIDE rating of 2,882 in May 2014, eclipsing the 2,851 achieved by Garry Kasparov in July 1999 - something that is reflected in the Carlsen vs. Karjakin odds.
Below is a table that tracks the movement of the Carlsen vs. Karjakin odds in Pinnacle's chess betting:

Form
The two have played each other a total of 47 times, 38 in the standard match format they will be playing at the World Chess Championship 2016 (this means blindfold and blitz games are excluded). Out of those 38 meetings, they are fairly evenly matched.
Magnus Carlsen has six victories compared to Sergey Karjakin on five, with 17 draws between them. The two players have met eight times in the last two years, with one win apiece and six draws.
Why Carlsen has the upper hand
In addition to the title of the world's greatest ever chess player and a slight advantage in their head-to-head record, there are a few other factors in Carlsen's favour ahead of the big matchup. 
Carlsen can add substance to the claim that he is the greatest ever chess player after achieving a record high FIDE rating of 2,882 in May 2014.
The 25-year-old Norwegian may be a year younger than his 26-year-old Russian challenger, but he is certainly the more experienced of the two. A two-time World Chess champion, Carlsen will be familiar with the surroundings in New York and is unlikely to be phased by any kind of pressure.
Unlike other sports, such as soccer, chess betting isn't altered by things like the benefit of home-field advantage. Although players will need to adjust to the surroundings, a neutral venue isn't much different to playing in their home country, something made evident by Carlsen's victory over Viswanathan Anand in 2013 when they played in Anand's native India.
Instead, it is the preparation, concentration levels and tactics employed by each player that can become the deciding factor when they meet in an enclosed glass, sound-proof area in Manhattan's famous Fulton Market building.
After winning the Candidates Chess 2016 tournament, Karjakin has had seven months to prepare for the World Chess Championship and devise a plan to beat Carlsen. However, Carlsen is renowned for his unpredictability. Whilst Karjakin can mentally and physically prepare for what will be an exhausting encounter, what he can't do is plan for how his opponent is going to play, something that will undoubtedly benefit the Norwegian.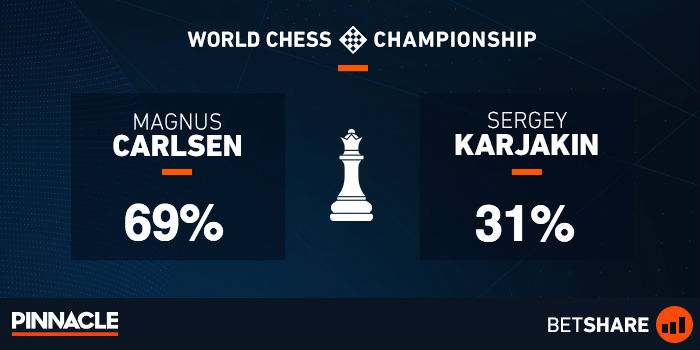 This BetShare infographic gives a percentage representation of the share of the number of bets in Pinnacle's Carlsen vs. Karjakin chess betting odds. Find out more about our BetShare.
Concentration is an integral attribute of a successful chess player. There is no debating Karjakin's ability. The question is, can the youngest ever chess Grandmaster maintain focus and avoid any slip-ups against the practically faultless Carlsen? A challenge that becomes even more difficult with a $1 million prize fund on the line.
The World Chess Championship in 2014 between Carlsen and Anand is one example of how the slightest lapse in concentration can have a major impact on a match. In game 6, Anand was presented with an opportunity after Carlsen's 26.Kd2. However, the vastly experienced former champion missed 26…Nex5! and instead, played 26…a4?. Missing the move that would have picked up two extra pawns and given him a great winning chance cost Anand the game and ultimately, the match.
Taking his FIDE rankings, experience and proven psychological attributes into consideration, it is no wonder that Magnus Carlsen is such a heavy favourite in Pinnacle's chess betting odds. Sergey Karjakin may be able to spring a surprise in New York City and win the World Chess Championship, but he'll have to play some of his best ever chess to do it.
Get the best chess betting odds on the series handicap, match by match betting and the first move in every game at Pinnacle.