UFC Fight Night 169 will be crowning a new Flyweight Champion as Joseph Benavidez and Deiveson Figueiredo face off for the vacant title. Will it be third time lucky for the veteran Benavidez, or can the 'God of War' who has taken the flyweight category by storm claim the belt? With one of the most anticipated fights of recent months coming up, read on to inform your Benavidez vs. Figueiredo predictions.
Benavidez vs. Figueiredo: Tale of the tape
| | | |
| --- | --- | --- |
| Joseph "President Jobama" Benavidez | Fighter | Deiveson "God of War" Figueiredo |
| 35 | Age | 32 |
| 5 ft 4 in | Height | 5 ft 5 in |
| 125 lbs | Weight | 125 lbs |
| 65 in | Reach | 68 in |
| 15-3-0 | UFC record | 6-1-0 |
| 28-5-0 | Overall MMA record | 17-1-0 |
| 10:06 | Average fight time | 7:32 |
| 34% | Striking accuracy | 52% |
| #1 | UFC ranking | #3 |
This bout will be Benavidez's third attempt to become Flyweight Champion. He was defeated by Demetrious Johnson via split decision in the final to decide the inaugural belt holder at UFC 152 in September 2012. He was then knocked out in the first round by Johnson for his second shot at the title in December 2013.
Since that loss, he has won nine of ten fights, claiming three Performance of the Night awards and rising to #1 in the rankings during the same period. In the meantime, Johnson lost the Flyweight Championship to Henry Cejudo in August 2018, who then announced in December last year that he would be relinquishing it to focus exclusively on the bantamweight division.
Despite the fact that over six years have passed since his last title bout, Benavidez is still considered to be one of the best flyweight fighters in UFC history. Whilst the 35-year-old has publicly stated that for him becoming champion would merely mean "an extra line on [his] Wikipedia page", MMA colleagues and fans alike feel it would be an appropriate crowning for what has been a long and respectable career.
By contrast, Figueiredo did not compete in his first UFC bout until the age of 29 and has racked up just seven in total. This has not prevented him from quickly crafting a reputation as ferocious and effective with his fists, and someone who unreservedly attempts to punch out his opponent as quickly as possible.
This is Figueiredo's first bout against Benavidez, although he has declined to follow his opponent in underplaying the significance of the fight, claiming "I have to go there to kill this guy. There's no respect inside the octagon. I'm going there to kill him and get what's mine."
Analysing the Benavidez vs. Figueiredo odds
Benavidez is the slight favourite at 1.724*, which translates to just over a 56% chance of winning. By comparison, Figueiredo is set at 2.200*, equating to an approximate 44% chance.
These odds arguably reflect Benavidez's greater experience more acutely than any statistical edge. Ordinarily, height, reach and striking accuracy advantages would leave Figueiredo well placed to be favourite, but the fact remains that this is his first title bout and Benavidez is the highest-profile opponent he has faced.
Those who favour Benavidez could enjoy better value by holding off on any bets until fight night.
Benavidez has been priced somewhat longer than the average closing odds for his last five bouts of 1.642. He was the favourite for four, and whilst he did win the one for which he was underdog versus Alex Perez, recently he was also surprisingly defeated by Sergio Pettis in a bout where he closed as 1.490 favourite compared to 2.800 for Pettis.
Notably, for all but one of these bouts his odds lengthened during the build-up, indicating that those who fancy the favourite could enjoy better value by holding off on any bets until fight night.
Conversely, these are the longest odds Figueiredo has received for a UFC bout, having closed at an average of 1.786 in his last five. Being the lesser favoured is relatively unfamiliar territory for the 'God of War', although similarly to Benavidez he won the last fight for which he closed as underdog against Alexandre Pantoja.
Figueiredo's odds have also lengthened in the days leading up to four of his last five bouts, again suggesting that patience is key for those eyeing up greater value.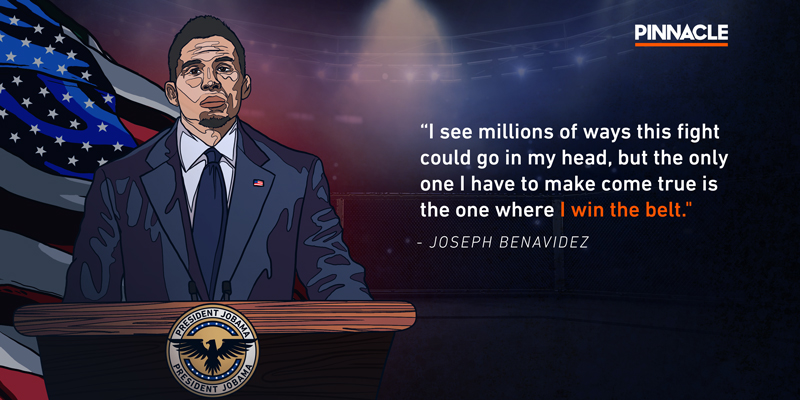 Benavidez vs. Figueiredo: Fighting styles compared
Joseph Benavidez deploys a Southpaw stance featuring an emphasis on fast, efficient strikes, as highlighted by the fact that he lands 3.46 significant strikes per minute compared to 2.44 for Figueiredo. In the early stages of his career, this was primarily intended to take bouts to the ground so that he could exploit his strong ability at submitting opponents in chokes, securing eight of his opening 13 MMA wins via this method.
In more recent years this approach has been refined to instead gradually wear opponents down, in order to ease both exploiting their mistakes and countering attacks. Indeed, seven of Benavidez's last ten fights have lasted the distance, of which he won six, chiefly because he has successfully defended 63% of the significant strikes against him and 65% of attempted takedowns.
Figueiredo leads almost exclusively with his fists and aims for the opponent's head in 69% of his attacks.
However, Benavidez isn't averse to utilising less careful tactics should he feel that he is struggling to constrain his opponent. He has earned two TKO wins in his last three bouts, including a spectacular head kick and punch victory versus Jussier Formiga in June 2019, when the current #2 was unable to sustain a unruly and prolonged flurry of fists from Benavidez.
Contrariwise, Figueiredo adopts an Orthodox stance and engages a palpably more straightforward style. The Brazilian enjoys attempting to punch out his opponent from the first bell, leading almost exclusively with his fists and aiming for the opponent's head in 69% of his attacks.
When not knocking out his competitor, as he has achieved in eight of his 17 MMA victories, this often proves effective at flooring them, at which point he is capable of deploying his decent grappling skills.
Figueiredo's all-out approach is reflected in the fact that he lands 52% of strikes whereas Benavidez manages just 34%, and 53% of his MMA victories have ended in the opening round compared to 29% for Benavidez. Equally, the reduced focus on defence also means that he also only successfully defends 53% of significant strikes.
Benavidez is better placed than most fighters to offset Figueiredo's relentless style. His impressive defensive stats aside, he has only suffered one knockout defeat in his MMA career and is yet to lose a fight by submission.
The most promising route to victory against Benavidez is thus attempting to earn a decision win, although considering this would require a considerably different strategy in a bold attempt to beat his opponent at his own game, it is thoroughly unlikely that Figueiredo will opt for this.
It is for this reason that the opening round of this bout will be the most crucial. If Benavidez is permitted to quickly dictate proceedings and settle into a rhythm, Figueiredo will require a stamina-reliant and consistently excellent punching performance to disrupt his approach. Conversely, if Figueiredo's fists gain an early upper hand, than Benavidez may be forced to scrap his habitual tactics in a bid to avoid a brisk knockout.
Benavidez vs. Figueiredo: Where is the value?
This is an intriguing match-up: Benavidez is the more experienced and tactical fighter, whereas Figueiredo is more aggressive and possesses a slight physical edge. Irrespective of which fighter you are considering backing, there are straightforward methods available to enhance your odds via the method of victory.
An early knockout for either fighter is certainly a plausible outcome.
Indeed, as discussed, Benavidez has fair cause to feel confident about his chances of controlling the fight. Whilst Formiga and Perez may testify otherwise, recent history dictates that a Benavidez victory and the bout lasting the chance are well placed to go hand-in-hand. A Benavidez win by points or decision is therefore also automatically worth considering.
However, an early knockout for either fighter is certainly a plausible outcome. It is undoubtedly Figueiredo's preferred tactic, and Benavidez could decide to follow suit if he finds himself struggling early on. All but one of his eight MMA knockout victories to date were achieved in the opening two rounds.
Overall, Benavidez is the slight favourite for the reason, and his developed and diverse fighting style should be capable of undermining Figueiredo's undeviating approach. Whilst he may be understating the bout's importance, you can expect a carefully calculated performance in what will be his third and likely last attempt to win the belt that has constantly eluded him.