Who are the best teams at the Euro 2020? In this article, player wage data will be used as a measure of team strength and player quality. Which teams rely the most on one player? Which teams are potentially underrated? Which group is the "Group of Death"? Read on to find out.
win your way when you bet on euro 2020
Get great odds on every match, team, and more at Euro 2020 with Pinnacle
Sign up
Log in
Listen to Pinnacle's Euro 2020 Insight podcast
Inform your Euro 2020 predictions with Pinnacle's Euro 2020 Insight podcast, hosted by James Gregg and featuring Andrew Beasley and Infogol's Jake Osgathorpe.
Why wages are a good measure of player quality
The relationship between wage levels and success in soccer was discussed at length in the 2018 World Cup edition of this article.
In short, wages are perhaps the strongest predictor of performance available aside from bookmaker odds. Economist Stefan Szymanski's work is perhaps the most prominent of many that have demonstrated a strong correlation between wage expenditure and average league position.
Of course, in an international tournament featuring the increased variance of one-off knockout fixtures, this correlation will be somewhat diminished. However, when looking for the best and most undervalued teams at the tournament, wage data is certainly a good starting point to build from.
Methodology
The wages of the most likely first-choice eleven for each qualified team were collected from public sources. Where no such information existed, Football Manager data was used as an approximation.
There are, of course, players for whom their current wages are not a fair reflection of their quality. Young players who on their first professional contracts but have broken out to such a degree that they make their national team's starting line-up, such as Netherlands' Owen Wijndal or Portugal's Nuno Mendes, are generally underpaid compared to their market value.
Equally, some players at the end of their career may be earning wages from a contract they signed when at the peak of their powers which are above the market rate for their current diminished ability levels.
For the two players plying their trade in the Chinese Super League (Slovakia's Marek Hamsik and Austria's Marko Arnautovic), the wage from their most recent European contract was used to avoid unnecessary data skew.
There was not too much that could be done about someone like Gareth Bale's €692,660 per week wages which he would struggle to find a match for on the open market. However, perhaps having a four-time Champions League winner on the team in a high-pressure tournament environment will be invaluable to Wales if he performs to the level implied by that lofty wage.
After all, experience is an important factor at the Euros so maybe the likes of Bale will demonstrate their superiority over inexperienced players like Wijndal and Mendes.
Ranking the Euro 2020 teams
To isolate any outliers, the average wage per starting player from each country has been plotted against their outright winner odds on the graph below. Thankfully, North Macedonia are a few levels above Panama so there is no need to exclude any teams this time around.
One key thing to note is that the Euro 2020 teams are much closer in terms of remuneration levels than the teams at the 2018 World Cup. This is due to the lower number of countries competing and the higher standard of soccer in the UEFA region. Perhaps closer matches are on the cards?
Total team wages vs. Euro 2020 outright implied probability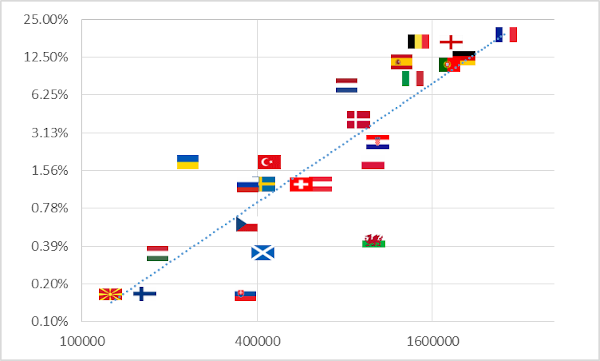 The wage data suggests France are well worthy of their favourites tag with the highest-paid starting 11 at the tournament by some way. There are no real surprises at the top end, with the seven teams rated most likely to win the tournament also being the seven highest-paid.
Wales stick out but as you will see later in the article, Gareth Bale is responsible for over 55% of the wages paid to their entire first 11. If he does not perform at the level he performed at when he led Wales to the semi-finals of Euro 2016, then ranking Wales ahead of teams like Netherlands in terms of quality is probably a stretch.
Croatia were flagged by the wage data ahead of the 2018 World Cup, before which their line-up was rated as slightly stronger than England's, who they beat on the way to the World Cup final. The contrast between the two nations since then is apparent here, as England's young players have become better rewarded financially whilst some of Croatia's highest earners (Mandzukic, Rakitic) have retired from the national team.
Poland, Austria, Scotland, and Slovakia stand out as nations with stronger teams than their outright odds would suggest. Although all are unlikely to win the tournament, they could be capable of an upset along the way.
Netherlands are perhaps overvalued by the odds based purely on their quality. However, the draw has been kind to them which could explain why they are fancied to perform well. In contrast France, Germany, and Portugal find themselves in the same group despite being three of the four best remunerated teams which lessens their chances of winning the tournament.
"Cracks and Pavones":  Looking at soccer as a weak-link game
In The Numbers Game, authors Chris Anderson and David Sally demonstrate how upgrading a team's weakest link by one standard deviation has a greater impact upon success than doing the same to its strongest player.
They use the example of Real Madrid's Galactico era, led by the likes of Zinedine Zidane, Luis Figo, and Ronaldo who are known as "Cracks". These stars lined up alongside cheaply acquired players like Francisco Pavon. The authors demonstrate how it was the "Pavones" of the team, rather than the superstar players, who had the biggest impact on how successfully the team performed.
With that in mind, it will be useful to know which teams are most reliant on superstars and may be defeated by the presence of an inferior "Pavon" in the side. Gareth Bale's influence on Wales above may be diminished by the weaker players in the team even if he performs at his implied level.
Percentage of wages earned by lowest-paid player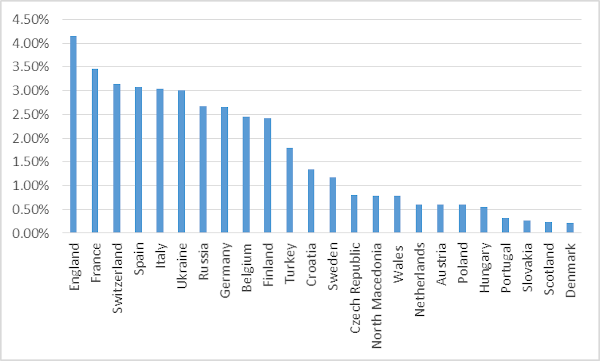 England, France, Spain, Switzerland, and Italy seem to possess the strongest weakest (lowest-paid) players at the tournament relative to the strength of their starting eleven.
Percentage of wages earned by highest-paid player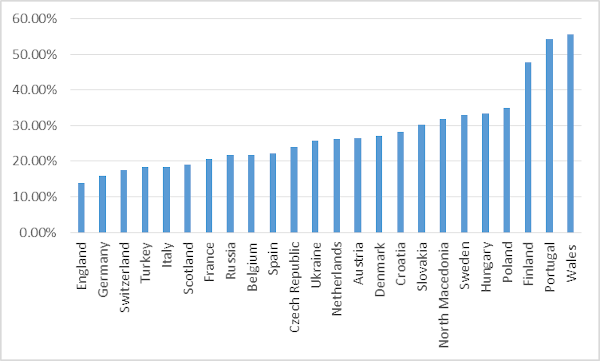 England's first 11 is very balanced, as their highest earner takes the lowest percentage of the team's wages compared to the rest of the nations at the tournament.
Portugal's Cristiano Ronaldo is second only to Bale in the percentage of his team's wages he takes. Will the presence of such a well-paid superstar help Portugal to win back-to-back European championship titles?
Ronaldo will need to be on his game if Nuno Mendes plays to the level implied by his wages. The left-back accounts for just 0.33% of Portugal's wage total. Though this is an occasion where that wage level is probably unrepresentative of the Sporting Lisbon player's true market value after he enjoyed a breakout title-winning season at club level.
Euro 2020: Absolute wages
In order to see the true strength of the teams, it is probably best to look at the actual wage of the lowest-paid player - since percentages perhaps hide the weakness of those on the lower-earning teams.
The top graph shows the countries' lowest-earning player and the bottom graph shows the highest-earning player from each team.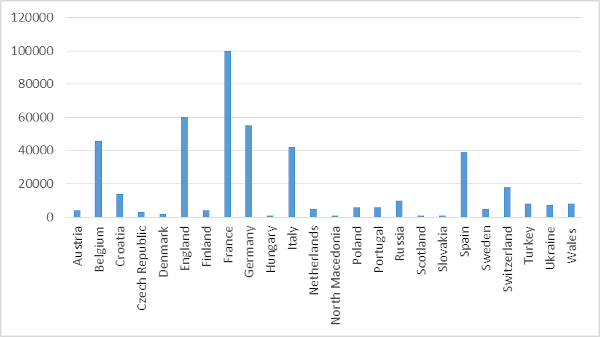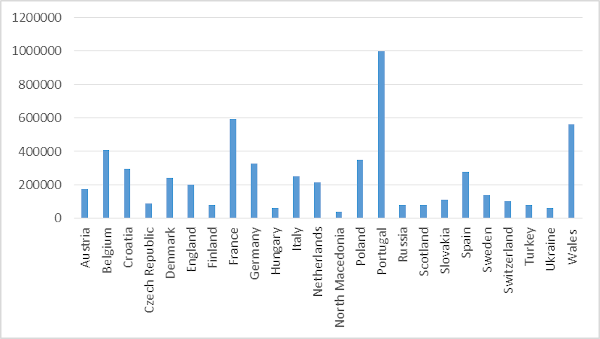 France again show their strength with the lowest-earning projected starter earning more than many of the other nations' highest-earning player. Belgium, Germany, Italy, England, and Spain also look to be strong in that regard. Along with France they represent six of the seven countries most likely to win the tournament according to the betting odds.
Portugal are the exception in this regard, with their lowest-earning player not on the same level as the other favourites. To offset this, Cristiano Ronaldo's impressive wage ensures that on paper they have the strongest player at the tournament.
Switzerland and Croatia seem to have the strongest of the weakest (lowest-paid) players out of the outsiders with many other sides carrying potential weak spots in their line-ups.
Euro 2020: Group wage totals
| | |
| --- | --- |
| Group | Total wage |
| | 3,406,000 |
| | 3,313,000 |
| | 1,838,000 |
| | 3,284,000 |
| | 3,062,000 |
| | 6,993,000 |
The UEFA seeding system seems to have performed well when selecting the groups with four of the six at very similar strength levels. The two exceptions are Group C and Group F.
Group F: The group of death
| | |
| --- | --- |
| Team | Total wage |
| France | 2,890,000 |
| Germany | 2,075,000 |
| Portugal | 1,845,000 |
| Hungary | 183,000 |
As mentioned above, Group F contains three of the four highest-paid teams at the tournament. However, the impact of this on France, Germany, and Portugal's chances of winning the tournament are lessened somewhat by the four best third-placed sides qualifying from each group.
Securing positive results against a Hungarian team which earns less than 10% the wages of each of their group opponents could be essential.
Group C: The group of life
| | |
| --- | --- |
| Team | Total wage |
| Netherlands | 817,000 |
| Austria | 663,000 |
| Ukraine | 232,000 |
| North Macedonia | 126,000 |
The outright probabilities for Ukraine and Netherlands arguably outweighing the talent level of their squads is partly explained by this group. North Macedonia are probably the weakest side at the competition whilst none of the top 10 best-remunerated teams are in this group.
Despite this, Austria appear to be good value considering the talent level in their squad implied by their wage total. The side are rated as less likely to win the tournament than Ukraine despite having a squad valued at roughly three times that of Ukraine.
Interestingly, Austria are slightly favoured to defeat Ukraine in their group matchup which suggests some inefficiency in the outright odds.
Conclusion: Who is the best team at Euro 2020?
The wage data once again correlates well with the outright odds which means any outliers are worth looking into. Equally, bench players are not accounted for and they will play a factor after a season influenced by COVID-19. The extended 26-man squads also favour the nations with greater depth.
Of course, the same limitations apply with some players' wage levels not accurately representing their real market value. Despite this, the winner of the tournament is very likely to be one of the best-paid teams. By looking at the weak links (lowest-paid) players in the line-ups, it is evident why current World Cup champions France are fancied to perform well again. Italy are also potentially worthy of bettors' attention with a strong weak link relative to their outright odds.
Poland, Croatia, and Denmark are potentially the most promising of the true outsiders, based on their total wages. However, of the three, only Croatia have a reasonably well-rewarded weak link so there could be problem areas in these squads which should be taken into account.
Don't forget to read our Euro 2020 predictions and previews for all six Euro 2020 groups: Group A, Group B, Group C, Group D, Group E, Group F.
Looking forward to Euro 2020? Win Your Way by checking out the latest Euro 2020 odds on every match and group, outright markets, and more with Pinnacle.