Listening to our customers, one thing is crystal clear; you want to know how to improve your betting and you want to hear it from real experts. What better way to deliver on that request than by interviewing a truly expert gambler who has spent six decades successfully setting, and beating, the odds.
Lewis Deyong has dedicated a lot of his life to refining the art of gauging a good bet. He is an elite Backgammon player - a runner-up in the 1972 World Championships – has written books on the subject, and as the originator and organiser of the World Championships in Monte Carlo, has rubbed shoulders with – and learned from - a who's-who of famous gamblers.

The immersion in the world of gambling and a natural aptitude for working with odds saw Lewis retained as a consultant by some of the world's biggest bookmakers to set their odds. Meanwhile, he continues to find ways to beat other non-client houses.
Now at the age of 81, still actively betting with significant limits at big name books, he took time out to share with Betting Resources some of that huge wealth of accumulated gambling knowledge.
81 and still learning
Sitting down to talk with a man who has seen so much change within gambling there were so many questions I could ask, yet our conversation started with the future; to be precise the start of the 2016 NFL Playoffs*.
"I like Kansas City this week" His words were careful and considered. "There are some very convincing stats around teams with strong defence."
The Chiefs faced the Texans in the Wild Card round of the Playoffs, having qualified second in the AFC West, and conceded fewer points than just two teams in the whole of the NFL.
A wry smile crossed my face later that weekend when I saw that Kansas destroyed Houston 30-0. Beginner's luck? Never could that phrase be less relevant.
Despite the experience gained from six decades immersed in sports betting, Lewis was quick to point out how he was still constantly looking for anything that might help give him get an edge and encourages all bettors to do the same.

He was, for example, impressed by something he had recently read on the impact of wind on NFL scores by Mark Taylor in our very own Betting Resources section.
"Wind has got be above 20mph to mean anything, but as wind increases scoring goes down, and so do Totals." [He underlined that point by strongly recommending checking the NFL weather channel on game day before placing any bets].
The origins of an illustrious career in betting
Understandably I was eager to find out how this illustrious career in betting began.
Lewis is keen to point out that he isn't a stats savant. He read English Literature at Oxford, and modestly professes only a basic grasp of arithmetic, but possesses an intuitive ability to gauge value – which is clearly an understatement.
 "I always liked betting and was a sports fan but my route to real gambling was via poker – 5 card draw in those days. A poker player friend kindly offered to introduce me [he laughs wryly] to Backgammon at $10 a point. As luck would have it, in a 'Rainman' kind of way, I felt a natural aptitude and it seemed so obvious what you should be doing in the game." 
Backgammon is rooted in games that are over 5,000 years old. It is a mix of both skill and luck – through the role of two dice.  At its core is the opportunity for either player to 'Double' the stakes at any point. If the opponent declines, they forfeit (Drop) the game at the initial stake. When you 'Take' a Double you own the doubling dice and therefore the right to offer the next Double. Doubling can continue back-and-forth in an unlimited fashion. The key is in understanding under what circumstances to Take and when to Drop, and this decision is essentially an estimation of value – just like with any other gamble. Which of the two options would work out better? It should be no surprise that very astute gamblers make excellent Backgammon players and vice-versa.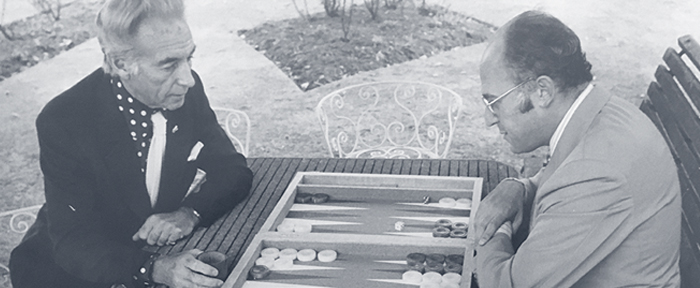 Sir Stanley Matthews (left) playing backgammon with Lewis Deyong (right).
"Backgammon is 100% a gambling game. It's like poker. People can go bananas with doubling and re-doubling…the point I am making is that it attracted an enormous number of professional gamblers. I got to know a lot of these people, during my Backgammon Tournament managing career, and paid out maybe $40million in prize-money [derived from entry fees].
Despite the numbers involved, everyone always got paid, and I built myself a strong reputation. As a consequence, gamblers around the world felt confident they could trust me."
As much as Lewis is an expert gambler and former World Backgammon Championship runner-up, he is a raconteur with an almost seductive tone of voice that subtly hints to where a yarn will lead. When pushed, however, on the key advice he would give any aspiring bettor, he is very direct.
The most important advice for any bettor
"I have one piece of advice for anyone who reads this, more important than all the rest of this piece put together. Don't bet money you cannot afford to lose. Your judgement goes, and you put yourself under intolerable pressure. If there are ten points that I can get across to your readers, they should all be the same thing. Short money never wins!" 
It's no coincidence that one of Pinnacle's most popular Betting Articles focuses not on handicapping but on stake management.
"I learned that lesson from my early days of gambling in Chemin de Fer [a version of Baccarat]" Lewis smiles as he recalls this bitter lesson "losing my entire first term's university allowance before even setting foot on campus."
Reflecting on change
I asked Lewis how much the gambling industry has changed in the years he has been involved.
"Very often [in the past] it was simply a question of getting hold of information. [Today] Information gets transmitted through the internet so fast."
To underline this asymmetry in prices, he drops in an anecdote about a trip to Austria.
"When they first started sports betting in Austria I was looking at some prices on the internet. Their handicapping of tennis was terrible – value galore. So I made a trip to Vienna to open a few accounts, and the first place – on a street called Artillerie Strasse – I walked up to the counter wanting to open a credit account.
'Herr Deyong' the Manager said to me.
'Do we know each other?'

'Last year, I won the Junior Consolation in Monte Carlo!'.
It's hard to stay anonymous when you're known for finding value.

"I have one piece of advice for anyone who reads this. Don't bet money you cannot afford to lose."
His position in the Backgammon World may have made his face recognisable and opened many doors, but his success within professional betting was through a systematic approach to exposing market inefficiency in the days when bookmakers still thought locally. 
"It was beneficial to me in those days to get up early and call Australia to check prices; for some reason nearly all bookmakers held onto their numbers like a state secret, and of course there was no internet".
"I had a good knowledge of tennis, and slowly this became more than just a hobby" hinting at the scale of bets involved. Lewis recounts how he would use phone accounts working his way around the world following the sun placing significant bets with multiple books across Europe, in Austria and the UK getting what is called 'a middle' – a risk-free position on both sides of a bet - up to three times a day.
 "[Back then] It was an absolute paradise. You might be getting a strong favourite at Even money and a live Outsider who should be 5/2 at something like 12/1."
That simply wouldn't happen today where APIs allow instantaneous communication of odds and digital communication enables instant information sharing.

A further consequence of the ubiquitous availability of odds – in contrast to the era Lewis recounts – is that where Middles and Arbs are available it may only be for very short periods of time. Bookmakers have also clamped down, so he personally finds it a lot harder today to bet in the same way.

I asked Lewis whether he thinks the noise of information within, for example, Social Media actually makes things harder for bettors.
"It has completely changed betting but the one place where noise doesn't apply is in prices [odds]"
Similar to Backgammon, Lewis recounts organising and competing in Pro-Am tennis events in the 1970s that gave him privileged access to players – this was his very own version of a Social Media circle - reeling off names of some of the biggest players of the era. Being a lefty he was particularly well-suited to the doubles game enabling success on the court to match that in the betting ring.
When Wimbledon came around Lewis was able to leverage these relationships, learning more about the game and important nuggets of information - something which has been unheard of for many years now - and even organised a Pro-Am event at Queens for the great and the good sponsored by the legendary casino tycoon and ecologist John Aspinall.
Things didn't, however, always go to plan.
 "I remember one of my worst losses was on a tall US player named Sherwood Stewart at Wimbledon against fellow American, Mike Estep. I couldn't understand why this 6 foot 2, grass-court serve and volley type was losing to a diminutive American clay court specialist –– who he towered over by 6 inches." 
Lewis later found out they both grew up in the same town in Texas and knew each other very well.
"When close friends play, the dynamic between them changes dramatically" he soberly added.
This rings true today, taken to the extreme in matches between the Williams sisters, which are enormously hard to handicap for that very reason. Of course today that kind of information would be freely available with a click or a tap, a simple illustration of how the information landscape has changed, but not always for the better.
Lewis was famously quoted as saying "professional athletes are the worst ones to handicap their sport" a sentiment he still stands by. He believes this extends to what he calls 'quasi-experts' who commentate on the sport, appealing to a largely uninformed mass market. With that was a warning for bettors to steer clear of that kind of punditry. [To read more on that see the Green Lumber Fallacy].

The question of specialising
The focus of Lewis' career has been on two sports in particular – American Football and Tennis - and he has built up a deep understanding of both, and played the latter his whole life.
In the early days of specialist sports TV, he appeared as the resident expert in front of the camera on the UK's first NFL Show – Screen Sport. Unfortunately, despite very encouraging viewing figures his TV career was cut-short due to unreasonable [and rather bizarre] demands by the production company.
"Would you believe it? They asked me to wear a hair-piece to be more in tune with their young demographic. It was simply out of the question."
He freely admits to betting on other sports 'like an amateur' underlining that specialisation is critical to success – ideally on binary sports.
Lewis was equally unequivocal that bettors should definitely specialise, and that value isn't to be found in the Super Bowl or the Men's Wimbledon Final, where bookmakers make it their business to be very right in their pricing and where all relevant information is widely available and scrutinised.
He freely admits to betting on other sports 'like an amateur' underlining that specialisation is critical to success – ideally on binary sports.
The interest - and therefore volume - is greatest on the most popular events, so the market reaches efficiency much faster, thus squeezing out value.
As if to reinforce the point, Lewis explains that he still bets regularly during the NFL Season, and has an eye-watering limit at a well-known competitor, but with a key restriction - he can only start betting one hour before kick-off.
"You can have a great opinion, but you will not have value. That is to be found in the early rounds of tennis and with lower leagues of soccer, and invariably with the underdog".
Lewis added that along with the marquee events, serious bettors shun the 'public' teams. At this point, he raises a chuckle.

"Everyone wants to dance with a pretty girl, so look for the ugly sisters, they are most likely to be undervalued.
If wise guys are going to bet the favourite, they bet them early, and bet the dog late fading the armchair money on the favourite, getting free points."
His lifelong focus on sports that are binary is no coincidence. In Lewis' opinion three-way markets i.e. where the draw is a realistic outcome as in Cricket and Soccer, are a dream for bookmakers. (It must be noted, however, that in recent years Draw-No-Bet has been introduced as an option).
He equally feels that derivative markets – like set betting - should be for experts, as it becomes even harder to add up the value with so many variables pushing the margins (which a bettor must overcome) much higher.
Betting – from art to science
His background in Backgammon coupled with his understanding of the game enabled him to have '…a better concept of what the odds should be than those setting the odds at events like Wimbledon'. When he discovered he was able to shop around for this value in a closed environment, he was in a very strong position.
These days however he bets less and less on tennis. 
"I am up against people that don't know more than me about tennis (if as much), but they are trained mathematicians, and they can analyse data in a highly professional way, which I cannot do. And I must now sadly accept that betting is more a science than an art"
In a nutshell that perhaps best encapsulates the change in gambling that a veteran expert like Lewis has experienced across the last 50 years.
The component of professional betting that relies on domain expertise has been squeezed out by those simply crunching numbers. Betting has perhaps moved from an art to a science, but it was great to spend time with someone who appreciates that difference.
Postscript
To give our readers some practical hints, which will stand up no matter what data analysis is used, Lewis offered the following:
(I) To find an underrated NFL team, look at Offensive Line. Andrew Luck is considered the most talented young QB and he will eventually replace the now departed Peyton Manning as #1. However, so far he has been unable to capitalise on his full range because his O Line is abysmal. Colts should make this priority #1 in Draft  & Free Agency. If their team really works an upgrade here, the sky's the limit.

Remember, gifted running backs & wide receivers are not difficult to find, but Pro Bowl level OLs are large needles in huge haystacks. DALLAS 2015/Carolina 2016, are prime examples of this theory.

(II) Despite massive changes to the composition of the grass, Wimbledon is still a servers' court. I believe that holds in Men's Singles (& Ladies) is over 5% higher on grass than hard, & men hold up around 85%. Such relative serving figures also adhere in the Women's Tournament. 

A perfect example occurred in 2015. Coco Vandeweghe is a young strapping American with a monster serve. Nevertheless, now aged 24, she has little to show for it except one tournament title - naturally on grass (2014 Holland).  Even so, at Wimbledon 2015 she beat three seeds (including highly fancied Roland Garros Finalist Safarova) & took a set from Sharapova in the quarters. Horses for Courses! Such subjective analysis will still pay off if you really put in the time, & study your sport.

Remember, Bookmakers always have to consider public opinion (not public knowledge) as perhaps their most important parameter, you don't.
*This interview was conducted in January, 2016