If you are not familiar with our BetShares, you could be missing out on a great tool to help your betting predictions. Are you undecided about which team to bet on? Are you wondering where the most bets have been placed? BetShare is the answer to your questions. Read on to find out how BetShares can give bettors unique insight into making succesful betting predictions ahead of all major sporting events.
What is a BetShare?
A BetShare is a percentage representation of the share of the number of bets on the different sides of a match published ahead of all major sports events, including Premier League, Bundesliga, La Liga, Grand Slams, NBA games and much more.
In simple terms, a BetShare tips you off as to which team has received the majority of bets. If, for example, Croatia is playing Spain in soccer and the BetShare percentages are 47%, 16% and 37% this means that 47% of the bets at Pinnacle have been placed on Croatia, 37% on the draw and 16% on Spain.


To ensure that you get a reliable insight into what is going on in the betting market, we only publish BetShares after a significant number of bets have been placed. And to keep it even more interesting, we update BetShares regularly, with the one released an hour before the start of a match being calculated using the highest number of bets.

Our Educational mandate
Working with the belief that the more educated a bettor is, the more likely they are to bet with Pinnacle, we are constantly looking for ways to educate in new and enlightening ways. We've always looked at Twitter as an opportunity to expand on that philosophy and we've done so with our BetShare tweets.
In these tweets, we're letting bettors know what percentage of bets have fallen on each side of the market. You'll know there's value in this, if you understand the wisdom of the crowd.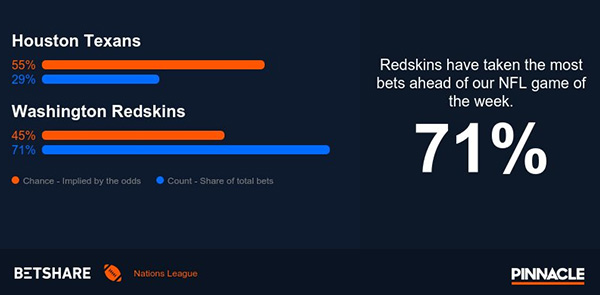 How can BetShares help your betting?
Although we advise you to do your own research before deciding which team to bet on, BetShares can be an invaluable tool to assist your betting. Keeping in touch with the market sentiment on a regular basis not only gives you a perspective of your betting decisions against the bigger picture, it also helps you detect betting trends.
Make the most out of BetShares by following @PinnacleSports, for the latest updates of BetShares, and Pinnacle's unique insight into the latest betting markets.


Get the best betting advice
Latest updates of BetShares, Pinnacle's unique insight into the betting markets.

Follow Pinnacle