In a highly anticipated heavyweight rematch, will Alexander Povetkin be able to deliver a crushing blow to Dillian Whyte's world title ambitions once again or can the Brit deliver a punch-perfect display? Read on for some expert insight into the Whyte vs. Povetkin 2 odds.
Whyte vs. Povetkin 2: Tale of the tape
| | | |
| --- | --- | --- |
| Dillian Whyte | Fighter | Alexander Povetkin |
| 32 | Age | 41 |
| 6 ft 4  | Height | 6 ft 2 |
| Orthodox | Stance | Orthodox |
| 78″/198cm | Reach | 75″/191cm |
A close look at the Whyte vs. Povetkin 2 odds
The 1X2 odds suggest Whyte is the heavy favourite, which might come as a surprise to some bettors after the outcome of the first fight, with an implied win percentage of nearly 75%*.
The Total Rounds is set at 7.5, with over 7.5 rounds priced at 1.92*, which suggests there is around a 55% chance that the fight will last that long.

Whyte vs. Povetkin 2 betting: What can bettors expect?
Povetkin will start the fight yet again as an outsider in the betting, which might come as a surprise after his empathic knockout of Whyte in the first fight. The Russian showed that even at the age of 40, he is still a serious threat and knew just a bit too much for the Londoner at the top-level.
With Povetkin's only career losses coming at the hands of a prime Wladimir Klitschko and Anthony Joshua, there is reason to believe that the same outcome can most certainly occur in the rematch, and that the knockout punch in August last year was most defiantly not a 'lucky punch'. Whyte is also going to be nervous, not just because he was knocked out with one heavy shot last time but the fact is he is now fighting for his career. Povetkin will therefore have the psychological edge, knowing it can only take one punch to beat Whyte, and will come into the rematch daring and unafraid.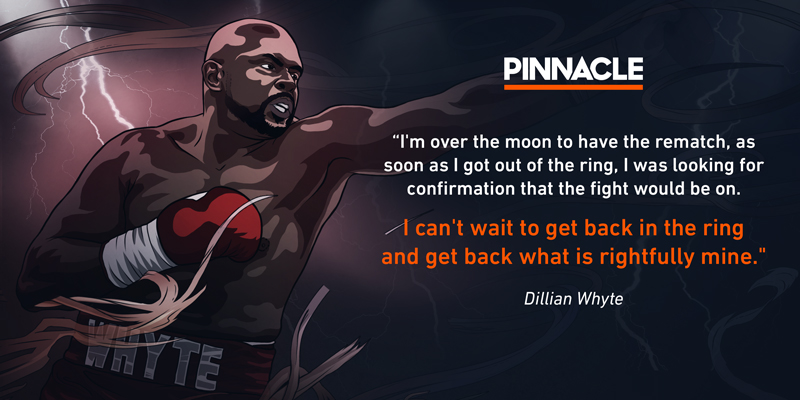 The key to victory for Whyte in the rematch will be to not get excited if he lands a good punch and most importantly not to exchange, as Povetkin is so good technically with his hooks and uppercuts. If you exchange with a fighter who has the fundamental boxing skills and experience that Povetkin has, it can spell disaster (as was witnessed in their first fight).
Whyte was boxing almost a punch-perfect fight up until the point that he was knocked out - dropping the Russian twice, keeping him at the perfect distance, and using his jab perfectly, all whilst keeping his hands high and countering. These are the perfect tactics to employ in the rematch but he will need to make sure he does not, at any point, get drawn into exchanging punches and most notably hooks on the inside - as he will likely end up in the wrong position (which is within hooking range with the Russian), and Povetkin can then catch him again with that left uppercut that knocked Whyte out cold last time.
Whyte vs. Povetkin 2: What did the first fight tell us?
Povetkin's high-level fundamentals as a fighter have come from what has been an extremely impressive career as an amateur and taught us that he is no doubt the more polished fighter in terms of skill set coming into the rematch. The 41-year-old has won gold at the European Games in 2002 and 2004, and World Championships in 2003, as well as an Olympic gold medal at the Athens games in 2004.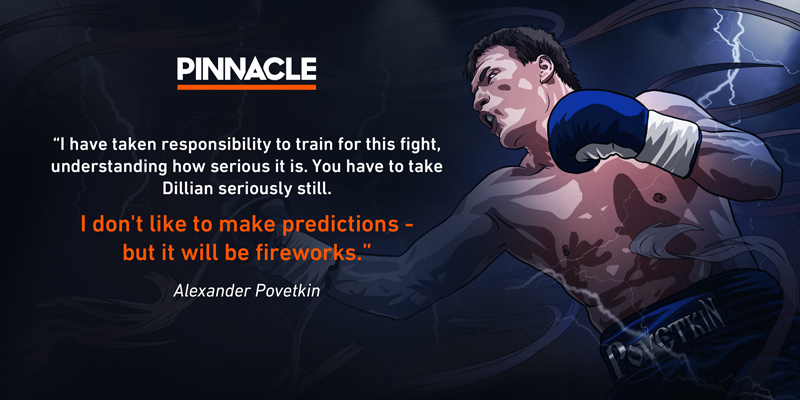 Whyte will again bring a more rugged approach but the first fight did demonstrate to us that the Brit more than has it in him to win the fight, either by knockout or on points, providing he sticks to the correct game plan and doesn't get careless. Povetkin proved that he can be very astute, most notably feinting on the setup of his attack to try and differ his style and land his big left hook. Whyte has also been hurt multiple times in fights as a professional and knocked out concussively twice, so the rematch depends on who gets their tactics right on fight night.
The betting market suggests that Dillian Whyte will be able to execute this game plan and is expected to win. If you are betting on the fight, it will be a case of if you trust the Brit to not get careless and to follow his game plan strictly, for as long as the fight may last. Pinnacle believes that Whyte has around a 75-80% chance of doing this, whilst Povetkin is given a just a 20-25% chance of repeating what he managed in the first bout.
Whyte vs. Povetkin 2 betting: Where is the value?
Ring rust and inactivity could be a factor in this fight, and despite winning the first bout it could be argued that the layoff 41-year-old Povetkin has had was actually to benefit his health, after taking some heavy shots himself in the first fight. For Whyte, he simply cannot afford another off night or have any lapses in concentration, as although Povetkin is coming to the back end of his career he now knows he can hurt the 31 year-old and knock him out in a split second, if he can time his punches correctly. 
The way that Whyte got himself knocked out in the first fight was by making the mistake of standing toe-to-toe with Povetkin and exchanging punches. He became inactive on the inside and this is a dangerous tactic against the Russian but one that can be corrected. Povetkin is a very good fighter in the pocket and if you allow him to get inside and get his hooks off he is a very dangerous boxer. If there comes a scenario in the fight where this happens again, and the pair start exchanging inside, then it will inevitably spell danger for Whyte and the result will end up the same.
Whyte will need to keep this fight long behind his jab and catch the Russian coming in if he is to be victorious, and if he can then break Povetkin down systematically then that will be when he can ramp up the pressure and start to try and force a stoppage. This fight is 'win or bust' for Whyte and I expect him to box that way in the rematch. He will need to get back into this mind-set and ensure he takes no risks if he is to come out victorious, as Povetkin overall certainly is the better-skilled boxer of the two but his age means he is also most certainly on the decline (despite his heroics in the first fight).
The last thing you lose as a heavyweight is your power. Povetkin is vulnerable but it would not come as a surprise to see him repeat his knockout performance. But you still have to lean towards Whyte to come out on top in the rematch, providing he can learn how to take half a step back in an exchange instead of just throwing with the Russian, and learn to use backward or lateral movement to nullify Povetkin's danger punch – the left hook.
Expect Whyte to get to Povetkin, but this time be more tactically aware of the threats that the Russian possesses. Whyte has been waiting so long for a world title shot that it is 'now or never' and he knows that he's on the brink of fighting for it, which should bring out a more polished, calculated performance than the first fight, but bettors should expect fireworks along the way.
Prediction: Whyte to win on points
Looking forward to Whyte vs. Povetkin 2? Make sure to check out Pinnacle's predictions for all the other bouts on the night.