On Saturday, August 20, Anthony Joshua will be looking to reclaim his world heavyweight titles once again. In his way is Oleksandr Usyk, who comprehensively out boxed and outpointed the Brit back in September last year to stamp his authority as one of the best fighters on the planet, and rip away Joshua's world title belts.
The WBA (Super), IBF, WBO, and IBO heavyweight titles will be on the line again this time around with the fight taking place in Jeddah, Saudi Arabia, at the King Abdullah Sports City stadium. Can the Ukrainian reign supreme again and hold onto his titles, or will Joshua power his way to victory and secure redemption? Read on to inform your Usyk vs. Joshua 2 predictions.
A close look at the Usyk vs. Joshua 2 odds
| | |
| --- | --- |
| Oleksandr Usyk | Anthony Joshua |
| 66.79% | 33.21% |
The 1X2 odds suggest this is a fight that Pinnacle is expecting Usyk to win, and the odds propose the Ukrainian has approximately a 65% chance of victory, which will be due to the fact that Usyk won the first fight between the pair so convincingly. The Total Rounds is set at 10.5, with Over 10.5 rounds priced at 1.704*, which means Pinnacle is favouring the fight to go the distance rather than a KO/TKO.
Date: Saturday, August 20
Venue: King Abdullah Sports City stadium, Jeddah, Saudi Arabia

Bet: Usyk vs. Joshua 2 odds
Usyk vs. Joshua 2: Tale of the Tape


Get the best boxing betting advice
Big fight previews, BetShares, and the latest odds
Follow Pinnacle
Usyk vs. Joshua 2 betting: What did the first fight teach bettors?
The first fight taught boxing bettors a lot about both fighters. Usyk was extremely imposing from the start, both tactically and skilfully, which did come as a surprise to some considering Joshua was the betting favourite heading into the bout. However, it quickly became apparent that there was an ability gap between the two fighters. Joshua underwhelmed and the Brit will need to perform a lot better in this rematch to stand a chance of beating the Ukrainian, who has proved time and time again what a master boxer he is.
It is now apparent that Joshua didn't use the right tactics, he was trying to box Usyk when he should have tried to intimidate and pressure the Ukrainian and implement his own strengths. The problem is for Joshua in the rematch that this is a far easier observation to talk about than to deliver, and whilst he most certainly has to use his size, power, and brute strength to be victorious, he would also need to show the heart and desire from earlier on in his career to deliver this result. Joshua has shown vulnerability in his makeup recently and he might not be willing to show the kind of heart and mental toughness that he delivered against Wladimir Klitshcko earlier on in his career to do so.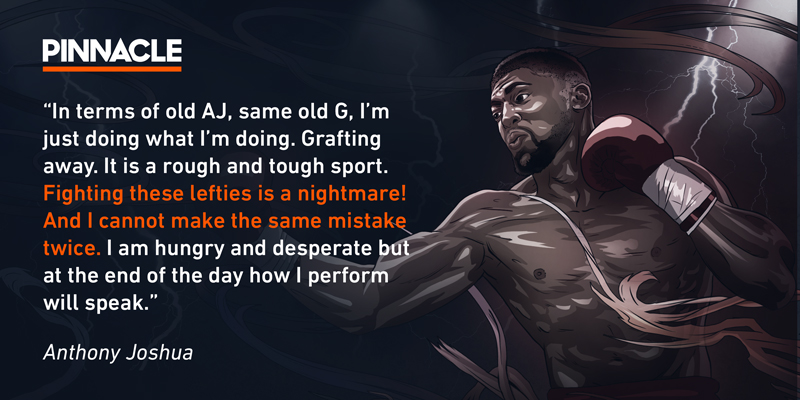 Joshua has switched trainers, teaming up with Robert Garcia, and this is understandable when you analyse the kind of tactics and game plan that it would take to offset Usyk's rhythm and skill. For those who are unaware, Garcia is well-known for his work with pressure fighters (a fighter who attempts to overpower his opponent by applying constant pressure – taking away an opponent's usually superior reach and skillset).
This has come in the lighter weight categories, but Garcia has trained the likes of Marcos Maidana (helping him to negate some of Floyd Mayweather's best assets and improve his performance levels) in using controlled and calculated aggression against the more slick and skilled boxer to have notable success.
The appointment of Garcia signals that these kind of tactics will be employed by Joshua on the night against Usyk, and he will look to initiate smart and tactical aggression in order to win. He will need to assert his superior size early on in the fight and show that he is willing to take one to give two or three, and this is possibly his only route to victory.
The main issue is that Joshua's new team will not have had enough time to make the essential changes to make him effective at such a high level. Usyk showed in the first fight that his style is problematic for Joshua to negate, and it is highly unlikely that he will have had time to develop and change his style to an extent that he can now alter the confidence that Usyk will have gained from the first fight, which doesn't bode well for bettors looking to back Joshua.
Usyk vs. Joshua 2 betting: Where is the value? 
For Joshua to win this fight, it is essential that he doesn't allow Usyk the same kind of leverage in the first four rounds that he did in the first fight, or it could become an extremely long night for the Brit. It is imperative that he stops the Ukrainian from gaining any kind of rhythm, and he will need to take a risk or two early on to impose any kind of doubt on the Ukrainian and to offset his game plan.
Usyk will have grown in confidence from the first fight, and he now knows he is the superior boxer to Joshua, so there will be less fear from his side going into the rematch, while Joshua will likely still have a lot of doubts as to whether he has the boxing brain and ability to beat a boxer of Usyk's calibre.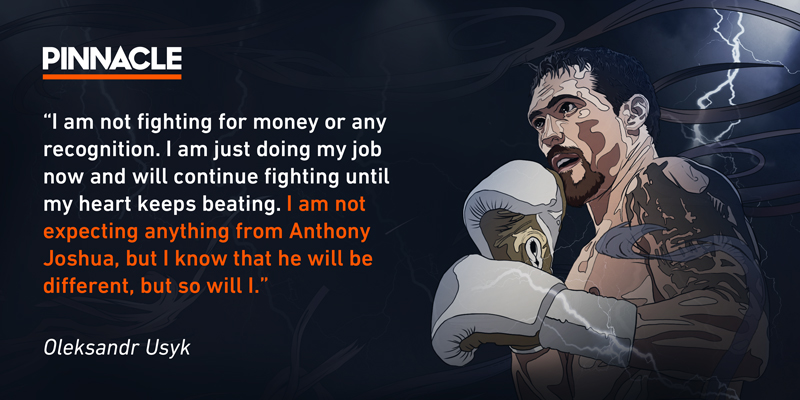 For that reason, all the advantages sit with Usyk in this rematch, and that is reflected in his odds of 1.442* to win. Usyk is technically better than Joshua, has stamina and cardio advantages, and has a boxing IQ and experience that is arguably one of the best in world boxing right now. With the home advantage also taken away for Joshua, it really does seem an uphill task for the former Olympic champion to win.
The Money Line betting odds at Pinnacle look to be about right, and it seems that the traders have favoured skill and technique this time around over power and strength, as Joshua was a fairly substantial favourite in the first encounter. Power and strength can sometimes be overrated as you don't have to necessarily punch hard to take a heavyweight off of his game.
Everyone at world championship level punches hard, but if you can hit correctly and accurately, and continually, then you also have the chance to win via stoppage, even if you are the smaller man (like Usyk is).
The Ukrainian is certainly capable of that, as he showed in the first fight, where Joshua was out on his feet at the final bell and potentially one punch away from being stopped. Joshua possesses some great strengths, but he also has plenty of weaknesses, which Usyk exposed in the first fight, so it would take a monumental effort or a complete change of tactics (that are successful against Usyk's slick style) to change proceedings in the rematch. This is why backing Usyk is a much more calculated bet than siding with Joshua at the odds on offer of 2.840*.
Best bet: Back Usyk to win @1.442*
Bold prediction: Back Usyk to win by KO/TKO
Outside prediction: Back Usyk to win by KO/TKO between rounds 7-12
Ready to get into the action? Sign up and get unbeatable Usyk vs. Joshua 2 boxing odds at Pinnacle.