International teams play relatively few games compared to club sides, so it can be very difficult to assess their quality. The top four nations in the Outright betting for the 2022 World Cup all navigated the qualifying process with ease, so while performance in those matches is relevant, it is useful for bettors if they can find alternate methods to rate the standard of the 32 teams who will be in Qatar.
Listen to our World Cup 2022 Insights podcast


It is possible to assess the theoretical value of the players in a squad by looking at the relevant figures on websites such as Transfermarkt. However, the flaw in this method is that veteran players do not carry high values due to the limited time remaining in their careers.
Only one player aged over 31 currently scrapes into the top 100, which makes the likes of Lionel Messi, Cristiano Ronaldo, and Robert Lewandowski relatively lowly rated. Yet these are men upon whom their countries will rely at the World Cup.
It therefore makes sense to look at the wage bills of the 32 nations instead, as obviously, the better players command the highest salaries. Economist Stefan Szymanski has noted a strong correlation between wage expenditure and average league position in domestic football, so it's reasonable to assume it should apply on the international stage too.
Methodology 
To establish a squad for each country, we have taken 20 players who featured in their qualifying campaigns for Qatar (or recent friendlies). The most used men were chosen as much as possible, though the availability of salary data meant that some players with fewer minutes played had to be included. However, every squad has at least one player for each position of goalkeeper, defender, midfielder, and forward, so we have a reasonable approximation of the rosters which will be seen in Qatar.
The wage information was taken from sites such as Capology, Salary Sport and Football Manager. Many of the figures will be estimated but they do provide a reasonable guide.
Average player salary and implied probablity of winning the World Cup
Our data unsurprisingly broadly follows the outright odds for the tournament and divides into two distinct, if unevenly sized groups.
There are nine nations who the odds imply have at least a five per cent chance of lifting the World Cup aloft at the Lusail Iconic Stadium on December 18, and these are the only countries with an average player wage of over £100k per week. This is obviously not a complete coincidence, as better players do earn more money.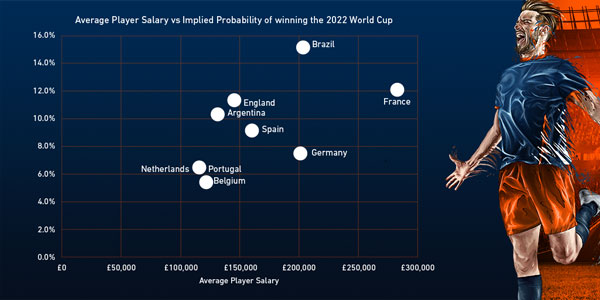 Even at this elite level of the standings, there is some clear separation. We have two groups of three countries who are fairly close, then Brazil, France, and Germany out on their own in a different direction.
The latter are sixth favourites (at the time of writing) and a very interesting case in salary terms. Germany have none of the top 10 paid players but they have seven men who placed between 11th and 23rd, which gives them more in the top 25 than any other country.
France possess Kylian Mbappé, the top earner, while Karim Benzema is ninth in the wage standings. They don't have the depth of Germany, though, and the teams will be kept separate until the final if both win their groups. If salary data is to be trusted, then Germany look to be a good value selection.
The best of the rest - implied probability of reaching the knockout phase of the World Cup
In a similar study ahead of the 2018 World Cup, the wage data suggested Senegal and Serbia had a better chance of success than their odds implied. While neither made it out of their group, the former only failed thanks to a 90th-minute goal and the latter missed out purely on FIFA's Fair Play points system.
Neither could have gotten any closer to reaching the knockout phase without making it. Are there any teams in a similar financial position in Qatar?
None of the remaining 23 teams are given more than a 3.2 per cent chance of winning the World Cup so there is little point in assessing them against that. Here's how their average player salaries compare to their implied probability of advancing from their group.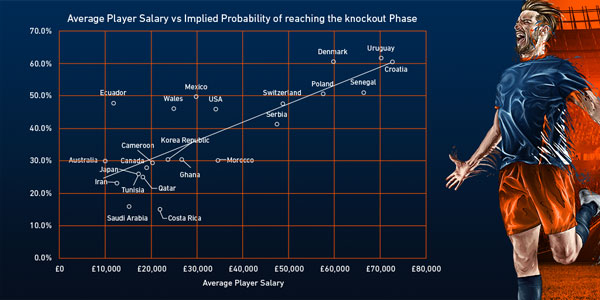 We have several teams who are interestingly placed in respect to our trend line. For instance, Ecuador and Senegal have (at the time of writing) near identical odds to qualify from Group A (in which they're joined by the Netherlands and hosts Qatar) yet their salaries are at almost opposite ends of the scale among these 23 teams. By the logic of the wage bills, Senegal is the much wiser selection.
The Serbians could prove to be a good value option.
Serbia and Switzerland are also a pairing worth a closer look. They are very tightly matched both in terms of salary and probability and will compete in Group G along with Brazil and Cameroon. The Serbians could prove to be a good value option – Switzerland are deemed 6.3 per cent more likely to qualify, but they only have 0.4 per cent more of the total salary within the group.
Being south of the trend line does not automatically make a team a good pick though. Morocco might look that way, but they must get past Croatia, the highest-paid nation among these sides, and Belgium, who are in the elite salary bracket.
A location above the line does not make a country a poor choice either. We can see this with Mexico and Poland, who have very similar odds to get out of Group C (likely alongside Argentina, at the expense of Saudi Arabia). The Poles are paid almost twice as much collectively, but as we shall now see, average player salary can conceal some pertinent points.
Salary range of players featuring at the World Cup
Robert Lewandowski is one of the best strikers in the world and is suitably remunerated for his skills and abilities. He will likely be among the 25 best-paid players at the 2022 World Cup.
But this means he earns far more than the vast majority of his teammates; for instance, where France have 19 players in this study who earn at least €100k per week, Poland have only three.
It is therefore worth looking at how the range of a squad's salaries compares to the income of their highest paid player. This will tell us how evenly paid a country's players are.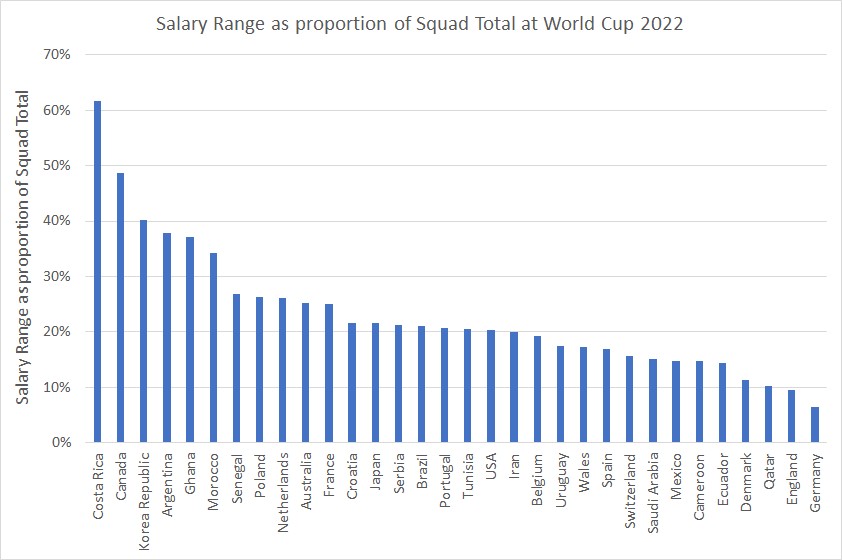 Costa Rica stand apart from the rest here, thanks to Keylor Navas. The Paris Saint-Germain goalkeeper, who previously represented Real Madrid, earns almost two-thirds of the total weekly wages paid to his nation's squad.
The opposite end of the scale makes for interesting reading. Germany and England are the two most balanced squads, and both will expect to do well in the tournament. Notice too that Denmark are fourth (at the right side of the chart) – while they are outsiders to go all the way, Denmark have the shortest odds of the 23 teams who average less than €100k per week in salaries.
If soccer is a weak link game, as Chris Anderson and David Sally asserted in their book "The Numbers Game", then the more evenly paid nations should prosper in Qatar.
Group of death or life
No matter what level of ambition with which each nation arrives at the World Cup, they can all be certain of taking part in the group stage. Using salary data, we can establish which sections of the draw look the least or most evenly balanced. 
Group

Team

Squad salary

Group salary range

% of group salary

Probability of qualifying from group

A

Netherlands

€2,284,224

€2,047,512

54.2%

76.4%

Senegal

€1,327,674

31.5%

51.0%

Qatar

€364,000

8.6%

24.9%

Ecuador

€236,712

5.6%

47.7%

B

England

€2,966,175

€2,717,264

67.5%

85.1%

USA

€683,244

15.5%

45.8%

Wales

€498,130

11.3%

46.0%

Iran

€248,911

5.7%

23.1%

C

Argentina

€2,696,708

€2,392,708

56.8%

83.9%

Poland

£1,152,576

24.3%

50.6%

Mexico

€597,165

12.6%

49.7%

Saudi Arabia

€304,000

6.4%

15.8%

D

France

€5,647,355

€5,448,974

76.4%

83.8%

Denmark

€1,196,145

16.2%

60.5%

Tunisia

€348,729

4.7%

25.9%

Australia

€198,381

2.7%

29.8%

E

Germany

€4,102,226

€3,758,280

50.2%

77.6%

Spain

€3,281,221

40.2%

81.5%

Costa Rica

€437,714

5.4%

15.1%

Japan

€343,946

4.2%

25.9%

F

Belgium

€2,465,809

€2,086,562

49.4%

81.5%

Croatia

€1,454,546

29.1%

60.4%

Morocco

€692,764

13.9%

30.2%

Canada

€379,247

7.6%

27.9%

G

Brazil

€4,142,012

€3,737,457

64.0%

81.8%

Switzerland

€974,047

15.1%

47.6%

Serbia

€949,704

14.7%

41.3%

Cameroon

€404,555

6.3%

29.3%

H

Portugal

€2,371,282

€1,898,838

49.6%

77.9%

Uruguay

€1,406,028

29.4%

61.6%

Ghana

€533,901

11.2%

30.3%

South Korea

€472,444

9.9%

30.3%
The salary group of death is Group H, as it has the shortest margin between the best and worst-paid squads. 
At the opposite end of the equality rankings is Group D, where 92.6% of the total salary belongs to the top two best-paid squads. Group E (90.4%) is similar, and as such, it would be a surprise if France, Denmark, Germany, and Spain do not reach the round of 16.
As with any system, assessing salary information is not flawless. Injuries will inevitably disrupt the plans of many managers, and there will likely be players who make the cut for Qatar but did not feature heavily in qualifying so are outside the remit of this study.
But once the squads are finalised, it looks like it will be worth bettors compiling their salary information. A little financial knowledge may enable them to select some good value bets.
Looking forward to World Cup 2022? Sign up and bet with amazing World Cup 2022 odds with Pinnacle.