Nick Kyrgios' display against Mischa Zverev at the Shanghai Masters drew heavy criticism with the Australian being accused of 'tanking' - effectively failing to give his best efforts. In this article, our tennis expert, Dan Weston looks at the data to determine which players are more likely to tank when on the verge of defeat and which ones are more likely to overperform. A must-read for all tennis bettors.
The case of Kyrgios
Following victory at ATP Tokyo the week before, Kyrgios got the better of Sam Querrey in the opening round of the Shanghai Masters, before being accused of failing to give his best efforts in a 6-3 6-1 defeat to the German, Mischa Zverev, in the second round. His performance, live on television, drew widespread criticism, and it was difficult to dispute this, considering that he obviously was failing to return shots and serving underarm. 
Subsequently, the ATP took disciplinary action against the Australian prodigy, fining him, as well as giving him an eight-week suspension, with the potential for this to be reduced to three weeks if he sees a psychologist during the close season. On a broader point, the ban length is critical for Kyrgios, as he could miss out on the build-up to the Australian Open.
Interestingly, The Telegraph's article after the Kyrgios vs Zverev match, also accused Bernard Tomic of similar tanking in Madrid earlier this season, via holding his racket by the wrong end. 
Tanking: A widespread phenomenon?
Such tanking isn't as rare as many people would believe. Videos such as "Ultimate tanking by Alex Michon in Santiago Challenger 2015" indicate that in the Challenger Tour, it is far from unheard of. Despite such videos attracting numerous views, no disciplinary action was ever taken, giving weight to the theory mentioned by some on Twitter that perhaps Kyrgios' biggest crime against Zverev was taking this course of action in a televised, high-profile match.
From a betting and in-play trading perspective, identifying players who are unlikely to give their best efforts when losing is obviously incredibly valuable, with the obvious benefit is that backing their opponent to win -1.5 sets at a bigger price may yield better returns than just winning the match. Furthermore, it is also useful to be able to assess players who do everything possible to turn around losing situations, or indeed play their best tennis when facing almost certain defeat. 
Players who overperform when losing
Data indicates that several examples of the latter would be Fabio Fognini and Benoit Paire, who have superb records when losing by a set and break or by a break in the final set, and we can use tennis data to establish expectations of players in this respect.
The lead loss/recovery spreadsheets available at tennisratings.co.uk give detailed information on break lead loss and break deficit recovery for individual sets for over 100 players on both the ATP and WTA Tours, and in the ATP, 121 players in the sample faced at least eight set and break deficits between 1st July 2014 and 25th October, 2016, for matches where point by point data was available.
Of these 121 players, a set and break deficit was recovered - to go back on serve in set two - 30.94% of the time, with the players listed below having the best records: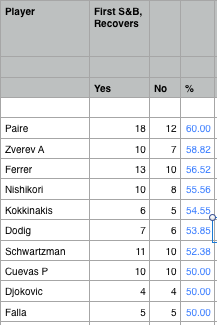 As previously mentioned, Benoit Paire is superb at recovering dominant deficits, and the flamboyant Frenchman - often criticised by bettors on social media - is actually a very reliable player in this spot. Young phenomenon Alexander Zverev falls slightly behind Paire, and given the dynamic for young players to struggle in this spot - discussed later in this article - his data is even more impressive. David Ferrer, a player often noted for giving his best in every match is third in the list. This data adds weight to the theory that Ferrer simply never gives up in matches.
Players who are most likely to tank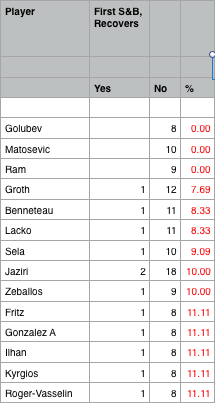 The above list shows the players who have not covered themselves in glory when losing by a set and break in matches. Clearly many of these players are not at the top of the world rankings, but the list does also include the very highly rated young prospect Taylor Fritz, as well as the aforementioned Kyrgios. This data would indicate that Kyrgios, when losing by a set and break, frequently does not get back into the match, and would also raise the question of whether the display against Zverev in Shanghai was not entirely unpredictable. 
Having said this, it would be relatively unfair to accuse the likes of Sam Groth and Horacio Zeballos - two players weighted towards the 'big server' dynamic of underperforming here, as their expectations, as players with poor return data, should be lower than the likes of Dudi Sela, Fritz, or Kyrgios, who have better return data, and break opponents serve more frequently. 
Performance vs. Expectation
To solve this issue, a ratio was developed to generate an expectation for each player. Mentioned earlier in the article, an average of 30.94% of set and break deficits was recovered by the players in the sample, and these players on average broke opponents in 20.20% of return games. 
Therefore, we can say that the expectation for recovering a break deficit should be (30.94/20.20 = 1.53) 1.53 x a players break opponent percentage. Using this ratio to generate expectation percentages would ensure that return orientated players such as Ferrer, who by definition should recover from deficits in the match more often than a serve orientated player, aren't over-rated.
The table below illustrates the ATP players who outperformed their expectation the most in the sample, based on the simple formula of (expectation % - actual %).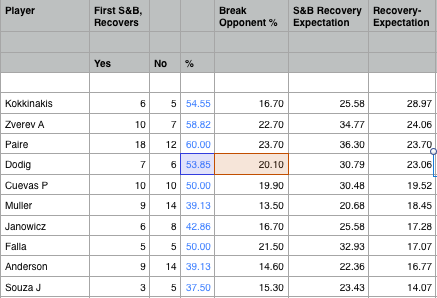 Whilst many players from the original list of strong recoverers are still in this list, it's also worth noting that factoring in expectation also includes several big-servers, who have strong recovery data, in Gilles Muller, Jerzy Janowicz and Kevin Anderson. Clearly this trio should not be underestimated when on the verge of defeat, as Muller indicated recently in his comeback victory over Grigor Dimitrov.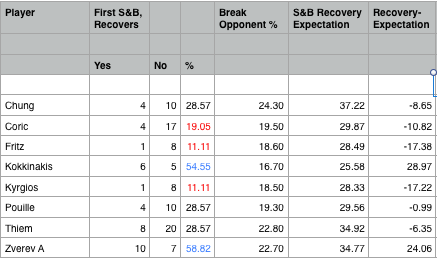 In addition to the previous list of poor players at deficit recovery, including expectation data also brings in Juan Monaco as the worst performing player when a set and break down. This data also indicates that Donald Young and Guillermo Garcia-Lopez, two players who have solid return stats, have significantly underperformed when losing by this margin in a match.
Kyrgios is again included in the worst performers list, and Bernard Tomic wasn't far from being in it either, with a 13.04% recovery percentage being 16.52% below his expectation. It would be entirely reasonable to conclude that these two talented young players need to improve their mentality when losing in matches. Top ten player Tomas Berdych - a player that has also flattered to deceive generally in recent years, as well as in big matches against elite opponents - also was not far from making the worst performer list either.
The "Next Generation"
There are many other angles we can look at with this data, but one area worth focusing on is the young generation of players - often referred to as the 'Next Generation'. The eight players included in the sample, along with their data, are listed below (Kyle Edmund was not included, due to small sample size). 
We can see that of the next generation, only Thanasi Kokkinakis and Alexander Zverev over performed their expectation significantly, whereas the majority of other young prospects greatly underperformed.
It is likely that young players who still have much to learn mentally have an issue when losing in matches - this is an area where they are likely to improve in the future, as they get older and gain more experience. On that basis, there is still hope that the likes of Kyrgios and Borna Coric can address this issue, which would undoubtedly see them boost their world ranking further. Furthermore, this also underlines the huge potential of Alexander Zverev, who already has world class deficit recovery statistics - something that can only stand him in good stead for the rest of his career.

Get the best tennis odds at Pinnacle, the ultimate bookmaker with the highest limits and the lowest margins.