When betting on tennis handicap markets do you consider court speed? If not you could be overlooking an important factor. Find out why:
Identifying the different set-ups in tennis tournaments
For those unaware, all tennis events are not equal. Whilst there are the obvious differences in court type - grass, indoor hard, outdoor hard and clay - each event can also choose from a number of differing types which each have unique characteristics.
For example, a hard court venue may choose to use Decoturf, Playpave or Plexicushion, amongst others.  Green and red clay also have very different characteristics. In addition a variety of tennis balls can be used, with some lending themselves to faster speeds than others – knowing what court and ball type will be used in advance is beneficial.
The vast majority of people in the tennis world, be they bettors, fans, or the media, tend to look at court speed from a subjective basis. As has been discussed several times in previous articles, this approach is not ideal as opinion can be somewhat biased, but statistics do not lie over a large sample.
On occasion, players might quote a surface as playing fast but there will be little statistical evidence supporting that claim.  Taking this into account is a dangerous proposition for bettors, and the preferred approach should be historical metrics, which make for very reliable statistics for future years – unless the surface type or balls change.
Several metrics which bettors can use to measure court speed are aces per game, service points won % and service hold %. Higher numbers in these three metrics indicate historical venue conditions are fast, and this information can then lend itself to bettors for an angle, which can be factored in, along with other research, for the betting markets, and in particular, the handicap markets.
Wawrinka struggles on fast surfaces
One player who struggles with fast surfaces is the current ATP number four, Stan Wawrinka. The Swiss has made some very poor scheduling decisions in recent weeks, with first round losses coming at his last three events, in Tokyo, Shanghai, and this week in Basel. In all matches he was a pre-match favourite, at 1.08, 1.61 and 1.35 respectively, but was beaten on surfaces where the 2013 service hold percentage was above the ATP mean for the surface. The table below illustrates how Wawrinka is much more suited to slower surfaces than fast ones, but he currently persists – either through stubbornness or lack of knowledge – to play events on fast surfaces.
Wawrinka 12 Month court Statistics
| Surface | Service hold % | Break opponent % | Combined % |
| --- | --- | --- | --- |
| Grass* | 89.5 | 16.9 | 106.4 |
| Indoor Hard | 81.3 | 18.1 | 99.4 |
| Hard | 86.3 | 23.3 | 109.6 |
| Clay | 81.1 | 25.8 | 106.9 |
* Using 24 month for grass due to small sample
Here we can see that on the fastest two surfaces – grass and Indoor Hard – Wawrinka has the lowest combined percentage. Particularly on Indoor Hard, Wawrinka's record is mediocre, with a 49% career win-rate - compared to 66% on clay and 64% on Outdoor Hard. Should Wawrinka play events on surfaces where the historical mean service hold percentage is above the ATP surface mean, or on Indoor Hard generally, there are likely to be very strong grounds to oppose him.
Court speed and Handicap betting
Looking at the 2013 data, there were 12 ATP events where the 2013 mean service hold percentage was over 2.5% greater than the ATP surface mean, and 11 where it was over 2.5% below the mean.  These are listed in the table below, with statistics covering how many matches ended in either a 2-0 or 2-1 scoreline, or the number of tiebreaks per match.  The US Open - 3.0% below ATP hard court mean - was one of the 11 slow events, but was not counted for the sample, due to it being the best of five sets, as opposed to the normal ATP best of three.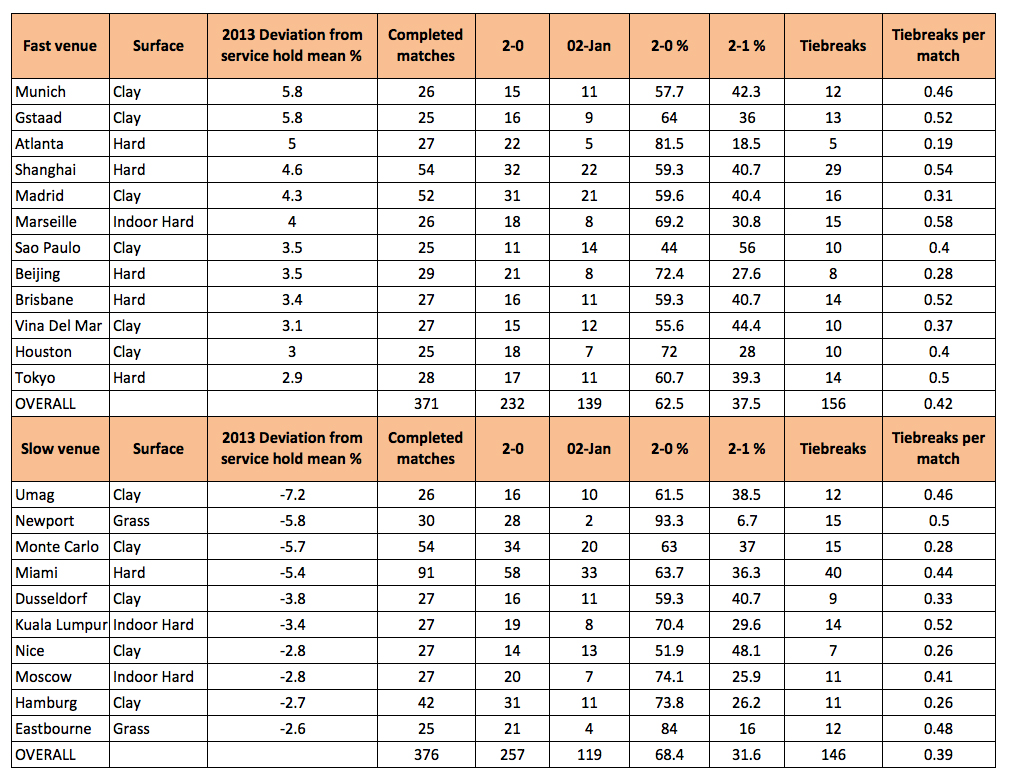 Looking at the overall data, we can see that there were 5.9% more three-setters on faster courts (37.5%), than on slower courts (31.6%).  There were also slightly more tiebreaks (0.42 per match) on faster courts than on slower courts (0.39 per match).
This is logical, as faster surfaces tend to benefit the server. Faster surfaces lead to easier service holds, which mean sets are closer - often determined on one or several key points. A higher percentage of tiebreaks are also more likely with players holding their serve to 6-6. 
For handicap bettors, this is very useful information. It would be much more applicable to back players to 'win -1.5 sets' on the set handicap on slower surfaces than on faster ones. In addition on backing 'under x games' on the game handicap should also be factored into any decision-making.
There were very few 2-0 scorelines on the slow grass surfaces – Newport and Eastbourne. These generated a mere 6 three set matches in 2014 from 55 completed matches (10.9%), and as there tends to be a large discrepancy in player ability on grass, this isn't a huge surprise. Further research on the percentages in 2011 and 2012 would be highly recommended for readers, to see if this trend continued.
It is clear from the statistics that taking into account court speed is vital to make successful betting decisions, particularly in the set and game handicap markets. Bettors should factor this into their general betting research, as part of a balance strategy.
Click here to see the latest ATP tennis odds.
Get the best tennis odds online
Pinnacle offers low margins odds and high limits on all sports
Sign up here