Pinnacle regularly hosts a Discussion Day on Twitter once a month, giving followers the chance to ask expert bettors and traders any questions about betting on a particular sport. Our most recent Discussion Day focused on tennis betting. Read on for the expert advice that was shared.
Having already hosted a Discussion Day for soccer betting, betting on the NBA and how to be a professional bettor - amongst others - Pinnacle opened up the floor to anyone interested in betting on tennis to ask questions that might help inform their betting.
While Betting Resources has articles that teach bettors how to bet on tennis or use a tennis betting strategy, the latest Discussion Day gave our followers the opportunity to get some unique insight from people who have made a career out of betting or trading tennis. Below are the most popular questions that were received and the responses given.
Useful statistics for tennis betting
Once you know the basics of tennis betting, the next step is to learn how to use statistics to inform your betting and help predict the outcome of matches. Although tennis fans will be interested in aces, unforced errors, forehand winners and so on, bettors should pay particular attention to a different set of stats.

Hold and break percentages are vital statistics for anyone serious about tennis betting. Additionally, analysing percentage of service points won and return points won can help improve results when betting on an individual tennis match or outright markets. It is important to note that gathering this kind of data is one thing but using the correct sample size and interpreting the data correctly is what really matters.
Conditions and court speed over form?
When betting on ATP and WTA matchups, novice bettors may look at head-to-head records and compare individual stats as a means to gauge what might happen in the match. However, there are other indicators that will help you make informed betting decisions.

Conditions and court speed are two factors that must be taken into consideration when betting on tennis. Previous articles on court speed in tennis betting and a clay court betting strategy highlight just how important these factors are and will help improve your understanding of such concepts.

That isn't to say head-to-head records and season form aren't important, it just means looking deeper into what those figures represent will help bettors learn why certain players underperform against different styles or on different court surfaces; all of which combine to help improve betting.
Does handicap betting offer better value?
Similarly to Handicap betting in soccer or NFL spread betting, tennis betting has a variety of handicap markets that usually offer higher odds on the dominant player winning to counter a perceived bias in the ability of opponents. These high odds often leave bettors questioning whether there is more value betting on handicap markets in tennis. 
At a basic level, big servers tend to cover the handicap more often than players whose main strength is their return game.
Game and set handicap betting requires in-depth analysis of specific data and is considered a more advanced form of tennis betting. At a basic level, big servers tend to cover the handicap more often than players whose main strength is their return game. To find out more, read our tennis handicap betting strategy article.
Hedging opportunities in tennis betting
As with betting on any sport, there are potential opportunities to hedge a bet and guarantee profit when betting on tennis. Bettors often question how to know whether to hedge or not and if so, when is the best time to do it.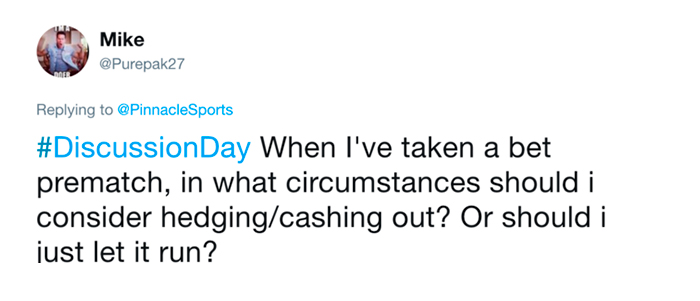 Hedging during a game is certainly possible, but the fast-paced nature of tennis and how quickly things can change mean this is best left to bettors that specialise in live tennis betting - fine margins mean a bet to guarantee profit could quickly turn into an additional loss.
However, hedging an outright bet on a tournament winner is much more straightforward. Betting isn't about making as much profit as possible in one bet, it is about consistently making a profit; guaranteed profit is always a better option compared to potential profit. If you want to calculate a potential hedging opportunity, use our Hedge Calculator or read How to hedge a sports bet.
Want to take part in our next Discussion Day? Follow us on Twitter.