At the start of 2017, Pinnacle hosted a Trader Talk session on Twitter with our Head Tennis Trader. During the session, we received some great questions and gave out some insightful answers. Keep reading for the best bits from our tennis betting Trader Talk.
What is Trader Talk?
One of Pinnacle's core aims is to educate its customers and help empower their betting. While our Discussion Day initiative is one way to engage with customers and offer insight, our Trader Talk sessions - a live Q&A hosted on Twitter - give bettors the chance to learn from people working in the betting industry.
Our Discussion Days encourage interaction between followers and some of our expert content contributors. During Trader Talk, however, our followers' questions are answered by one of Pinnacle's traders - in this case, it was the head of our tennis trading department.
What was asked?
A Trader Talk session will typically last for two hours and while the most recent one took place the day before the Australian Open, they will often focus on a sport in general rather than a specific event - although this really depends on the questions our followers ask.
During our Trader Talk session before the Australian Open, the majority of the questions our Head Tennis Trader was asked fell into three distinct categories. 
Setting odds
We are frequently asked how we set our odds. Pinnacle is known within the industry as having the sharpest odds available and because of this, many people want to know just how we do it. Unlike other bookmakers, we're happy to explain how we work and we make a point of educating customers about margins and how much a bet costs.

In terms of our tennis odds, we will use both experienced handicappers and various statistical models to create our opening lines. Of course, betting activity and the Wisdom of the Crowd can then influence these odds and will most likely change our opening lines.
Our Head Tennis Trader also elaborated on the variables that would be taken into consideration when handicapping or setting odds. In addition to the court surface and speed, tournament structure, player form and health are just a few other factors that traders will analyse.
An odds comparison from last year's Wimbledon adds substance to the claim that Pinnacle offers the best odds available online. How we set our odds is no secret, and neither is how much bettors will benefit from using them.
Pre-game vs. Live
Plenty of bettors have turned to in-play tennis betting in recent years in the hope that it will offer more value. Some seem unsure as to whether live betting is more profitable than pre-game betting and wanted to see what our Head Tennis Trader thought.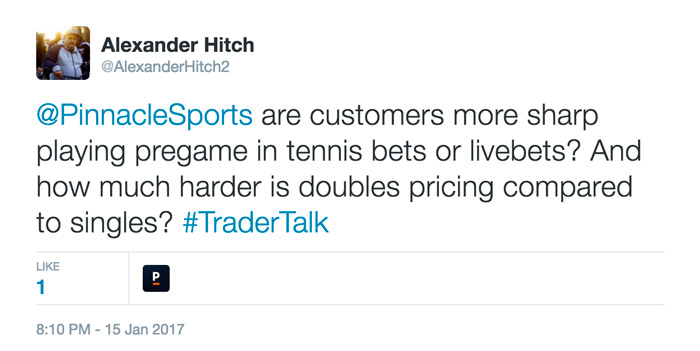 As with betting on any market of any sport, you should always stick to what you know - a message reinforced during our Trader Talk session. Pre-game betting requires in-depth knowledge of numerous factors that will affect the outcome of a match or tournament. Live betting, however, is more reactive and requires a slightly different skillset.
Our tennis expert, Dan Weston, has written about the benefits of live betting - his in-depth tournament previews also highlight where value could be had in pre-game betting. Dan has also taken part in a Q&A with us where he gave his opinion on the pre-game vs. live betting conundrum.
The basics of tennis betting
Although many of the questions asked during our Trader Talk session appeared to come from bettors with prior knowledge of tennis betting, some questions were of a more basic level. 
Our focus on customer education encompasses all learning levels and we will always encourage a more analytical approach to betting - a quick look at our Twitter feed shows we will help in any way we can.

In addition to the multiple articles that explain the basics of tennis betting, we've also published several articles that highlight how expanding on this basic knowledge can drastically improve betting results.
Our articles on Handicap tennis betting, tennis odds comparison and how to rank tennis players are just a few examples of how we teach our customers about betting and how to apply any new-found knowledge.

Follow us on Twitter to be the first to know about our next Trader Talk session.