With this year's tennis season now underway, it is a good time to take an alternative look at how success and failure can emerge on the court. In the third article of a four-part series analysing variants in professional tennis, Dan Weston studies the influence of tiebreaks.
Ascertaining favourites in tiebreaks
Imagine a soccer match between a top Premier League team, such as Manchester City, and a League Two side, such as their local neighbours Salford City. If Manchester City were at home against Salford in a 90-minute competitive match, you would probably see prohibitively short odds for the hosts implying that they had a 90% or greater chance of winning.
Roger Federer led the way for tiebreaks in 2019, winning 79.2% of those which he contested last season.
However, if they contested Salford in a one-off penalty shootout, those extremely high chances of winning would be reduced quite considerably – they would likely still be favourites, but to not nearly as great an extent.
This presents a similar scenario to tiebreaks in tennis. If Novak Djokovic took on the player ranked 100 in the world for a best of five set Grand Slam match, he would be a similar price to win as Manchester City against Salford.
Equally, if he played the same opponent in a one-off tiebreak match, his chances would be much lower. Again, he would still be the favourite, but to not nearly the same margin.
The reason why he would retain his status as the favourite is clear – he wins more combined service and return points than the average player. A look at the five best players on tour by their combined service and return points won in 2019 – Rafael Nadal, Djokovic, Roger Federer, Daniil Medvedev and Milos Raonic – shows that all of the quintet won at least 62.5% of the tiebreaks they played, but none were victorious in over 80%.
Of all players on tour to play at least 15 tiebreaks, Federer led the way in 2019, winning 79.2% of those he contested last season.
What does the data show?
The chart below illustrates the combined service and return points won percentage compared to tiebreak win percentage for ATP players who contested at least 15 tiebreaks in the 2019 season: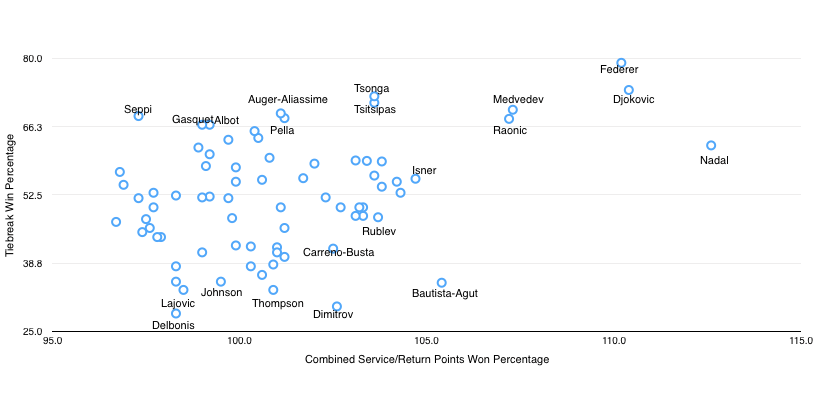 Here we can see a relatively scattered graph, indicating less of a relationship between combined service and return points won percentage and tiebreak success percentage than the former shares with overall match win percentage, as observed previously.
Essentially, this illustrates the short-term variance involved with the tiebreak format. While the best players on tour generally did win a very high percentage of tiebreaks compared to the rest, there were numerous outliers.
For instance, Roberto Bautista-Agut was rated sixth best on tour for his combined service and return points won percentage in 2019, but won barely more than a third of the tiebreaks he competed in.
This was a major issue for the Spaniard as he lost a fourth set tiebreak in his Australian Open quarter-final against Stefanos Tsitsipas, when winning it would have forced a decider, as well as losing two in a row in the quarter-finals of the Miami Masters against John Isner.
He also lost another quarter-final against Gael Monfils in Montreal via a deciding set tiebreak, illustrating the small margins by which tennis matches are often won or lost. Several wins for Bautista-Agut in these tiebreaks would have yielded considerable financial and ranking point benefits.
The stats for Tsitsipas portray a rather different story. The Greek won the ATP Tour Finals in London, his biggest title to date, in November courtesy of a final set tiebreak victory over Dominic Thiem, while enjoying 10-6 record in tiebreaks against top ten opposition last year.
Considerations when analysing players
However, there is not a long-term trend for Tsitsipas to suggest he is particularly good or bad at tiebreaks, aptly illustrating the variance involved in end of set shootouts. Indeed, by comparison he won just 44% of tiebreaks in 2018.
As tiebreaks are so variance-driven, it is important not to overvalue players who have consistently overperformed in them during a relatively short time period, such as the players in the top left quadrant of the graph above.
The players in the bottom right quadrant look like potential candidates to be underrated by many. In the final article of this series we will be looking at and assessing a shortlist of players who are likely to mean revert and therefore outperform or underperform against market expectations in the coming season.
You can read the first article in this series exploring whether the ATP top ten have 'clutch' ability here, the second studying the relationship between points won and win percentages in tennis here and the last on how to identify players undervalued and overvalued by the betting market here.