With this year's tennis season now underway, it is a good time to take an alternative look at how success and failure can emerge on the court. In the second article of a four-part series analysing variants in professional tennis, Dan Weston studies the relationship between points won and win percentages.
Assessing over and underperformance in tennis
The first article in this series looked at whether the top ten ATP players possess long-term 'clutch' ability, with the answer emerging as a totally resounding no. Indeed, there is very little deviation between a player's break point performance and their expectation derived from service and return points won.
As attention is shifted towards attempting to identify which players over and underperformed last year, and the reasons why this was the case, we can start to form an idea of who might be over and undervalued by the betting markets at the start of the 2020 season.
One way to assess the relative strengths of players is to use combined service and return points won percentages. This methodology does have some slight flaws, because in theory a player could bloat their numbers by entering weaker tournaments than their rivals in order to play lower quality opposition. However, this is only a minor consideration as the vast majority of players do not schedule optimally.
If we look at the top ten ATP players in 2019 based on this metric, we get the following list:
| | |
| --- | --- |
| Player | Combined serve and return points won (%) |
| Rafael Nadal | 112.6% |
| Novak Djovokic | 110.4% |
| Roger Federer | 110.2% |
| Daniil Medvedev | 107.3% |
| Milas Raonic | 107.2% |
| Roberto Bautista-Agut | 105.4% |
| John Isner | 104.7% |
| Kei Nishikori | 104.3% |
| Dominic Thiem | 104.2% |
| Diego Schwartzman | 103.8% |
The eye test on this is pretty reasonable. The top three are in line with the world rankings, while Daniil Medvedev is on the verge of taking fourth place in the rankings well.
The real outlier is Milos Raonic, whose current world ranking is 32, although this is mainly due to injury. In any case, his career high rank is third, meaning it is clear that he is a player of strong ability when in decent physical condition.
Are the world rankings reliable?
The effects of injury means that the world rankings do not always reflect player ability accurately, largely due to the 12-month rolling ranking point methodology used by both the ATP and WTA tours. This is a shorter time period than in other sports and as a result, injuries are penalised more strongly in tennis.
Lucas Pouille is currently inside the top 30, despite ranking around 80th on tour based on his service and return points won percentage.
In addition, the bias towards certain events in the calendar – primarily the Grand Slams but also the ATP Masters 1000 and WTA Premier Mandatory events – dictates that an over or underperformance in a specific tournament can have a huge effect on a player's ranking.
For example, Lucas Pouille reached the semi-finals of the Australian Open last season, earning himself 720 ranking points in the process. The Frenchman achieved 1,600 points overall, meaning that in one single tournament he received almost as many points as he managed in the entire rest of the season combined.
As a result of withdrawing from Melbourne this month, his total points dropped to 880 and his world ranking will likely drop to around 60 as a result.
This would be a much more accurate reflection of the ability which he displayed throughout 2019. He is currently inside the top 30, despite ranking around 80th on tour based on his service and return points won percentage.
Pouille isn't an isolated instance of this occurring. Marco Cecchinato, who reached the semi-finals of the French Open in 2018, has experienced a similar decline in ranking after failing to defend his points in what can be deemed a 'random' run in a big event.
The links between points won and win percentages
To see which players have over or underperformed on the court via win percentage compared to their ability displayed, we can look at the relationship between combined service and return points won percentage and win percentage. The graph below demonstrates this for the current ATP top 100 players in 2019 (minimum 15 matches played):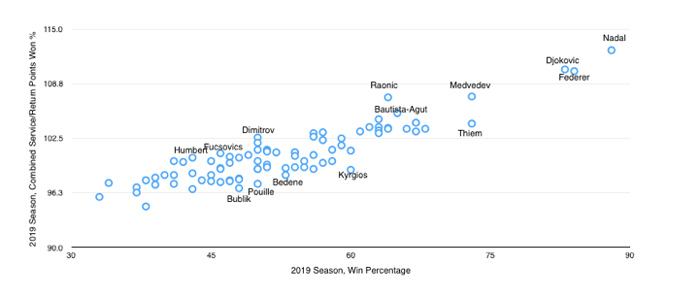 The graph illustrates that as a player's combined and service return points won percentage rises, so does their overall win percentage, although there are a few slight outliers.
Ugo Humbert, Marton Fucsovics, Grigor Dimitrov, Milos Raonic and Roberto Bautista-Agut look to have produced better relative stats than their win percentage – essentially, they didn't win as many matches as they should have based on their underlying data.
Whereas Pouille, Alexander Bublik, Aljaz Bedene, Nick Kyrgios and Dominic Thiem appeared to be victorious in more matches than their underlying data would usually dictate.
The same chart for the WTA top 100 players last season highlights a similar relationship: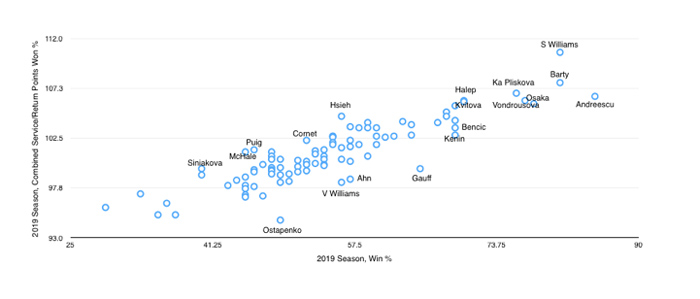 Bianca Andreescu actually won the highest percentage of her matches, yet was only ranked fourth for her combined service and return points won percentage. Serena Williams had markedly better data but won a lower percentage of her matches.
The likes of Su-Wei Hsieh, Alize Cornet, Monica Puig, Christina McHale and Katerina Siniakova had better data than their win percentage would indicate, while Andreescu, Jelena Ostapenko, Venus Williams, Kristie Ahn and Coco Gauff look like they won considerably more matches than they should have done based on their underlying data.
The next article in this series will look at potential reasons as to why those players across both tours have over or underperformed at winning matches based on their service and return points won data, and whether said over or underperformance Is likely to be sustained.
You can read the first article in this series exploring whether the ATP top ten have 'clutch' ability here, the third looking at the influence of tiebreak points in tennis here and the last on how to identify players undervalued and overvalued by the betting market here.