Everyone – except the top players – loves to see underdogs prosper. But with the top five ATP stars almost unchanged in the last five years, are Djokovic, Murray, Federer, Nadal and Ferrer too consistent to fall to players outside the top ten with any degree of regularity?
How do the top 5 tennis players shape up vs. lower ranked opposition?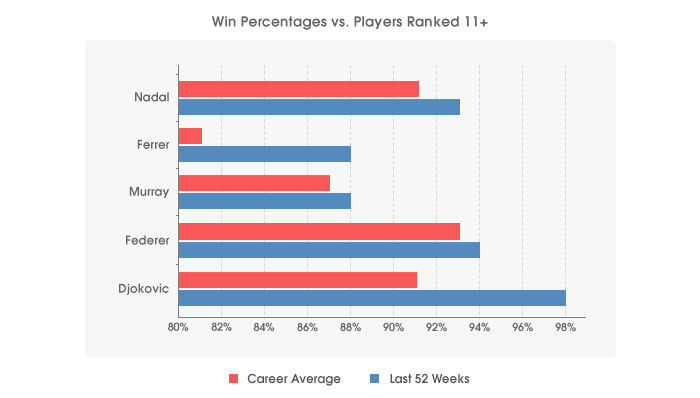 In the last 52 weeks, all five of the top five tennis players have increased their win percentages against unseeded opposition. Djokovic is currently leading the standings, having lost just once in 52 outings against non-seeded competitors. At a massive 98%, his current win percentage is seven points higher than his career-average of 91%.
Roger Federer is also almost unstoppable, with 50 wins to three defeats (a 94% win percentage, up from 93%), while Andy Murray is up 1% to 88% and David Ferrer – also at 88% – is up 7%.
The average win percentage over the last 52 weeks for this group was 92%. This means that – on average – we can expect to see one of the top five players lose to an unseeded rival 8% of the time, or once every 12.3 matches. The "career average" win rate for these players (when they are ranked in the top five) against opposition ranked 10+ was 89% – or a defeat once every nine outings.
What about Nadal?
Before his win at Indian Wells, how would you rate Rafael Nadal against players ranked 11+ in the last year? Most people would say he's been making a few mistakes – after all, we can all remember the Spaniard's spectacular exit from Wimbledon in 2012 at the hands of the 100-ranked Lukas Rosol. And to a lesser extent, people are also aware of his defeat to Horacio Zeballos (rank 73) in February 2013.
These high-profile defeats – one in the second round of Wimbledon, the other on his return from injury – are easy to remember and gained a lot of media coverage concerned with whether the Spaniard had lost his killer instinct.
Statistically, however, they couldn't be further from the truth.
Nadal's killer instinct
Nadal – despite his drop to fifth in the rankings – is actually more adept at finishing off players outside the top ten in the last year than he usually is. In the last 52 weeks, when ranked at #5 or better, he's finished-off opposition 51 times, and lost just four. That gives the left-hander a 93% win rate – above his career average of 91%.
The reason that we tend to think that Nadal has lost his killer instinct is not because of the objective truth, but more to do with a gut instinct called the "availability bias". This is a psychological effect where humans attach greater significance to events that leave the strongest impression – an early exit from a Grand Slam, for example. You can read more about the dangers of heuristics here.
The Nadal example – and his subsequent success at Indian Wells – demonstrates how easy it is to underestimate a player's abilities following a high-profile defeat (or poor run of form), and why it helps to be as objective as possible in analysing players.
Get the best tennis odds online
Pinnacle offers low margins odds and high limits on all sports