Following the WTA 1000 tournament in Qatar (Feb 20 – Feb 26, 2022) there will be more top-level women's tennis action to come with the BNP Paribas Open, taking place in Indian Wells, USA, from Mar 9 – Mar 20. This preview assesses the contenders for the title and asks if anyone can stop Ashleigh Barty's continued domination of women's hard court events.
With Doha now at the quarter-final stage (at the time of writing), it's almost time to divert our attention to Indian Wells.  The quarter-finals in Qatar feature eight players who definitely can be considered contenders for Indian Wells glory, and those eight all feature relatively prominently in the current outright market.
BNP Paribas Open: Will Barty dominate the field?
World number one Ash Barty, who is unbeaten this season having won titles in Adelaide and at the Australian Open, isn't competing in Doha but the major question when looking at the Indian Wells field is whether anyone can challenge the Australian. 
Barty's dominance on hard courts over the last year is illustrated below.
Barty has an incredible 22-1 record for sets played this year, dropping just one set (to Cori Gauff in her first match of the season in Adelaide) in 11 matches. As the chart below showing Service Points Won and Return Points Won percentages in 2022 illustrates, this record has been built on the solid foundation of her extremely impressive serve: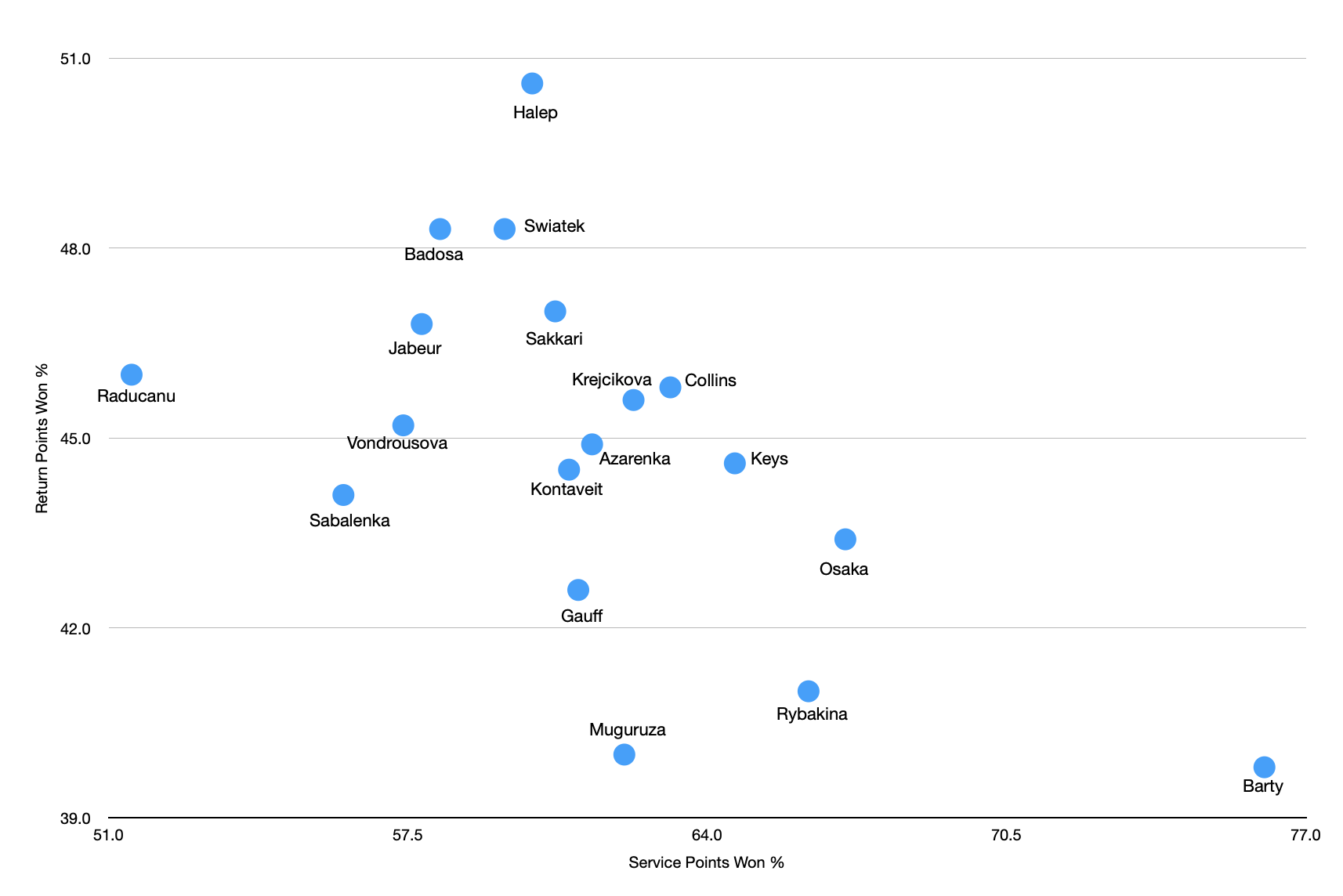 Here you can see that Barty's Service Points Won numbers are stratospheric in comparison to the other leading market contenders, showing quite how strong her serve is relative to the other best players on the WTA Tour. Winning such a high percentage of service points, even with pretty unspectacular return numbers, is going to make the world number one extremely difficult to defeat, and she's a justified market favourite.
Other impressive servers this year include Naomi Osaka [9.600]*, Elena Rybakina [28.000]*, and Madison Keys, who appears to be close to recapturing her best form following an injury-disrupted couple of years. Adding to these players with strong serve numbers is Danielle Collins ,who impressed in Melbourne before losing to Barty in the Australian Open final, and French Open winner Barbora Krejcikova [15.000]* who has shown that she's far more than just a clay-court player.
BNP Paribas Open: Who are the contenders?
Conversely, Iga Swiatek [7.500]*, Simona Halep, and the rapidly improving Paula Badosa are three players situated towards the top of the chart who are exhibiting a more return-oriented dynamic, and if you were to draw an imaginary diagonal line in the chart between Badosa and Rybakina, looking at the players to the right-hand side would probably give you a pretty good idea of who are the statistical leaders on the WTA Tour this season so far.
Moving on from 2022 data in isolation, there's a similar dynamic when looking at surface-specific data over a slightly longer time period as well. Barty, with her Service Points Won percentage being markedly higher than the next best players out of the major contenders, Osaka and Rybakina: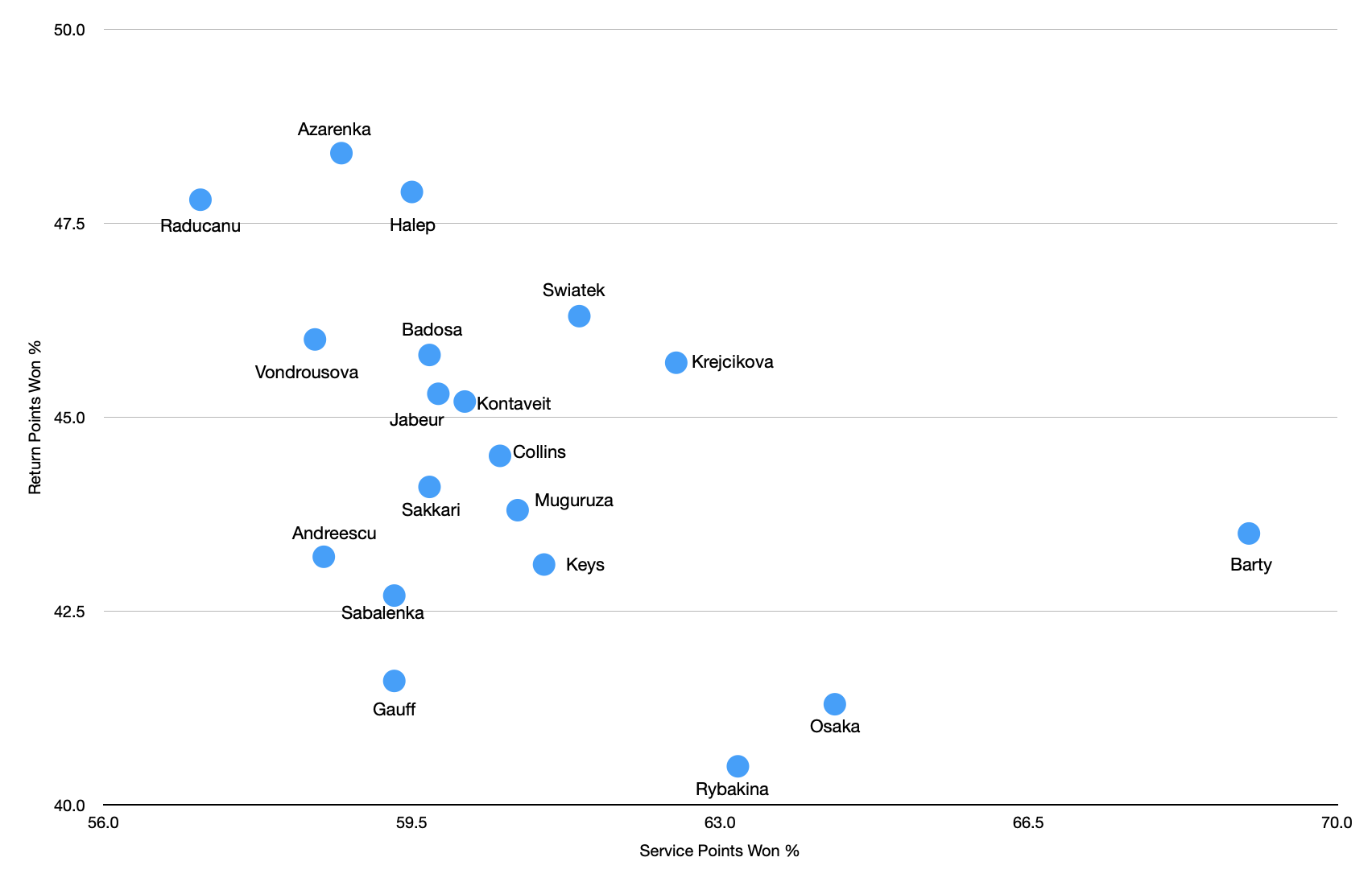 Those three strong servers, plus the previously mentioned Krejcikova and Swiatek, look the best options among the hard court players on tour - at least when looking at players who have a serve-oriented or balanced dynamic. However, Indian Wells has fairly slow conditions (for a hard court), and several return-oriented players should fancy their chances, including Halep and Badosa but also Victoria Azarenka as well. 
BNP Paribas Open: Who are the outsiders?
Finally, it's worth discussing the British interest, in the form of Emma Raducanu [23.000]*. The world number 12, who shocked the world at the US Open last season by winning the title as a qualifier, has struggled subsequently, losing six of her nine matches.
This includes a retirement loss in Guadalajara against Daria Saville, and both charts above show Raducanu's issues - she is struggling with her serve, with a markedly lower Service Points Won percentage than the other main contenders. Until Raducanu can address this, it is difficult to anticipate her improving on her recent run of results.
Click here to read Dan's BNP Paribas Open ATP Men's singles preview.