There are few things more exhilarating and tense in the world of sports than Grand Slam tennis, which is what makes the prospect of betting on them in-play so exciting. Live bettors deserve a product that matches the excitement and this is where the Pinnacle live tennis betting product comes into play.
The demand for live betting in tennis has never been higher; bettors are no longer happy to bet game-by-game, they want the ability to bet point-by-point at multiple times during matches, enabling them to lock-in profits.
With an average of over 500 live odds updates every match and the option to rebet on the same markets with the same high limits, we have a product that we feel matches these demands.
Easy navigation
Featuring prominently on our home page, our in-play odds are easy to find. Simply click on the Tennis icon under Live In-Play in our guest betting menu and choose from the available categories. Log-in or open an account here to take full advantage.
Low margins
With points coming thick and fast and games going to and fro, the live betting markets in tennis can be extremely volatile, for this reason it is imperative that bettors keep as much of an edge as possible.
Betting on markets with low margins is the best way to retain an edge, even if the markets are showing huge volatility. A lot of bookmakers will be offering in-play tennis odds with a margin of around 111% on most Grand Slam matches; some will even go as high as 115% during certain matches.
You will already be 15% worse off before you have even started, meaning if you are looking to decrease your risk or hedge your bets, you automatically have a lot more ground to make up.
With us it's different, we constantly have the lowest margins on almost all our live tennis betting markets, with lines that are predominantly set at around the 104% margin range.
So, for those looking to keep their cool in a volatile and temperamental market, Pinnacle bring in-play calm to all the madness surrounding them.
High limits
It is important to us that we continually match the on-going demands from our customers; one of those is high limits. We consistently offer the highest betting limits online, with the ability to rebet the same amount just seconds later, and this is no different for live tennis betting.
Our in-play limits for a single bet – unlimited rebets - on the Australian Open are as follows: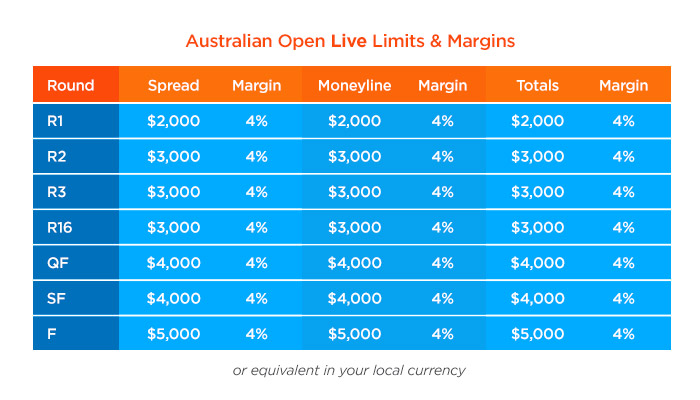 This, along with our Winners Welcome policy, ensures that we remain the bookmaker of choice for all serious tennis bettors worldwide.
Point-by-point odds movement
The graph below clearly illustrates the huge difference point-by-point betting makes to the amount of time that live tennis betting markets are available. Using the 2015 Men's French Open Final as an example the availablity of live odds increased enormoursly with point-by-point updates, compared to when odds were updated only at the change of ends. 
For bettors constantly looking to hedge their bets, the benefits are obvious, the bigger the increase in live odds, the more likely a bettor is of finding a price they are happy to trade out at, this applies on both sides of the market as well. With essential low margins and unbeatable high limits, there is no better place to turn a losing bet into a winning one. 
It isn't just the latter stages where we offer point-by-point betting, we will offer a fully live Money Line that will be available for every qualifier and main draw match at the Australian Open. So, whilst some of our rivals will be offering low liquidity during the early rounds, we will be offering every single tournament match with the complete package.