Our Academy Award markets are open, but betting on the Oscars is nothing like traditional sports markets. Read on to find out the most profitable strategies to win big in these data-heavy betting markets.
With sports betting, bettors are accustomed to betting on markets with a massive amount of incomplete information in the form of the actual playing out of a game or match.
We know in advance who is playing, a team's momentum, injury status on assorted players. While there are plenty of indicators on which to base predictions, predictions just aren't as good as a pre-formed resolution.
89th Academy awards (2017 Oscars) odds
| | | | | | |
| --- | --- | --- | --- | --- | --- |
| Best Actor | Odds* | Best Actress | Odds* | Best Picture | Odds* |
| Danzel Washington | 2.62 | Emma Stone | 2.71 | La La Land | 1.51 |
| Casey Affleck | 1.675 | Natalie Portman | 1.671 | Manchester by the Sea | 7.18 |
| Ryan Gosling | 10.58 | Annette Bening | 7.98 | Moonlight | 7.74 |
| Andrew Garfield | 14.68 | Ruth Negga | 8.879 | Silence | 12.86 |
| Joel Edgerton | 6.68 | Ammy Adams | 23.05 | Fences | 15.19 |
Why is Oscar betting different to sports betting?
Academy Awards betting, on the other hand, differs from sports markets in that the results are based on predetermined information. Voters submit their votes long before the actual awards are presented, this year on February 26th, 2017, with nominations announced on January 24th, 2017 and all votes tallied by February 21st.
That gives bettors a month of benchmarks to collect as much information on the votes as possible in order to make smart bets. The thing is, it's a race against the market as bettors around the globe are chasing the same information in the name of getting ahead with their bets before prices adjust to information being assimilated.
It all makes for a fascinating game of cat and mouse, with bettors weighing potential profitability and time. The question then is how to win this game by getting the best information possible?
How do winners' odds behave?
In the below table, we have collected data on past winners, the result being the emergence of some interesting patterns. First, it's worth noting that as the first section of this article suggests, odds on winners generally get worse as Awards time draws closer.
In fact, in 2014/15, all ten markets offered saw the supportive information on eventual winners influence the market to make their prices less bountiful.
Pinnacle's opening & closing odds of Oscar 2016 winners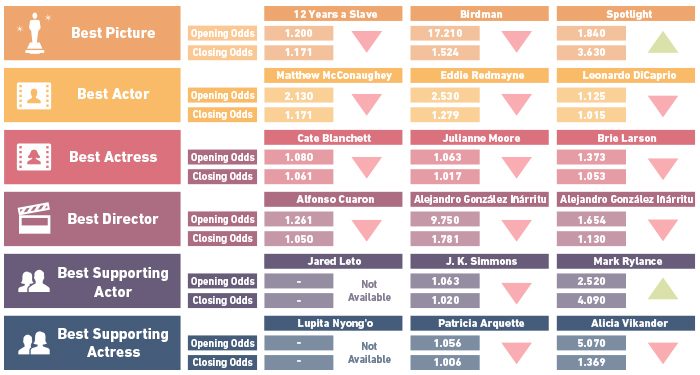 In 2016, we saw the only two exceptions of the last two years, where Mark Rylance's lauded performance in Bridge of Spies was faced with an unlikely, sentimental challenge from Sylvester Stallone, and Spotlight moved from odds on favourite to one of four plausible Best Picture winners before ultimately claiming that prize in a closely contested race.
This all serves the point that there really are no surprises in Academy Awards results. In fact, Rylance and Spotlight were the only two winners in the last three years that didn't close at less than 2.00. The lesson to take from this is that watching market movement is key; if a non-favourite sees its price improve at just about any point in the process, you can more or less strike it off the list.
Which organisation has the highest predicting rate?
Even before the Academy's month of lead-up to the Oscars, there is plenty of debate out there for bettors to use in order to narrow their searches for an eventual winner. Awards awarded by other organisations go a long way towards predicting Oscar success.

The Golden Globes, Critics Choice and Screen Actors Guild's awards have proven particularly adept, with their respective memberships often overlapping with the Academy. 
With 16 of the 22 correct picks, the Critics are particularly adept at picking Best Director.
Cumulatively, the three organisations combine to accurately predict winners in the acting categories over 70% of the time, while the Globes and Critics combine to correctly predict the Best Picture Award more than 60% of the time. It's worth noting the SAG is far less accurate with Best Picture as it prioritises less-technical aspects of filmmaking.
The Critics are particularly adept at picking Best Director, with 16 of the 22 such recipients going on to win the Oscar as well. Clearly, while a bet should not be made alone based on this information, these are strong indicators on which to build a case.
The Critics Choice Awards were announced on December 11th, 2016, with the winners available through that link. Bettors will note the dominance enjoyed by our present favourite, La La Land (1.51*).
The Golden Globes are announced on January 8th, 2017, and the Screen Actors Guild winners on January 29th. Circle those dates on your calendar as there will be a sharp turn in the markets upon the announcement of their respective winners.
Keeping an eye on the talking heads
One last key to following the progress of Oscar markets is following talking heads. It's human to want opinions to be heard and to earn expert status through their expression and the Hollywood community is a tightly knit one whose members enjoy access to plenty of information that can prove useful.
One instance where this phenomenon was particularly helpful was Birdman's (and director Alejandro Gonzalez Inarritu's) ascent from long shot to favourite in 2015. While the film missed out on awards from both the Golden Globes and Critics Choice Awards, there was enough talk surrounding the film to project it to victory over presumptive winner Boyhood. Simply, the critics who favoured Birdman talked it up so much that the betting public saw the winds of change. It pays to pay attention.
So, the question is: can you get your bets in quickly enough to get good value? Will you see the winners coming? If you're up to the challenge, place your bets as early on as possible with the best Academy Awards odds online at Pinnacle and stay tuned for more updates.
*Odds subject to change