Showcasing some of the best underdog stories in recent memory, our Against the Odds series delves into some of the greatest sporting achievements from a betting perspective. This article looks at OG's surprise win at Dota 2's biggest tournament – The International (TI) – back in 2018.
European esports team OG competes in games such as Super Smash Brothers and Counter Strike: Global Offensive (CS:GO). This article however, focuses on Dota 2 team as a result of their incredible achievement.
A tumultuous start
OG's preparation for the tournament could not have been worst after long-standing members 'fly' and 's4' were released to join another team, leaving the Europeans with two vacant spots and big shoes to fill.
OG faced the prospect of having to rebuild the team from the ground up whilst having to battle through the European Qualifiers just to participate in Dota 2's most prestigious tournament - The International.
The roster restructure began with Anathan 'ana' Pham being brought into play position 1 and pub star Topias 'Topson' Taavitsainen in position 2, shifting Joan'N0tail' Sundtein to a support role. With Sebasitian 'Ceb' Debs and Jesse 'Jerax' Vanika rounding off the team – OG's roster was set. Here is what it looked like:
With the team assembled, OG were ready to compete at The International. However, this newly assembled team was heavily unfancied to make significant progress in the tournament.
Of the 18 teams competing at The International in 2018, many publications such as Liquid Dota ranked OG bottom of their power rankings, citing that:
"For a team with a history of underperforming at TI, expectations for OG are at an all-time low."
It was team Virtus.pro who many fancied to win the TI, with the same publication claiming:
"Given their consistently excellent play over the last year, they should be considered as nothing less than the favourites to claim victory at The International."
The group stage
Pinnacle's odds of 27.00 for OG to win TI reflected the sentiment that they were heavy underdogs, giving them only a 3.7% chance of winning the event. They were placed in Group A alongside Team Liquid (3.80) and PSG.LGD (4.64) while the aforementioned tournament favourites, Virtus.pro (3.03), were in Group B.
OG's task at The International looked daunting and did not get any easier after disappointing results on the first two days. Following this poor start, winning just once, drawing once and losing twice, OG found themselves in the lower half of Group A with three points.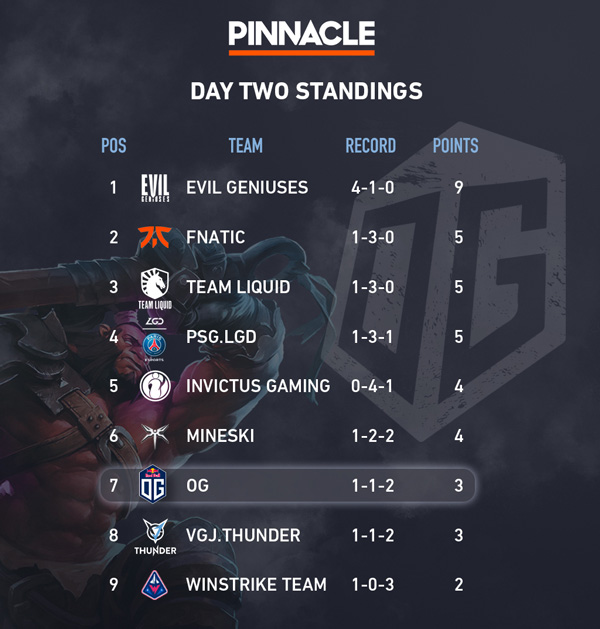 Later wins against Mineski and Winstrike Team as well as draws against Fnatic and VGJ.Thunder would, however, be enough to see OG sneak into the Upper Bracket (top four position) and send them through to the main event knockout round.
The main event
Having, against all odds, made it into the main event, OG were still unfancied to progress past the second round let alone make it to the Grand Final. They were still considered the underdogs against all three of their opponents leading up to the Upper Bracket Final.
OG were 2.52 (40%) to beat VGJ.Storm but came out as 2:0 victors. Their next game was against Evil Geniuses and despite being priced at 4.04 (25%), they managed a 2:1 win. In the Upper Bracket Final, OG were once again not thought to be the favourite with 4.26 (23%) against PSG.LGD but once again got a 2:1 win.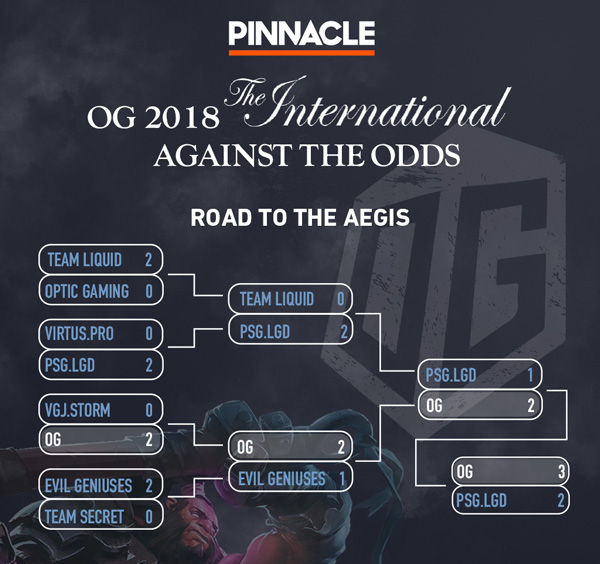 Having just beaten PSG.LGD 2-1, OG would face them one last time in the Grand Final on their miraculous run to the summit of competitive Dota 2. The bookmakers still believed this would be one step too far for OG, placing them as slightly less of an underdog at 3.36 (30%) with PSG.LGD priced as heavy favourites at 1.33.
It would be a Grand Final to remember, with all five games being needed to decide the winner for only the second time in TI Grand Finals history.
OG took the first game before PSG.LGD won the following two games, Game 4 would be the turning point. OG knew that it was win or bust.
Lasting over 65 minutes (almost as long as the previous two games combined) OG would surge back from early setbacks and capitalise on mistakes from PSG.LGD to level the series at 2-2 - leaving a fifth and final deciding game.


Having come all the way from Open Qualifiers after having to swiftly rebuild their roster, perennial underdogs OG would defeat PSG.LGD in the fifth match of the series and were ultimately crowned champions of The International 2018. For their efforts, OG got awarded the grand prize of $11,213,374.
If you enjoyed this article, visit the Betting Resources archive for more or read our latest esports articles.