With pre-season just getting underway for the major European leagues, all may appear quiet on the European soccer front for bettors. This, however, is far from the case and our soccer expert, Mark Taylor, is keen for you to find out, as he looks at how to best extract value in the Swedish Allsvenskan.
The conclusion of the Copa America and the women's World Cup has left a minor footballing void. The Europa League qualifiers may have begun, but it is left to the northern European leagues of Finland, Norway and Sweden who are at mid-season, to provide competitive footballing league action.
The Swedish Allsvenskan
The Swedish Allsvenskan is the highest ranked of the three leagues. UEFA's coefficient, which quantifies the performance of Swedish clubs in the European club competitions over a series of seasons, rates the league just below that of Scotland and above Bulgaria in 24th spot.
The league is largely stocked with home grown talent, over 70% of all players hail from Sweden. It comprises of 16 teams, a format that has been adopted since 2008.
Attendance is modest, with average crowds across the league of around 7,000 and unsurprisingly the available talent also reflects this. Malmo's playing squad has the largest current market value in the view of Transfermarkt. Their squad has an average value of just in excess of £600,000 per player compared to Falkenbergs at just over £115,000.
Only three of the squad members for Sweden's recent Euro 2016 qualifier against Montenegro were selected from home based clubs, so the league is best regarded as a minor European competition and little data outside of simple match results is available.
Performance profiles by league position in the Allsvenskan
The table below shows the average goal difference and points per game achieved by each position in the Allsvenskan since it expanded to 16 sides. An average of just under two goals per game separates the top Swedish team from the bottom place side.
| | | |
| --- | --- | --- |
| Final league position | Average goal diff per game | Average points per game |
| 1 | 0.90 | 2.09 |
| 2 | 0.85 | 1.97 |
| 3 | 0.54 | 1.81 |
| 4 | 0.39 | 1.73 |
| 5 | 0.32 | 1.60 |
| 6 | 0.37 | 1.54 |
| 7 | 0.17 | 1.41 |
| 8 | 0.00 | 1.37 |
| 9 | -0.09 | 1.32 |
| 10 | -0.19 | 1.30 |
| 11 | -0.19 | 1.21 |
| 12 | -0.31 | 1.17 |
| 13 | -0.45 | 1.07 |
| 14 | -0.56 | 0.96 |
| 15 | -0.68 | 0.87 |
| 16 | -1.08 | 0.57 |
Relationship between league position and results
By mid-season in the Allsvenskan, the position occupied by each side is strongly correlated to where they will finish at the end of the season. Between 2008-13 a quarter of teams occupied the same position after 15 games as they would after 30 and 70% lay within two places of their final finishing spot.
By mid-season in the Allsvenskan, the position occupied by each side is strongly correlated to where they will finish
So league position between now and the end of the season will contain some useful information about their likely talent levels. And this is borne out by the relationship between league position of two opponents at the time the game took place and the historical match outcome over multiple seasons in Sweden.
Using the line of best fit, a side currently at the top of the table has beaten sides placed in the top four 60% of the time at home and this benchmark figure rises to just over 81% when they entertain teams who lie between 13th and 16th when the game takes place.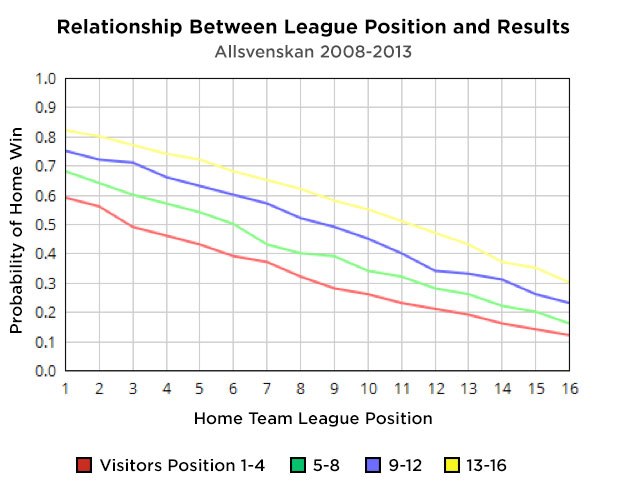 At the other extreme, a bottom placed team wins slightly greater than 10% of home matches against teams from the top four and 30% of games against fellow struggling teams from the foot of the table.
The relationship between current league position of each team over the second half of the season and the likelihood of an away win is also strong.
On average, the bottom four teams return from a visit to the current league leaders with three points around 5% of the time. While the top four teams return successful from a visit to the bottom side nearly 80% of the time.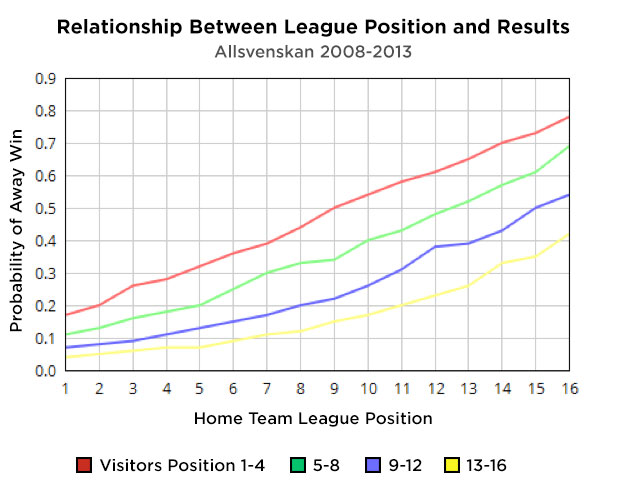 This can be used to form a baseline opinion about matches between now and the end of the season. For example in week 15, Malmo (5th) host Orebro (14th) and the respective plots imply a home win has a likelihood of around 70% and an away win 9%.
Calculating goals per game
Over recent completed Allsvenskan seasons, matches have contained an average of 2.68 goals, 1.54 have been scored by the home team and 1.14 by the visitors. Therefore, a typical scoring rate between Swedish clubs sides at a neutral venue would see each side score an average of 1.34 goals per game.
Malmo has scored 27 goals in their 14 home and away matches to date. An average of 1.93 goals per game or 1.44 (1.93/1.34) times the average rate for club teams over the last four seasons.
Orebro has allowed 24 goals in their 14 league games so far. An average of 1.71 goals per match or 1.28 (1.71/1.34) times the average rate since 2011.
Malmo is the home side and home teams score 1.15 (1.54/1.34) times the benchmark average for the league.
We now have the scoring rate for Malmo and home teams in general and the conceding rate for Orebro based on all matches played by both sides in 2015. Multiplying these rates together gives an estimate of Malmo's likely scoring rate compared to the league average when they are visited by Orebro.
1.44*1.28*1.15 = 2.12. If we finally multiply this expected scoring rate for Malmo at home to Orebro by the average goals scored at a neutral venue by an average Swedish team (1.34), we might expect them to average 2.83 goals when hosting Orebro.
A similar route using Orebro's rate of scoring, Malmo's rate of conceding and the scoring rate of away teams gives Orebro an expected goal average away to Malmo of 0.61 goals.
This is derived from (0.53*1.01*0.85)*1.34 = 0.61 goals.
These raw expected goal averages for each team can now be used in a Poisson to generate the likelihood of each side scoring a particular number of goals and hence individual correct scores. Summing together the probabilities of each correct score that leads to a Malmo win, an Orebro win or a draw enables match odds to be created.
For this particular match, based on scoring data from all 14 games played so far, Malmo is given an 83% chance of victory and Orebro just 6%. A useful Poisson Distribution match odds calculator using the calculated expected goals for Malmo and Orebro can be found here.
Individuals may wish to vary this basic modelling approach, perhaps by increasing sample size by extending the goal record of teams to include matches from previous seasons. More weight might be given to score lines from more recent games or venue specific scoring data could be used, similar to the variation described here.
While the initial charts relating to league position are specific to the second half of the Allsvenskan season, the Poisson approach can be used for the other active leagues, low margin prices for which may be found at Pinnacle Sports.